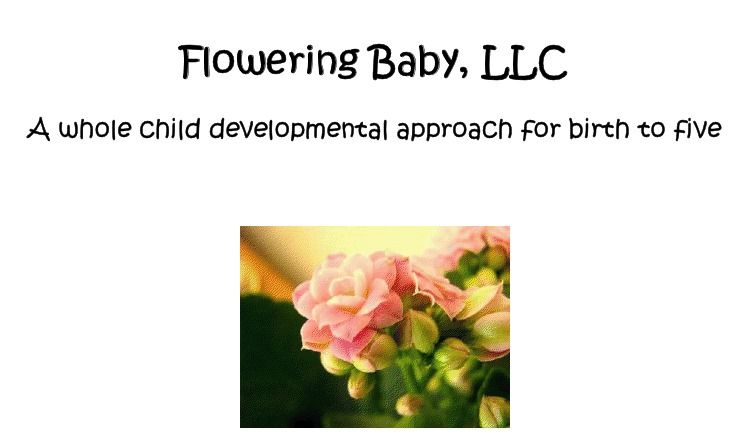 I love the title Flowering Baby. It conjures up images in my mind of a garden full of fragrant, thriving, beautiful flowers in all stages of growth. That, in essence, is what Flowering Baby's  preschool program is all about. I was privileged to have the chance to review the Year Two to Three preschool curriculum by Flowering Baby, LLC over the last month or so. My nearly 3-year-old daughter has had a blast "doing school" alongside her older siblings using this curriculum.
Flowering Baby, LLC was started as a collaborative project between a mother and daughter.  The mother, Carolyn Schulte, has over 30 years of experience as a kindergarten teacher and has extensive experience in the fields of early childhood education and special needs. The daughter, Martha Saunders, is a homeschooling mother with a degree in accounting. The Flowering Baby curriculum was born out of Martha's desire to create a curriculum for her son. She drew on the resources of her mom's vast knowledge of education and together they created the Flowering Baby curriculum.  Flowering baby provides the parent with a plan that uses easy to obtain and inexpensive materials to foster child development and school readiness. You will find activities that encourage the growth of fine and gross motor skills, language development, and social skills, just to name a few. The curriculum provides plans for birth to age five. There is an extensive reading list included. I was easily able to attain the books through inter-library loan at our local library.  The recommended craft and art supplies were things I already had on hand as the parent of three kids of varying ages.
The program begins with the Birth to One program. The daily assignments include reading good books together and listening to classical music. There are suggested activities meant to engage the child and encourage interaction and bonding between you and your infant.
Year One to Two is a gentle program consisting of an activity for you to do with your baby and either a book to read or a song to sing to your little one. This year focuses on developing emotional intelligence, learning motor skills, building thinking skills and developing an appreciation for music.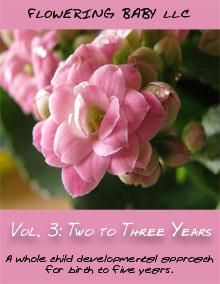 The program for Year Two to Three is laid out into twelve units labeled for the child's age starting with month 24 and extending to month 36. There are twenty days worth of plans to use each month that last approximately 30 minutes each. This works out to 5 days a week of preschool work. Areas covered in the daily work include language skills, math concepts, music appreciation through listening to classical music, read aloud time, colors, shapes, crafts, and activities. Some of the goals of Year Two to Three include identifying eight shapes, ten colors and counting to ten.
I used this program with my nearly three-year old for the five weeks. I had worked Lydia sporadically over the last year, but had been looking for something that we could use consistently for about 30 minutes a day. This program has fit the bill perfectly. We look forward to the reading time together and the activities. Even my seven-year old has eagerly participated in our newly established "preschool time".
This first month the focus was on farmyard animals. We learned all about animal sounds and activities. We took a field trip to a homestead and observed chickens, goats, dogs, cats and even a cow being milked.
We had fun with a sensory bin full of farm animals, making our own "barnyard", playing with balls, making pigs out of toe prints and reenacting the story of the Three Little Pigs.
The recommended story books were crowd-pleasers as well and I found my older kids sneaking over to join in during story time. We enjoyed the musical focus on Schubert and I found myself playing it in the background while my toddler was having playtime.
The other eleven months of Year Two to Three include learning nursery rhymes, the ABC song, studying shapes and colors, and many other fun activities.
The program changes slightly with the introduction of the year Three to Four curriculum. Flowering Baby moves to a two-part curriculum including two monthly themes and a general education guide. You choose two themes each month from a list of themes allowing you to customize the program to your needs and tastes. Some of the themes include animals, my body, winter, dinosaurs, flowers, transportation, etc. Along with covering the themes which have about 6 days of activities each, the general education guides have 13 lesson plans set up by month (i.e Jan., Feb., Mar.) You choose the current month and start there. This allows you to cover the seasons and holidays as they occur. The curriculum for earlier ages is broken down into lesson plans by developmental age such as 3 months, 18 months, etc. The goals for this year are to learn letter names and sounds, patterns, reviewing shapes and colors, counting by one's and two's, counting in Spanish, learning more advanced games and completing unit studies on multiple topics (the monthly themes).
Year Four to Five continues much like the year Three to Four curriculum with the monthly themes and general education guides. The games become more advanced and the math skills expand to counting to fifty. Writing is introduced and children are given the opportunity to learn to follow directions. The book list is expanded and there is tons of material to delight and engage even the most reluctant child.
We LOVE this program. The guided activities and structure it provides have been a real blessing to our family. The minimal preparation and thirty minute long sessions are a fit for our busy life style. The activities are easy to implement and you can do all or pick and choose from the daily list. My daughter looks forward to her daily preschool time and we will definitely continue using this curriculum. I have seen motor skills improve as she has learned to cut with scissors. She has learned more about animals and colors. The recommended books have been fun and engaging and I also liked including some classical music into our day. As a former piano teacher, I recognize the importance of introducing kids to quality music, but have not been consistent with this. This program showed me how easy it is to implement this simple idea throughout the day. I feel that this program will thoroughly prepare my daughter for kindergarten in a gentle, fun way that encourages her to learn through experience rather than workbook pages and drills. This program is tailored to families that like hands-on learning and reading aloud.
The were only two negative aspects to this program that I could see. One included the hassle of looking for the books on the book list. For those without access to a good library, this may be a negative feature. The books are easy to purchase online, but having to purchase the books would greatly increase the cost of the program. It would be possible to substitute your own books on the topic or look for other titles with similar subjects, but that would add to the preparation time for the parent. The second one was the mess created by arts and crafts time. If you are an artsy type, this likely won't bother you at all, but for the Type A personalities, some of the hands on crafts and activities may have to be scaled back to keep you sane. Play Dough©, sensory bins and the like are a thrill for preschoolers, but some parents may not like this aspect of the program.
The cost of the program is $30 per year for the CD versions of Birth to One, One to Two and Two to Three.  For years Three to Four and Four to Five the cost increases to $38 per year of curriculum because of the addition of the theme units leading to more overall content. There is a bundle available for the entire curriculum age birth to 5 years for $132. If you are interested in making a purchase, the vendor has offered my readers a 10% discount. Just enter code BLOG10 at checkout. You can get your own set here. You can also download a month of sample lesson plans for each age level completely free. Just scroll to the bottom of the page of the age level you are interested in and you will find the samples. You can find the free sample link for the year Three to Four curriculum here. I hope you will enjoy checking out this curriculum. I know we are glad that we did!

Disclaimer: I received a free copy of this product through the Schoolhouse Crew Review in exchange for my honest review. I was not required to write a positive review nor was I compensated in any other way. All opinions expressed are mine or those of my family. I am disclosing this in accordance with FTC Regulations.