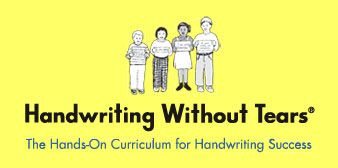 Program Information:
Handwriting Without Tears is a complete multi-sensory handwriting curriculum that is sure to bring a smile to the face of the most reluctant writer. With lessons lasting only fifteen minutes a day, the drudgery of handwriting is replaced with fun sessions of songs, games and hands-on activities. This method was developed after years of research and experience in the methodology of teaching writing to children. They have found the multi-sensory approach to cause children to learn more effectively in all subjects. Handwriting Without Tears is appropriate for children of all different learning styles. It is also appropriate for left-handed writers and children with learning disabilities. They offer a complete line of handwriting materials for Kindergarten through 5th grade with newly revised editions for K-4th grade. They also offer a Get Ready for School Program for preschoolers that focuses on developing readiness skills. Handwriting Without Tears materials are adaptable for traditional schools or home schools. There are also translations available in Spanish, French and Hebrew.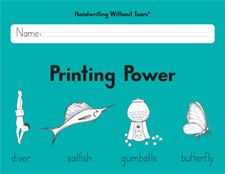 Product Reviewed: The Second Grade program consists of three parts. The first component is the Printing Power student workbook (shown at left). This consumable workbook focuses on printing mastery for the second grade student. It teaches handwriting beginning with capitol letters first and then moving to numbers and lowercase letters. The student is taught how to check the formation of their letters and improve their writing by careful formation.
The all new edition of Handwriting Without Tears for second grade includes an option for introducing cursive writing at the end of the second grade year using the new book, Kick Start Cursive. This workbook is included in the bundle entitled, Printing Power Plus. Cursive is taught in a simplified connected printing method without slanting the paper or using unnecessary loops and curliques. Starting with lowercase letter formations and moving to simple connections of familiar letters, Kick Start Cursive will enable your little one to have a foundation in cursive writing that will serve him well when beginning formal cursive writing in third grade. This text is optional and the third grade program is available without the introduction of cursive. This decision to include this option is left to the teacher and can be determined by the eagerness of your student.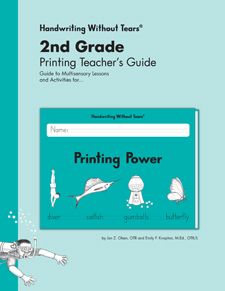 The third component of the program is the Printing Teacher's Guide. This invaluable resource provides guidance and thorough lesson plans for every workbook page. It covers teaching foundation skills, letters, words, sentences, numbers, and writing activities using the Printing Power text. It also includes instructions for teaching the new book Kick Start Cursive. There are links to video lessons included and suggestions on how to connect the lessons to other subjects such as language arts, technology, mathematics and history. Second grade scope and sequence charts and teacher guidelines charts are also included.
Pricing:
Second Grade Printing Teacher's Guide – $9.25
Printing Power – student book – $8.25
Printing Power Plus – $10.25 (this includes both the Printing Power Book and the Kick Start Cursive Book)
Recommended Resources:
Slate Chalkboard – this resource helps the student learn to use double lines for writing and also allows them to use the Wet-Dry-Try method in practicing new letter formation. The student is encouraged to use a dampened little sponge cube to trace the letter made by a teacher on the slate. Then the child uses a small piece of paper towel to trace the letter. Lastly the letter is formed using a piece of chalk on the slate.
Rock, Rap, Tap & Learn CD – This music CD will have you dancing and singing your way to better handwriting. The use of movement during learning time helps children with short attention spans.
The CD include titles like the Alphabet Boogie, Frog Jump Letters, Magic C Rap, Where Do You Start Your Letters and more. You can listen to song previews here.
My Opinion of the Product:
I received the Printing Teacher's Guide and the Printing Power Plus bundle to review. I used this with my 7 year-old son. He is a math-minded child who has shown some resistance toward language arts learning. I was pleasantly surprised when the hands-on activities piqued his interest. He found the short, easy lessons very doable in fifteen minutes. I met very little resistance using this curriculum and his handwriting has improved in the short time we have been using this curriculum. Here are some samples of his work.
We enjoyed using the recommended resources, which we borrowed from a friend. We tried out the slate and my son really enjoyed this kinesthetic option. The small size of the slate and the sponge cubes were especially helpful. We also purchased the music CD and we had so much fun dancing and singing along to the music. This music was a hit with my toddler as well. I found the teaching methods simple and easy to implement with only a small amount of preparation time. I especially liked the way that letter formations were introduced using letters that are formed similarly and adding them one at a time in that order. We learned how to form magic C and used this formation as the basis of many other letters including d, a, g, etc. We had fun making our own Magic C bunny as described in the  Printing Teacher's Guide. Here is a photo of how he turned out. Isn't he cute?
My son also found a unique use for the wood pieces set that we borrowed from a friend. I had to include this picture of him using them to make a domino run. LOL!
I found the layout of the Printing Teacher's Guide be confusing in the beginning. The  lesson plans are prefaced by  lots of information on the program basics and then they are interrupted by learning activities that are used in multiple lessons. The teacher guidelines are placed at the back of the book. I think the material would be easier to use if the lesson plans were not interrupted by the explanation of the learning activities and these instructions were placed at the end of the book. I also would have liked the guidelines to be at the beginning of the book. Other than this small criticism, I found these materials delightful and we will definitely continue using this program for the remainder of the school year.  I liked the materials so much that I am considering purchasing the Get Ready for School program for use with my preschooler next year. I recommend this program for children with letter reversal issues, left-handed writers, and kids with short attention spans. The varied lessons and incorporation of music, movement and hands-on activities make it a winning  program for kids with a visual, auditory and kinesthetic learning styles. By using some of the recommended resources such as the Hands-On Materials, this program could easily be adapted for learning disabled students.The cost of the workbooks is very reasonable and we found the materials delightful.
If you would like to read more reviews about the kindergarten through third grade books and the new Wet-Dry-Try app click on the link below.

Disclaimer: I received a free copy of these products through the Schoolhouse Crew Review in exchange for my honest review. I was not required to write a positive review nor was I compensated in any other way. All opinions expressed are mine or those of my family. I am disclosing this in accordance with FTC Regulations.