For the last month, I have been trying out TouchMath Pre-K Homeschool program from TouchMath with Sweetums Peetums who will turn 3 in a couple of weeks. This has been so much fun. After just a few short weeks, she is asking to do math!
Company Info: Initially developed by Janet Bullock, founder, president and CEO of Innovative Learning Concepts, Inc., TouchMath has over 37 years of experience in the field of mathematics curriculum development. With early beginnings as a program for special needs children, the philosophy has grown into this all encompassing motto,
Reach and teach all learners
TouchMath has since developed hundreds of kits and curriculum aids for children of various learning abilities and cultures. The multi-sensory approach of the curriculum helps children use the senses to increase assimilation of math skills. The innovative portion of their curriculum focuses on counting "touch points" that Mrs. Bullock placed on numbers to help children grasp the concept that a number represents a quantity. There are the same number of "touch points" on each numeral as its value enabling the child to use verbal skills (counting) at the same time they are using the tactile senses (touching).
Products Reviewed:
I was given a copy of the TouchMath Pre-K Homeschool unit download (pictured below),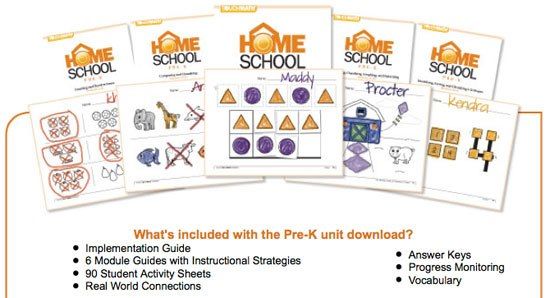 a set of Touch Shapes,
 a set of 3-D Numerals,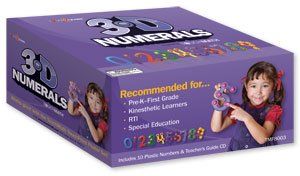 and a set of Texture Cards to review.
The  TouchMath Pre-K Homeschool program includes six learning modules with ninety student workmats (activity sheets). The teacher's instructions are scripted and thorough and I especially liked the inclusion of a Progress Monitoring Record at the end of the unit so I could check off each workmat as we completed them.
Modules Included in the Pre-K Program
#1. Counting and Number Sense
#2. Comparing and Classifying
#3. Sorting, Classifying, Graphing, and Patterning
#4. Identifying, Sorting, and Classifying 2-D Shapes
#5. Identifying, Sorting, and Classifying 3-D Shapes and Coins
#6. Representing Quantities and Numbers
The TouchMath Homeschool Pre-K program was created based on Common Core State Standards for Kindergarten in an effort to prepare preschoolers for kindergarten. There is so much included in this program that I am sure we will be able to pull ideas from it all the way through the end of Kindergarten.
Pricing:
TouchMath Pre-K Homeschool Unit Download – $59.95
Touch Shapes – $30.00
3-D Numerals – $79.00
Texture Cards – $99.00 Free samples can be downloaded here
Age Range: The Pre-K program is recommended for ages 3 to 5. They also offer homeschool curriculum programs for kindergarten, first and second grades and have supplemental kits available for older grades
How we used the program in our homeschool: We used the TouchMath Pre-K Homeschool unit download roughly 4 to 5 days a week with our nearly 3 year old during our morning preschool time or right before nap time.  I printed out the worksheets and teacher instructions needed to complete one module at a time and placed them in a binder and simply removed the worksheet that my daughter would need for that day. She is an eager learner and found most of the activities engaging and fun. We practiced one to one correspondence, counting, sorting and coloring. Here is a photo of us using the Touch Shapes as a color sorting activity. this was a big hit and even big brother, aged 7, joined in the fun.
We used all sorts of things as counters to help reinforce the concepts such as stuffed animals, cheerios, M&M's etc. As the lessons progressed, we introduced more complex concepts such as ordinal numbers. Here is an example of how we demonstrated this concept:
 We also used some online sources to help expound on this concept since it was a little difficult to grasp for a nearly 3 year old. We watched a Sesame Street video clip on You Tube demonstrating ordinal numbers. This was fun and entertaining. As we progressed in the program, we began introducing the Texture Cards and 3-D numerals. In the beginning, I just had her match the 3-D numerals to the Texture Cards as shown below.
We used the 3-D numerals to trace the numbers with our fingers, we discussed the touch points and I also lined up the numbers 1-5 and called out the numbers and had her hand them to me to teach number recognition. I have lots of ideas in mind for using these as she gets better at recognizing the numerals. The optional manipulatives were great learning tools.
Our opinion of the products:
This program was a big hit at our house. With my older boys, we didn't use a formal math curriculum for the preschool years, we just used math games and counting in our everyday life. This was our first exposure to a program geared for this age range. We felt that the content was challenging, thorough and engaging and we loved the multi-sensory approach. I thought the "touch point" concept was brilliant and I plan to continue using this material with Sweetums Peetums. The worksheets were uncluttered by cutesy graphics, but had enough pictures to engage her without distracting her from the concept at hand. After using this for a little over a month, it has given my child a favorable attitude toward math and an increased desire to learn math. I liked the downloadable format that enabled me to print multiple copies of the worksheets when we wanted to review a concept, but I missed the physical format for the teacher's materials. Sometimes it is easier for me to just flip through a book and have all my instructions at a glance than having to print everything out and flip through individual pages in a binder. I believe that the hands-on approach would be especially appealing to a tactile oriented child and would also be helpful for children with special learning needs. If you are looking for something new and are tired of the traditional    ho hum workbook approach to math, I encourage you to give TouchMath a try!
If you would like to read more reviews from my friends including reviews about the Kindergarten, 1st grade and 2nd grade curriculum, click on the graphic below.