Essentials in Writing was started by former middle school language arts teacher Matthew Stephens. It was built as a complete grammar and writing course with an overall focus on composition. The company's goal is as follows:
To help produce confident writers who enjoy the study of language
We were sent a free copy of the Essentials in Writing – First Grade program to review with my 7 year-old son. The course is comprised of a PDF workbook that I printed and placed in a binder for my son, and a DVD course to watch. Essentials in Writing currently has writing curriculum available for grades first through 12th with two high school electives available in creative writing and technical writing.
Product Reviewed –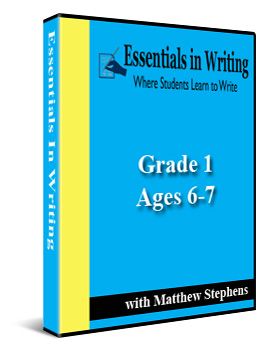 Essentials in Writing – First Grade
The first grade curriculum spans 37 lessons covering topics such as:
letter formation
capitalization
punctuation
sentence subjects
sentence predicates
parts of a friendly letter
identifying nouns
parts of a paragraph
The program is designed for the student to look over each day's worksheet, watch a short video lesson with step-by-step instruction by Mr. Stephens, then complete the daily worksheet or assignment. It is also recommended that you glance over the next assignment at the end of each day's lesson.
The Grade 1 student text comes in PDF format for you to print and place in a binder. This is helpful if you have multiple kids using the curriculum, or you would like to reuse the curriculum for younger kids. There is also a printed worktext available for an additional cost. The student text consists of 70 student worksheets and 4 pages of teacher answer keys at the back. Here is a sample of Lesson 18 covering the parts of a friendly letter. There are nice diagrams and cute clip art scattered throughout the worksheets.
The included DVD is the heart of the curriculum. Mr. Stephens is a great teacher with clearly laid out lessons and a welcoming, friendly teaching style. The video is filmed in a traditional classroom setting. He covers the material in an easy to understand way and the lessons are brief and to the point, well suited to the short attention spans of the targeted 1st grade age range. At left is a picture of Mr. Stephens instructing the students on sentence structure.
As the lessons progress, the instruction moves from more grammar-based lessons to an introduction to writing via the personal letter and culminates in writing a paragraph. The gentle pace and gradual introduction of concepts allow the student to build skills that will provide an excellent foundation for confident writing in the future.
 Pricing:
Essentials in Writing – First Grade course – $40 for DVD and student text (in PDF format)
An optional printed workbook is available for an additional $20
How we used the product in our homeschool:
I used this product exclusively with my seven-year old son. We used it 3-4 days a week for the last five weeks. I printed off the student text and placed it in his weekly binder. We watched the lessons together and then discussed the concepts as a recap at the end. We enjoyed the flexibility of watching the DVD on our laptop at the kitchen table or being able to pop it in the DVD player in our living room when my older son was occupying the computer. I would read the instructions to my son and then let him complete the worksheet on his own. I found that I needed to stay nearby for questions and spelling issues. My son has just become a confident reader in the last three months, so this curriculum seemed to be easy for him to follow.
Our opinion of this product:
My son has a math bent, so his opinion of the program was fairly neutral. He didn't dislike it, but he would probably never admit to liking a language arts, or writing program. He said he "kinda liked it".
My opinion of the product was that it was a gentle approach to writing with a pace that seemed perfect for beginning readers/writers. I found Mr. Stephens to be pleasant and interesting. I would have liked to see more student interaction of the class he was teaching and I felt that the lack of background interest in the videos made it rather boring for restless little boys. The lessons were brief, which made up for this "fault". The focus of the camera is on the white board and Mr. Stephens for the entire course. I also noticed some "camera shake" during some of the videos. This would probably not be an issue for older students. The lessons are thoroughly taught by Mr. Stephens, and the worksheets are clearly laid out with almost no preparation needed by me, save printing out the worksheets. This is especially handy for a busy mom. If you are looking for an instructor-led course with little preparation required, the Essentials in Writing – First Grade program may be a good fit for you.
If you would like to read more more reviews, my fellow crew mates have done reviews on the 1st and 3rd-11th grade curriculums. Simple click here, or the graphic below.