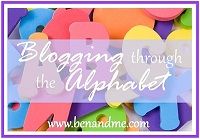 A is for Attitude
How much does attitude affect what you do every day? Do you notice that on days when you "get up on the wrong side of the bed" that that mood can carry on throughout your whole day. So what you may ask,  is the answer to this common mom problem?
Scripture encourages us to,
8 And now, dear brothers and sisters, one final thing. Fix your thoughts on what is true, and honorable, and right, and pure, and lovely, and admirable. Think about things that are excellent and worthy of praise. Philippians 4:8
I think some of our problems include waking up thinking of all the things we have to accomplish that day, having too much on our plate, unresolved conflicts, etc. Here are some strategies that help me when I feel an attitude coming on.
Stop and pray – just giving myself 5 minutes of quiet time with the Lord can help me put my focus on the right things.

Meditate on Philippians 4:8. I ask myself if the things that are causing my bad attitude are compatible with the command above to think good thoughts, things that are lovely, excellent, pure and admirable. Usually this causes me to spend some time in repentance.
Ask forgiveness – I take the time to ask my husband or kids or whomever may have been the receiver of my bad attitude to forgive me.
Take a short break – go for a walk, have a cup of tea, find a few moments of solitude even if you have to go to your closet. Giving yourself a time out from the situation helps you put the problems in perspective and seek the answer from the Master Problem Solver.
I hope you found these few tips helpful and I would love to hear some of your tips in the comment section
This post is part of a new series where I am Blogging Through the Alphabet with Marcy of Ben and Me. Check out her post this week , A is for Alligator, where others are linked up and Blogging through the Alphabet.