Music is one of my passions in life. As a former piano teacher, I was delighted to be chosen for this review. We have had the opportunity over the last month to learn about Adventus. This company has created award-winning computer software for teaching piano to kids in the home without the aid of a professional music teacher. The software was developed with the help of professional music teachers and educators.This is great news for big families, families on a budget or those that live far from a music teacher. The programs that  Adventus has created make music lessons and instruction available to almost anyone, anywhere.
Product Reviewed: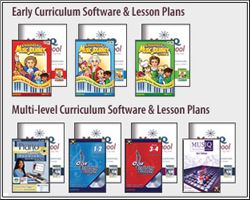 MusIQ HomeSchool is a complete piano instruction course providing seven years of instruction with over twenty levels for kids of all ages. Using your home internet connection, downloaded software and a MIDI keyboard, you have the power of a piano teacher in your own home. The monthly subscription for this program is only $10.95 a month. This gives you access to all the titles shown at left which can allow you to provide music instruction for kids ages 4-18 (beginner to advanced intermediate piano students). When you consider the fact that monthly piano lessons for children start at $50-$60 per student, this can be a great value for families. The MusIQ HomeSchool  program is broken into two major parts.
Children's Musical Journey, Levels 1-3. This portion of the program is geared for kids ages 4-10.This software is shown on the top row of the above picture. This animated, interactive software is delightfully well-made. It includes over 95 lessons taught by famous animated composers. With the inclusion of music history, theory, rhythm and improvisation, you have all your bases covered. The over 150 songs and pieces of music to play span many music genres including classical, country, popular, jazz and rock and roll. All three levels are set up the same. There are five different "rooms" available on the home screen.
You start in the "lesson room" where the weekly teaching session takes place. Concepts like note reading, rhythm, music history and music appreciation are taught here and you have the ability to replay the lesson throughout the week as many times as you would like. The lessons begin and end with wonderful classical music excerpts that are written by the composer teacher. Some teachers include Bach, Dvorak, Beethoven, etc. This helps the child develop a listening repertoire and be able to recognize great musical classics. It helps develop appreciation for great music.
The "practice room" with Miss Melody is the area where lesson concepts are reviewed. This is meant to be visited daily between lessons. The songs and rhythm practice are reviewed. Miss Melody keeps the kids interest and forms a bond with them as they learn music together. She is full of encouraging words for a job well done and also gives helpful criticism along the way.
The "game room" is a favorite place to learn the difference between high and low notes, find middle C, learn the musical alphabet and many other important concepts. This is one of the things about the program that keep kids coming back for more.
The "improvisation room" is a full-blown creation station. You have the ability to make your own music using a large selection of musical instruments including woodwinds, percussion and more. You can create your own music or you can play along with different styles of music adding to the score and then record your music.
The "library room" has selections of learn-to-play music. You can access past lessons and review portions of a lesson from here. You can listen to the music you make in the improvisation room in the library. You can listen to your teacher's songs in this room.
 The Children's Musical Journey levels 1, 2 and 3 should take around 3 years to complete, then the child should be able to move into the Piano Suite Premier software.
Piano Suite Premier.  For the remaining 4 years or so, you will move into this program using some of the other supplemental programs such as the Ear Training Coach levels 1-4 and the MusIQ Challenger Game. If your child is aged 10 and up, they may wish to start with the Piano Suite Premier and skip the Children's Musical Journey program. This portion of the program is geared for the 10+ age group. We started this program with Prometheus, but when he saw his brother having so much fun with Children's Musical Journey, he was not very happy with the less animated lessons in PSP. I decided to move him back to Children's Musical Journey 2 and he was much happier. Since we only completed a few lessons in this portion of the program, I am going to let you check out some of the other reviews or watch this short one minute video explaining a little more about Piano Suite Premier.
What are the system (computer) requirements?

Early Curriculum: Windows 7/Vista/XP/2000 or Macintosh OSX and an internet connection.
Multi-level Curriculum: Windows 7/Vista/XP/2000 and an internet connection.
Pricing :
– $10.95  per month – allows access to all levels of Children's Musical Journey and Piano Suite Premier. The Homeschool Lesson Plans are not included in the monthly subscription. They are included in some of the bundles and also sold separately.
There are several other bundles available here for kids ages 4-10 and here for kids ages 10+
Free 7-Day Trial here. Please read the fine print. You must cancel sometime during the seven-day period to avoid being charged $10.95 for the first month.
How we used this in our homeschool –  After a quick call to customer support for help getting our software setup correctly, we were ready to go. By the way, the staff were very courteous and helpful. I had both my boys practice daily using the MIDI keyboard I bought from Adventus. We moved through the beginning lessons at a little faster pace than one lesson a week due to the fact that both my boys have a little bit of previous piano experience. My seven-year old started with Children's Musical Journey level 1 and my ten-year old started with PSP and then I had to move him back to Children's Musical Journey level 2 as mentioned above. They are both LOVING the program and we used the Homeschool lesson plans to work through the lessons. The lesson plans are easy to use and as a teacher, I felt they were user-friendly enough that even a musical novice would have no trouble teaching using them. There were included worksheets that we printed and I had the boys complete for reinforcement of the concepts. I ended up downloading the lesson plans on my Kindle Fire for easy reference when at the computer teaching a lesson. There is another great teacher's resource available at their blog that has additional games and  worksheets you can access. Here is a video of a typical day's lesson and practice session in Children's Musical Journey level 2:
Prometheus' opinion –
I like the teacher in the program. He explains the concepts thoroughly. I enjoy the games. They are good practice for playing the piano and getting used to the keys. The Improvisation Room is so much fun. I really like making up my own songs. In the library you can look up songs and play them. I am very glad we got to try this program.
Mom's opinion –
As a former piano teacher, I have been very impressed with the intuitive nature of the software. I like the positive reinforcement the program gives the kids when they play a piece correctly. I think the way in which you are corrected when making a mistake is very helpful. You are allowed to try again. As the pieces get more difficult and the grand staff is introduced, you are able to see the note you miss marked on the staff for you. This is something you can't do on a regular piano. As the kids see where they are making a mistake and see the way in which they are playing the rhythms incorrectly, this will aid them in practicing correctly rather than going a whole week between lessons playing their lesson incorrectly. I was so thrilled to have the opportunity to try this program because I have had trouble being my child's teacher in this area. They want me to sit beside them for every practice session and that is just not possible with three kids. I have found that with this program my kids are ASKING to practice piano and I find myself coming in the room and sitting beside them because they are having so much fun. I LOVE the music selections and the way that they incorporated listening to good music into the program. The kids are learning to recognize composers and by hearing these great pieces, they are learning to recognize famous pieces. I love hearing the beautiful music floating through the air while the kids are practicing. I was also impressed with the inclusion of the Improvisation Room. This was something that was lacking in my early musical instruction. I think it is important to have structured creativity while learning music. Too much improvisation without guidance can lead to wasted time and "banging" on the piano, but this program is able to balance this concept well and it gives the kids something to look forward to in the practice time. You will never hear the words, " Do I have to practice piano again?" after your kids try this software.