My boys are forever looking for adventure. As they play in the yard with friends, they are army men, superheroes, cowboys and knights in shining armor. So when we had the opportunity to review a lapbook from A Journey Through Learning, I knew this was going to be fun.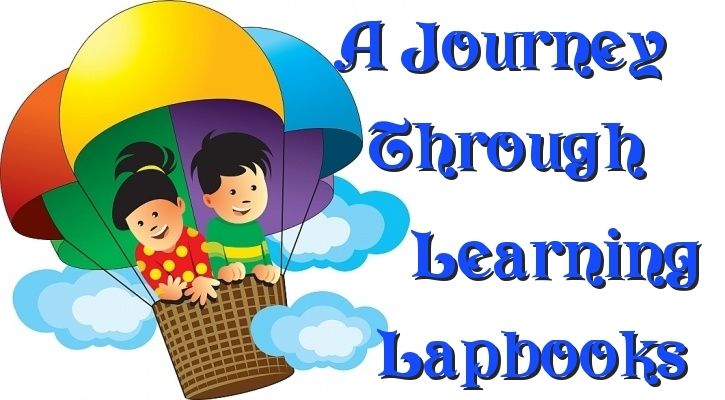 A Journey Through Learning was created by two homeschooling moms who were looking for hands-on materials that spanned more subjects than the three R's. Out of this need,  A Journey Through Learning was born. They put their heads together and created a whole line of lapbooks for every subject including complementary materials for popular curriculums such as Apologia Science and Classical Conversations. We had the opportunity to pick from four different lapbooks for this review.
Letters, Numbers and Shapes – ages 3-5
Instant Download-$13.00
CD-$14.00
Printed-$20.00
Assembled-$29.00
Knights and Castles – grades 2-7
Instant Download-$13.00
CD-$14.00
Printed-$21.00
The Earth – grades 1-4
Instant Download-$13.00
Printed-$21.00
Astronomy and Space – grades 2-7
Instant Download -$13.00
CD-$14.00
Printed-$21.00
We chose to add this project into our morning group time. We selected the Letters, Numbers and Shapes lapbook for my three-year-old and the Knights and Castles lapbook for my boys, grades 1 and 5. I had my three-year-old do her lapbook alongside her older brothers. This worked well for us and we were all surprised at how much fun we had crafting these lapbooks together.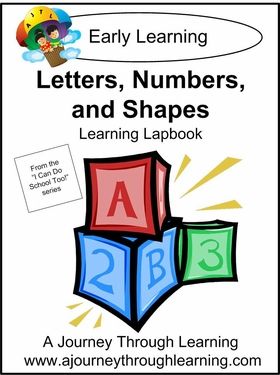 The Letters, Numbers and Shapes lapbook shown at left is geared for preschool aged children and has been an excellent activity to improve cutting and pasting skills as well as teach and review letters, shapes and numbers. I cut out the mini books since my just turned three year old is not well skilled in this area yet, but I let her position and glue in the pictures and mini-books. If you had an older preschooler, they might be able to do this with less help from mom.
The lapbook included a short book list. We chose two titles from this list to read.  Some of the mini-book components are interactive such as the Counting Items book shown in the middle picture above. It is constructed like a pocket and there are pictures of items in groups that you can remove from the pocket and match with the numerals in the Numbers pocket next to it in the lapbook. There is also a list of things to do with letters, shape activities, finger plays and games included with the download. Some of the ideas we liked were:
A- Eat applesauce
B- blow bubbles
C – Draw a letter "C" and cover it with corn
Z- End of school zoo trip
Here is Prometheus reading to Sweetums Peetums. She was helping him count in the book, Mouse Count by Ellen Stoll Walsh.
Sweetums Peetums  had a blast participating in this review and she loved having her own schoolwork to do just like her big brothers. She loved the end of school zoo trip. We turned this into a birthday surprise and headed to the zoo to celebrate her third birthday. We took grandma along and made some special memories. I liked the fact that this was creative learning on her level and we will be able to use the lapbook later for more letter, shapes and number reviews. We have a great example of her preschool work to save and we also have a tool to use in the future that will help her as she works to master basic preschool skills. I will probably check out their other preschool titles in the future, since she really enjoyed this project.
The boys had almost as much fun with the Knights and Castles lapbook. This lapbook is designed to help you expand your knowledge of the medieval topics of knights and castles by completing a unit study and creating a lapbook to commemorate your study. There is enough information to keep you busy for a month or longer depending on how often you work on this study. We spent about 4 to 5 days a week working on this for about 4 weeks. You can view some samples of the downloadable lapbook on their website here.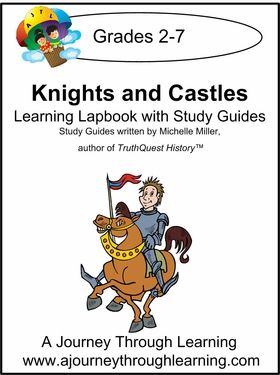 We began our study by going to the library and looking for picture books on the topic. We found numerous books with awesome pictures and diagrams. This helped whet our appetite for the topic and pique our interest
.  We then gathered the supplies we needed to start the project:
Glue sticks
scissors
pens
pencils
file folders
colored pencils
a computer for research
School glue
ruler
Next, I taught the boys how to assemble the lapbook folders using the well- laid out instructions complete with diagrams and photos. We had fun making the skeleton of the lapbook. Here is what ours looked like:
We began each day reading about the topic for the day. Here are some examples of the topics:
How to Become a Knight
Heraldry
A Knight's Weapons
Castles – From Dirtpile to Dignified
Housing During the Middle Ages
Then I had the boys cut out the mini-books for the days lesson. On most days we would only complete one booklet so that they could focus on the topic and do their best. If we tried to do more, the work became sloppy and rushed. I made modifications for my first grader allowing him to copy some of his brother's sentences and use google images to find pictures of some of the scenes that were meant to be drawn in the mini-books.
  We printed these out and let him glue them into the mini-book. My fifth grader had no problems with the questions, writing and drawing involved. He especially liked being able to draw the weapons. They are shown on the blue folder in the bottom center rectangular booklet above. As we finished each mini-book, we glued them into the proper place in our lapbook.
Overall, my opinion of the product was favorable. I liked that all the information was not handed to you and it required the boys to look up some of the information. We spent time looking up weapons, armor, etc. There was enough information for teaching, but all the details were not included. I thought the colored pictures were fun and well-suited to the needs of older students who do not like to color. My eldest has not enjoyed lapbooks in the past, but because of the topic of this particular book, he was interested enough to muddle through the crafty aspects of lapbooks. He usually doesn't like to cut and paste, etc. but the inclusion of mini-books where you can draw your own scenes and pictures appealed to my budding artist. My first grader loved the opportunity to cut and paste. He prefers to have minimal writing in the lapbooks, but I was able to make modifications that enabled me to use this material for him even though the recommended age for this lapbook is 2nd-7th grade. I would recommend A Journey Through Learning lapbooks for families who like unit studies as well as for those who want to just spice up their traditional homeschool and explore some specific interests of their children. They have many topics to explore. I hope you will check out this great company and explore lapbooking in your homeschool! If you would like to read more reviews about the four lapbooks I mentioned at the beginning of this post, click on the graphic below.