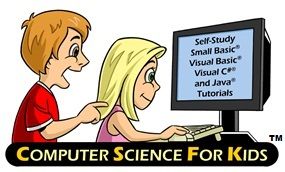 Computer Science for Kids , founded over 25 years ago, publishes computer programming software for kids from ages 10 to adult.
Each of  our computer programming tutorials feature "non-violent" computer games which teach students  programming in a fun and "kid-friendly" way. Our tutorials are not your typical  adult oriented programming language reference manuals.  They are  all "beginner-friendly" and easy to understand.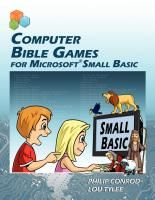 We received a copy of Computer Bible Games for Microsoft Small Basic to review in our homeschool. When I heard about this opportunity, my husband and I were excited because our eldest son has an interest in computers and we thought this product might be a great fit for him. We were not disappointed. This program features thirteen chapters of easy, detailed computer programming instructions to create educational games and a Bible video game as the culmination of the curriculum. It teaches your child the basics of a simple computer language called Microsoft Small Basic©. You download this free program onto your computer in conjunction with the Computer Bible Games for Microsoft Small Basic self-paced tutorial in Word format to create the programs. You can view the entire table of contents here. See lesson  excerpts below:
An example from the instruction manual/ tutorial
(the colored text is the information you type into the Small Basic Program)
 An example of the Microsoft Small Basic© screen
Computer Science for Kids takes Computer Bible Games for Microsoft Small Basic and makes the tedious process of learning a computer programming language user-friendly and fun. The recommended age range is  10 and up. The tutorial starts by explaining what Small Basic was created to do and then goes from that into explanations of how to maneuver around in the program. By the third lesson, you have already created your very first game. The first few games are in black and white and show up in a screen reminiscent of the old MS-DOS prompt windows from yesteryear. These games are basic math variable games but they help build confidence and anticipation as you see your skills grow lesson-by-lesson. Since you begin with very basic games, the expectations build as the games become more complex and colorful. We started out printing the lessons out and stapling the pages for each lesson together, but this became cumbersome as some of the lessons had over 50 pages of instructions. We found that minimizing the windows and aligning the Small Basic screen with the tutorial screen worked well and we saved a lot of paper doing it this way. Here is an example below:
We had about 5 weeks to work with this program and we made it through 8 chapters. The recommended pace is one lesson a week and it generally takes 3-6 hours per lesson. We found that the beginning lessons were accomplished more quickly, but as the chapters progressed, we found it took us closer to three to four hours per lesson. We moved more quickly through the material because we enjoyed it so much that we didn't want to stop. Here are some screenshots of the game we made in chapter 8: It was our favorite so far and everyone in the family played around with it. We can't wait to get to the more complex games at the end of the book. There is a secular version of this program Beginning Small Basic available as well. You can read more about this at the Schoolhouse Review Crew Blog.
Here is the Blackboard Fun game that we created using the tutorials.
We found that we could manipulate the variables in the program to make the drawling tool thicker. This resulted in the cool effect shown at left.
Leaving the game as is provided you with a fine drawing tool that allowed you to create drawings such as this. You  click on the color bar on the right side of the screen to change colors and click on the black color bar on the bottom right to erase the screen.
The game was simple, but Prometheus was SO PROUD of his creation.
Pricing: 
A single user license with digital E-Book Download is regularly priced at $59.95 (Item #104-DL)
The program is on sale right now for $34.95 (Sale price good thru July 4, 2013)
There are two other bundle options available that include a paperback textbook and the e-book download or a one-year Christian school teacher site license. You can check out all of the options and make your purchase here.
Computer Requirements for Microsoft Small Basic:
The course requires XP-SP2, Vista, or Windows 7, ability to view and print documents saved in Microsoft Word format, and the Microsoft Small Basic development environment (Version 0.9 or higher).
Our Opinions of the Product:
Prometheus – I liked it because I like making the programs. It was really cool to be able to make a drawing game. I thought the instructions were easy. I can't wait to finish it and make the video games at the end!
Mom and Dad – We thought this program was user-friendly and a great way for kids to learn more about how computer programming works. Our ten-year old was able to complete the tutorials with only a little assistance after the initial setup in the first couple of lessons. Only once during the review period did he get "stuck". I was able to use the included code files for the lesson to check his work. After correcting a couple of input errors, we got the program up and running rather painlessly. We were pleased with the tutorials and the results that were produced in such a short amount of time working with the curriculum. I would recommend this program for self-motivated students with a good eye for attention to detail. Those with short attention spans may find this curriculum tedious. If you would like to read more reviews about this program click on graphic below.