Leadership skills can help us in all areas of our life. As a homeschooling mom, an AWANA teacher, a former music teacher, a nurse, etc., I  have many opportunities to use leadership skills in my life. Prometheus is also reaching an age where he is learning to develop some leadership roles in our home with his younger siblings. With these things in mind, I jumped into our latest review opportunity with gusto hoping to gain some new skills for our life work.
Leadership Garden Legacy
in conjunction with the
Schoolhouse Review Crew
provided the following products for us to use in our homeschool:
The following products are specifically geared for children ages 8-12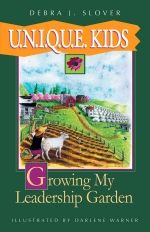 $18.95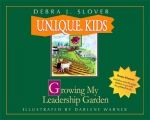 U.N.I.Q.U.E Kids audio book MP3 download
$8.95
also available in 2 CD's  here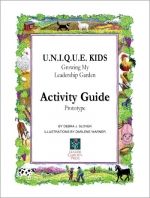 Unique Kids Activity Guide & Journal PDF Download
$8.95
The items below are intended for adult readers:
U.N.I.Q.U.E. Growing the Leader Within
$18.95
U.N.I.Q.U.E Growing the Leader Within audio book MP3 download
 $24.95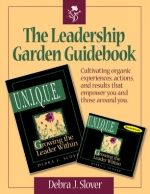 The Leadership Garden Guidebook
$18.95
Toolkit Bundles are available here
A "Spring Special Discount" of 20% is currently available on all the 'Empowerment Tools' for The Old Schoolhouse Magazine community. Enter the discount code: TOS-SS20D at checkout to receive this discount. This code expires on May 31, 2013.
All prices are correct as of this post date, but are subject to change
 Company Info:
Debra J. Slover began Leadership Garden Legacy Press as a way to share her passion with the world. Her desire is
to articulate her lifelong passion and commitment to empower the unstoppable leader, with a unique purpose and aim, in everyone.
She accomplishes this through the books and tools she has created to help grow children and adults into leaders to impact our society.
Products Reviewed:
We spent the majority of our time reading and working with the children's resources.  We found
U.N.I.Q.U.E Kids, Growing My Leadership Garden
to be a beautifully illustrated book about a lamb named Hugh who wandered onto the Leadership Farm after leaving his flock. He had been through a frightening experience where a pack of coyotes had surrounded his mother and had run away in fear. The leaders on the farm take him on a U.N.I.Q.U.E. tour where he meets farm animals that explain to him the leadership principles described in the acronym below:
U – Understanding Field – a place where four leader behaviors are introduced

N –Nurturing Meadow – place to learn garden practices for our leadership garden

I – Inventive Roost  – the place where life purpose and aim are explored

Q – Quality Yard – attributes of leadership are learned here

U – Unstoppable Pasture – Commitment to purpose and aim and barriers to that commitment are discussed here

E – Expression Pen – a place of empowerment where we learn to express our leader within.
Hugh learns to remove the coward seed from his life and plant new seeds of courage and hope as he takes his journey around the farm. He looks inside to discover his purpose and aim. The ending finds Hugh ready for leadership and equipped to take his purpose and aim out into the world to make a difference in the lives of others. You will have to get your own copy to find out the whole story.
While this book has no spiritual/religious references, my ten-year old and I were able to have some great discussions about character-building and weeding out the sin in our lives as a result of reading this book. The author uses a garden/farming metaphor to correlate our lives as a garden where we choose what to plant and what needs to be weeded out of our leadership gardens. The quaint setting, delightful animals and unique story is sure to delight your children. Some of the terminology may be a little over the heads of younger children as I thought my advanced 10-year old was just about the perfect age to really grasp some of the concepts discussed.
The U.N.I.Q.U.E Kids audio book MP3 download was a great tool that we enjoyed. The narrator has a cheerful, pleasant voice and the tones indicating when to turn the page are a nice addition if you have pre-readers joining in.  We used this and listened straight from our laptop while looking at the book together and pausing at the end of the chapters to talk about the discussion questions labeled as, "Hugh Wants to Know".
The Unique Kids Activity Guide & Journal PDF Download was a nice go-along resource created with classrooms and homeschoolers in mind. The purpose of this resource is to reinforce concepts taught in the book and to allow opportunities for journaling, field trips, and correlation into other subjects. The suggested activities are mapped against the Oregon State standards and could possibly be adapted to other states standards if you desired. We used this resource by printing out the Leadership Garden Journal and placing it in a binder. We used the journaling pages to take notes after reading each chapter and we also used the activity pages. Here are some of our samples.
The U.N.I.Q.U.E. Growing the Leader Within book for adults, I read for my own personal growth and development. After reading the kid's book, I found that the adult book just took the topics and went more in-depth exploring more of the author's life story and experiences. Part one of the book explores the gardening metaphor and explains the concepts behind the Leadership Garden. The author switches back and forth between telling the story of Hugh the lamb in allegory style and then giving snippets of information from her life story to practically apply the points she is making. Part two follows the same U.N.I.Q.U.E acronym that is in the children's book allowing one chapter for each of the letters in "unique". The intention of the book is to provide you with tools to discover the leader spirit inside of yourself. I found that using the The Leadership Garden Guidebook in conjunction with the book helped me to make some practical application of the material to my own experiences.
My Opinion of the Materials:
Pros:
We found the children's book entertaining and thought-provoking. It led to some great spiritual discussions with my son and I have found myself looking at different actions and attitudes in my own life and trying to determine if they are "weeds" or "seeds". From there I then decide if I want them to be a part of my Leadership Garden. My son was not overly thrilled with the materials, but was a willing participant. He enjoyed the story and I think the metaphors gave him lots of food for thought. The adult materials were not as enjoyable reading as the kid's book, but I found plenty of food for thought among the pages. Here is one interesting tidbit from the book that I found fascinating,
Scientists previously thought the brain was hard-wired by genetics and early life experiences. Recently, scientists studying the brain discovered that we have the ability to rewire our brain in order to learn new things and create new experiences. In other words, our wiring is not fixed.
As a Christian, I know that this is true as I use Scripture to renew my mind daily, Christ creates a new reality in my life of peace, joy and feelings of kindness and love toward others. Change is possible through salvation in Jesus Christ and walking in the Spirit. While secular in nature, this book can easily be infused with the principles of sowing ,reaping and pruning.
Cons:
We would have liked to see a religious aspect introduced into the materials. The adult book was lengthy and rather tedious. I felt I gained as much info from the children's book as I did from the adult book. I would probably not read the adult book again.
I think these materials could be useful for families looking to instill healthy self-esteem in themselves and their children and who want to cultivate the qualities necessary to raise leaders to impact the next generation.
Read what my colleagues had to say about Leadership Garden Legacy here.