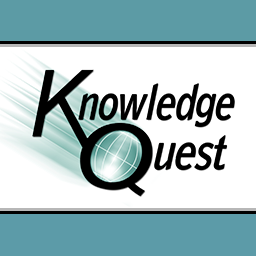 I have been drooling over the products found at Knowledge Quest for years now. I always stop at their booth at curriculum fairs. If you love history and geography then you have got to visit their sight and learn more about all that they have to offer. The company was started in 2001 by a homeschool family that developed black and white maps to color in with their kids that would accompany their studies of history. They have since expanded their line of products to include classes, history curricula, geography curricula, timelines and educational apps for ipad and iphone. I jumped at the chance to review the e-book Sacagawea by Karla Akins. You can find out more about them by watching the short video below. There goal is to,
Help you make sense of history and have fun while you are at it!
We have been studying early American history with the
Sonlight Core D curriculum
this year and this e-book came at the perfect time. We had just begun studying westward expansion and this was a great complement to our studies.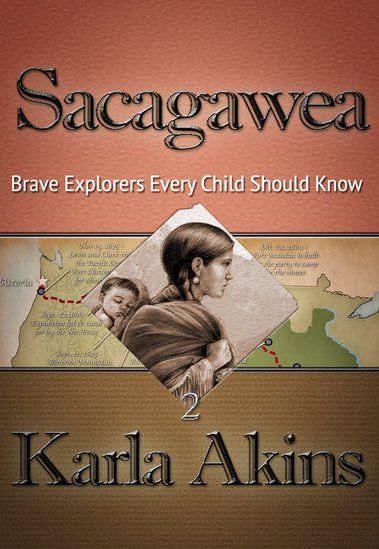 (book 2 in the Brave Exploreres series)
                          $4.97
also available: Jacques Cartier
(book 1 in the Brave Explorers series)
                         $3.59
 This story geared for the aged 10+ set, begins with a flashforward to the end of the story circa 1809 and reads almost like an epilogue. The story then jumps back nine years and starts at the point where Sacagawea is stolen away from her tribe of Shoshone Indians and taken to live with the Mandan tribes. This tale of adventure keeps you hanging on every word waiting to see what will happen around the next bend as Sacagawea is married off to her trader husband and eventually sent as a translator and guide for the great expedition of Lewis and Clark to explore the land west of the Mississippi and find the Great Waters (the Pacific Ocean). Sacagawea takes along her infant son and the tale includes insight into her relationship with her son. She was a woman of courage, endurance and had adventurous spirit. They withstand hunger, cold, river rapids and bears along the way. The almost human-like qualities of Lewis' Newfoundland dog, Seaman are explored as Sacagawea finds him one of her trusted friends on the journey. Her tentative relationship with her husband is also explored as he treats Sacagawea as a possession. She is shown respect for the first time by the explorers and finds that her life is much improved by her association with them as they protect her from the rough handling of her spouse and later provide unique opportunities for her children. The richly woven historical tale is full of cultural facts and visual imagery that is sure to hold your attention to the very last page. The addition of hyperlinks in the text allow for further exploration and interaction with the story.
Our family read the book on our Kindle Fire and snuggled together daily reading this 16-chapter saga. I have two boys ages 7 and 10 and they were intrigued by the adventure and suspense that this novel provided. We especially enjoyed the included hyperlinks that could be perused straight from the ebook. We tried them on the Kindle Fire and on our laptop and explored them to learn many interested facts from the ordinary to the bizarre. We learned  about trees, plants, and berries through photos in the hyperlinks. We even learned how to correct a dislocated shoulder by clicking through a hyperlink and watching the linked video! This was a new experience for my kids as they were introduced to a 21st century hyperlinked e-book for the first time.  There were no complaints about history when we sat down to explore this living book that chronicles such an important time in the History of our America. My seven-year old asked if there were any more stories like this that we could read. I was happy to inform him that the first book in the series about Jaques Cartier is available. We will be reading this book next and anxiously awaiting the next book in this series. If you would like to read more reviews about this awesome book or the
Timeline Builder ipad app
click on the graphic below.