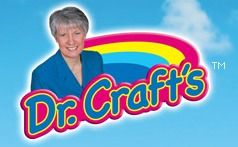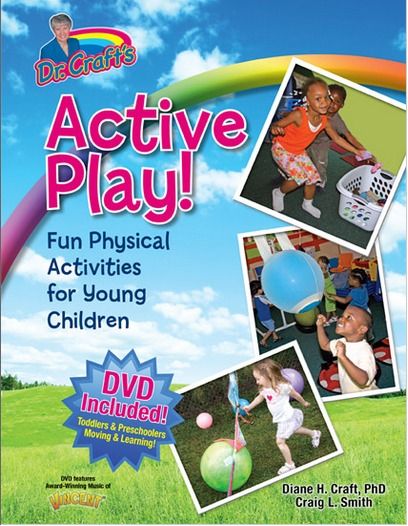 In our busy, everyday home school life, we often forget to take the time to do meaningful physical activities with our little ones. I was recently given the opportunity to review a great book and DVD set that tackles this problem head on. 
Dr. Craft's Active Play Books
 has created this title, 
Active Play! Fun Physical Activities for Young Children
. This 122 page, spiral-bound, black and white volume has a companion DVD included that show children performing the activities described in the book. The book provides detailed instructions for 52 activities appropriate for 
preschool-aged children
. There are also some chapters for parents and teachers that detail:
- The importance of physical activity
- Learning through physical activity
- Leading physical activities
There is a section at the end that gives explanations and adaptations of the activities for use with infants,toddlers and older school-aged children. A lesson plan for twenty weeks of physical activity is also included making it easy to use with daycare, preschool or homeschool settings.
Price $39.00
How we used this in our homeschool:
We used this book to help us incorporate some physical education and movement into our day. I allowed the boys to help set up the activities on most days.The activities focus on developing skills in the following areas:
object, color and shape recognition

spatial relationships

locomotor skills

object control skills

gaining stability

improving cardiovascular endurance

building muscular strength and endurance
Here are some descriptions of some of our favorite activities and how we used and modified them for homeschool use:
Alligator Pit
The first activity we tried was called Alligator Pit. This activity helps develop stability as the kids learn to walk in a straight line and improve balance and coordination. The goal of the activity is to walk the plank carrying objects from one end to the other. If they fall off the plank, the alligator might try to get them. In the video above my son played the role of the alligator as Sweetums Peetums tried to get all the items from one end of the plank into the basket at the end of the plank. We repeated this activity until the kids were ready to try something else. I found that just getting the kids moving seemed to be a catalyst for more fun outdoor activities.
Swat the Fly
Here is a video of one of the activities called "Swat the Fly". We adapted this game for indoor use due to cooler weather on the day of the activity. We used balloons left over from a birthday party as the "flies" and pool noodles as the fly swatter. The goal is to have the kids swat the balloons with the pool noodles as they move around the room. This activity helps with cardiovascular endurance and object control skills. The kids loved this. We are planning to take this activity outside soon and try it using a Frisbee attached to a nylon cord. In this recommended manner, the child runs around pulling the Frisbee by the rope, while the other children chase the "Frisbee fly" and try to swat it as it is moving. I really liked that the activities were adaptable for indoor or outdoor areas.
Obstacle Course: Over, Under and Through
This activity was probably our favorite. We had a blast with this activity. This helps to promote spatial relationship skills and stability. We set up a course in our living room helping us to practice the concepts of over, under and through using pool noodles, blankets, hula hoops and furniture. We all had so much fun doing this activity. I think the boys enjoyed it as much as my preschooler even though the activities were meant for her. You can follow the kids through the course if you watch the video above.
Easy Kicking
This idea is ingenious. You take a medium-sized ball and place it in the top of a pair of pantyhose. Gather the "legs" of the hose together and secure with a small rope or cord. Suspend the rope or cord from a doorway or garage door, ceiling, etc. Now you have a great target for kicking practice and you don't have to chase the ball all over the place. We tried this activity indoors. I would not recommend trying it inside for older, stronger kids. My three-year old didn't manage to inflict any damage to the kitchen with this activity. I thought it was a great chance for her to develop kicking skills like her brothers. She is used to watching them play soccer and do karate so this was neat for her to have an opportunity to try to have some success. I think this is a great confidence builder!  This activity is all about object control, but it also sneaks in some cardiovascular endurance if you work at it long enough. Click on the video above for a sneak peek.
Spiders and Bugs
This activity involved the whole family. You chose one person to be the spider. This person is only allowed to move around using their hands and feet. They cannot drop onto their knees. The "bugs", or everyone else crawls around on their hands and knees. The spider chases the bugs and when he tags a bug, they become a spider and try to convert other bugs into spiders until all the bugs have been tagged and become spiders. This was loud, wild, but delightful. Fun was had by all with this activity.
If you think you would enjoy these activities, you can get your own copy of Active Play! Fun Physical Activities for Young Children at Dr. Craft's website. We will continue to use these ideas for birthday parties, our 3-year old AWANA class at church and in our home school. I am sure you will find some great ideas within the pages of this volume. You will be sure to delight your kids with some out-of-the-box activities that will get you up and moving. If you would like to see what some of the other Crew members have to say about this book, make sure to click the graphic below.