As a science major myself, I was excited to get my hands on a copy of  One Minute Mysteries: 65 More Short Mysteries You Solve With Science! by Eric and Natalie Yoder, published by Science Naturally. My ten and seven-year-old boys like science and my oldest has been interested in mysteries since he learned to read. I knew that this combination of science and mysteries would be a hit at our house and I was not disappointed. In fact, it has even drawn in my husband and I.
About the Company:
Science Naturally is an independent press located in the nation's capitol. Their goal is listed below:
We are committed to increasing science and math literacy by exploring and demystifying topics in entertaining and enlightening ways.
About the Product: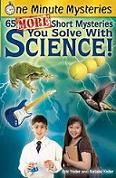 One Minute Mysteries: 65 More Short Mysteries You Solve With Science!
  was written by a father-daughter team. This title is the sequel to the first book
One Minute Mysteries: 65 Short Mysteries You Solve With Science!
The second book in this series is available for $9.95 as a 180-page paperback. It is recommended for ages 8-12. We found this age range to be on target. My ten-year old really got into guessing the answers and figured out many of the answers on his own. The seven-year old enjoyed listening and tried to guess the answers, but didn't answer correctly most of the time. I felt it was a good learning opportunity for him even though his participation with the content was limited.
The book includes six sections covering topics from life science, earth & space science, physical & chemical science, general science, miscellaneous, and a bonus section with one-minute math mysteries. These short, one-page stories give background information and clues about the science mystery presented and then after you have had the chance to think of your answer, you can turn the page and read the answer or solution to the problem.
One example from the book is a story about a family visiting a national park. They are excited about seeing and taking pictures of the elk that they had seen on  their last visit to the park earlier in the year. By the time they returned to the park for the second time, fall had arrived. They looked everywhere, but couldn't find the elk herd. They discussed the possibilities of disease, wolf attacks, etc. when one of the family members stated they knew what had happened. You are left at this point in the story to come to your own conclusions about what happened. Then, you can turn the page and read the answer or solution to the problem. In this story, you will find out that elk migrate in the fall and return to their homes in the spring. If you would like to read more sample mysteries you can check out
this link
.
What We Thought About the Product:
Learning science through mystery stories? What is not to like about this? I loved the subtle way in which the topics were woven into the stories. The mysteries were short and to the point, taking truly only a minute to read. The discussions generated by the one-minute story lasted longer than a minute and many times carried over into our dinnertime discussion. I thought that this book was a truly unique product that makes science fun and entertaining and helps pique kids interest in finding out why things happen. After reading the second book in the series, I will probably purchase the first book in the future.
Drew's Opinion (ten-years-old):
"I liked this book because it was a challenge to figure out the mysteries. It is a fun way to learn about science!"
If you would like to purchase your own copy, check out Science Naturally and use coupon code 3SPEC to purchase any 3 books on their website for $19.95 plus $2.95 shipping. (That is a savings of $12.90). 
They offer seven products relating to math and science topics, with more in the works.