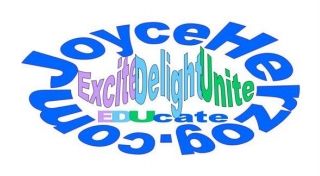 This is the season where I hibernate in a room with the computer and research, pray, make lists, and plan for the new school year. I LOVE to plan and look for school curriculum. Sometimes, I make this harder than it has to be so when the opportunity arose for me to review Joyce Herzog's book Choosing and Using Curriculum, I was thrilled, especially since it arrived prior to our annual trip to a homeschool convention.
About the Author:
Joyce Herzog has a doctorate degree and has over 30 years of experience in working with homeschoolers and 25 years of experience in working with learning disabled students. She has written several great products of interest to homeschoolers and families of special needs children. The Schoolhouse Review Crew had the opportunity to review twelve of these products including the wildly popular Scaredy Cat Reading System. Click the link below to read more about these other great products offered by Joyce Herzog

About the Products: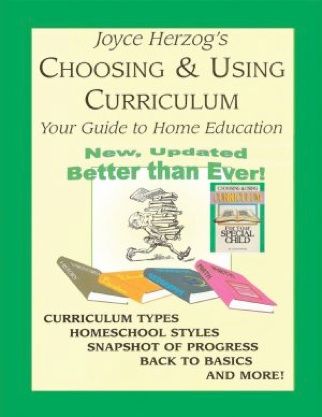 This 108-page paperback is a great reference tool. There are 28 short, easy to read chapters. I found myself finishing several chapters in each sitting. Some of the chapter titles include:
Curriculum Types and Comments

Getting Back to Basics

Start Your Year Out Right!

Take a Snapshot of Your Child's Progress

Bible, Spiritual, Religious and Character Training

Comparison of Math Programs

How to Interest a Child in Reading

Testing

and 20 more………..
The beginning of the book explains curriculum types, gives the pros and cons for each type (with special consideration for how they work with special needs children), and then lays out the types of homeschooling styles. Helpful descriptions are given of homeschooling moms to help find where you fit into the picture. I found the descriptions humorous and enjoyable to read. Educational styles and grade levels are discussed. Importance is placed on starting out your year right, goal-setting and generating excitement in your homeschool. The focus of the book shifts about halfway through, and the individual disciplines are covered in-depth including comparing types of curriculums to help you choose a good fit your family. Math, Reading, literature, Handwriting, Language Arts, Geography, Science and History are touched on in this book. The comparisons are not exhaustive, but are a great jumping off place to help you see the different types of products available. Mrs. Herzog has done so much of the work for you in comparing and contrasting curriculum types.  The book ends by covering testing and gives a few chapters on adapting materials for special needs children and listing resources for different types of special needs learners. This is an excellent resource for new homeschoolers, but has equal merit for older homeschoolers who are in need of some new ideas or looking to adapt materials for children with special needs.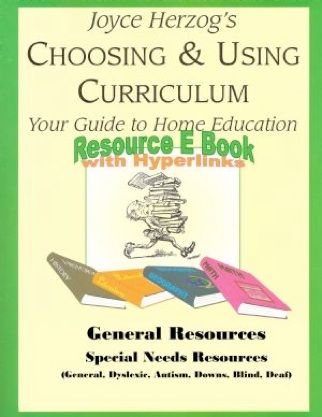 The second title we were given to review was the companion ebook that is part of the
Choosing and Using Curriculum Set.
This downloadable resource is a plethora of awesome homeschool resources. There are page after page of links to items such as museums, librarys, blogs, support groups, homeschool conventions, product reviews, educational games, history resources, and science resources. This is just chapter one. Chapter two goes on to list general resources mentioned in the book with addresses, phone numbers and websites. The companies are mentioned in alphabetical order for easy reference. The next several chapters give resources and links for deaf, blind, autistic and dyslexic students. Speech and Language Develpment resources, legal information, support group resources and magazine suppliers are listed at the end of the e-book.
Pricing:
Choosing and Using Curriculum Set is available from Joyceherzog.com for $15.00
This is meant to be a resource for parents.
My Opinion of the Products:
Pros – I fell in love with the heart of this author. By the end of the read, I was wishing she lived near enough to be my mentor. She has so much wisdom to share. I was reminded after reading this book that I can't forget to include character training and life skills in my curriculum planning.It helped me narrow my focus on what is really important in my kids education. I was reminded in chapter six that obedience and learning to listen are some of the most important skills for preschoolers. I loved the suggestion that she gave on p. 40 of the book to have the kids answer a list of questions each year and compare them annually to see how much growth has occurred. I will probably expand on her idea and create a form for my kids to fill out on the first and last day of school. I think this will be a fun way to see improvement and record special memories.  I had never had anyone explain the differences in reading methods. This explanation was helpful for me and gave me lots to think about as I prepare to teach my third child to read in the next couple of years. I loved the lists of resources in the e-book and have just barely skimmed the surface of all that is there. I will probably reference this list for years to come.
Cons – This book had numerous typos and formatting issues in regards to spacing. The graphics are cute but seem to be taken from printed clip art , and you can see some of the edges of the copies in the book. The content is excellent, but the typos and formatting errors take away from the content and make it seem rather unprofessional.
I hope that you will take the time to check out this great reference. I know that I will be keeping it handy as I continue to plan my upcoming school year.