See the Light is a company dedicated to bringing artists and musicians together to provide quality art instruction for children. They offer a wide range of products including art classes on DVD, art projects on DVD and a Bible stories series of which the DVD God's Runaway is a part. I was given a copy of God's Runaway to review. You can read more about See the Light at this link.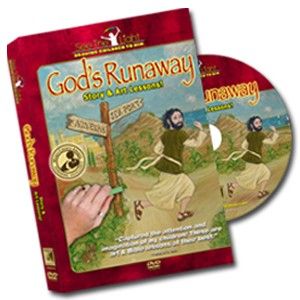 God's Runaway is available at the See the Light website for $14.99. It is geared for ages 6 and up. It is also available as a Bible Stories Bundle for $74.95. The DVD includes the story of Jonah from the Bible,told and illustrated by chalk artist Gloria Kohlmann. The DVD also includes 3 art lessons. The first lesson is presented by Heidi Shorts and is a lesson on creative lettering. We used fluorescent colored pencils on the letters to make them "pop". We placed the finished picture under a black light that we purchased from See the Light and were excited about the results. Here is a sample of my son's work from this lesson.
The second lesson was a lesson in the use of pastels. We drew a scene of Jonah on the shore after being spit out by the big fish. We were guided in our instruction by master artist Pat Knepley. This lesson surprised me in its simplicity and beauty. My boys had no trouble following the directions. We worked in small sections and paused the DVD to allow time to complete each step. It was our first experience using pastels and we thoroughly enjoyed it. We especially liked the use of fluorescent chalk to highlight Jonah's message from God, "go to Ninevah".
The third lesson was led by artist Jim Pence and was a lesson on the use of mixed media. We used watercolors, pencils, permanent markers and fluorescent crayons for this lesson. It was the most time-consuming of the three lessons and the boys were a little frustrated with their first attempt. One thing I loved about this method of learning art via video is that we can watch it and try again as many times as we like. Here are the photos from our last project. The first set of pictures is the picture in normal lighting and the second set is the picture under the black light. The photos do not do them justice, but I think they will help you get an idea of how fun this art project can be.
The pictures on the left are from my 10-year old and the pictures on the right are from my 7-year old. After viewing the finished product under a black light, the hidden crosses inside the fishes belly appeared! We thought this was the most exciting part of the lesson.
There are some bonus features to the DVD. There is a rendition of the Jonah story illustrated via a chalk talk with a musical selection by the music group, "Breathing Room", playing in the background. There is a section where the salvation story is clearly presented, and a special commentary by Gloria Kohlmann as a chalk story scene is being created.
My opinion of this product: We used this product as a once a week art lesson. This DVD was a wonderful supplement to our homeschool and we enjoyed the addition of an easy-to-prepare art lesson. I simply gathered the needed supplies and sat back and watched my kids create. This is great for me because I haven't an artistic bone in my body. That is hard when you have an artistically inclined child. My ten-year old loves to draw and sketch. I would recommend that you purchase the fluorescent materials straight from the See the Light website. We tried to acquire these at our local craft stores and found that most did not carry them or were out of stock. The supplies and black light are very reasonably priced from See the Light and I was surprised by the low-cost of shipping. I was also surprised at how well my younger son, aged 7, was able to complete the assignments. He was proud of his creations and he only needed minimal assistance from mom. I contacted the vendor about possibly using this in a co-op class for our local homeschool group this fall. She graciously responded and stated that she wanted this message to bless as many homeschoolers as possible and I was welcome to use it for said purpose. The heart of this company is definitely ministry-minded. The story portion of the DVD would also be perfect for a gospel presentation in Sunday school or VBS. The Biblical truths shared in the stories were another positive element in my opinion. If I can add a little spiritual instruction along with a school lesson, I think the lesson is more worthwhile for my kids. It serves a two-fold purpose, academic growth and spiritual growth. I highly recommend this product and invite you to check out more of their great products. You can also click to read more reviews from the Schoolhouse Review Crew. We had the privilege as a crew of reviewing a total of ten different art DVD's.