My eldest son has developed a love for computer science over the last year. As a homeschool mom, I have been worried about how I can teach this subject. I learned most of my computer knowledge as an adult and the technology is quickly passing me by. My anxiety has been relieved as I have found such a wealth of great products out there to help me teach my son. I am going to share with you one resource that I recently had the opportunity to review. 
Let's Make a Webpage!
 by  
Motherboard Books
 was given to me for review purposes via the Old Schoolhouse Review Crew. We have worked with this project for the last seven weeks.
About the Company
: 
Motherboard Books
was started by Phyllis Wheeler, a homeschool mom with a degree in mechanical engineering. She was concerned about her kids falling behind in computer skills and was teaching in a homeschool co-op. She began looking for materials to teach computer science to homeschool kids and realized there were NO curriculum of this type out there. She created her own curriculum and
Computer Science Pure and Simple
was born. She has gone on to create several other great products which you can view at her website,
Motherboard Books
.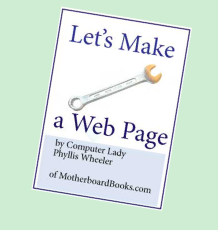 About the Product:  This 60-page e-book is intended for ages 8 and up. Kids younger than age 10 will need adult supervision. This book starts with an introduction for parents outlining the areas where kids will most likely need help. It explains times where they will be searching the web and will need you for safety reasons. I was very happy with her emphasis on internet safety, especially since I am the mom of two boys.
Lesson 1 – This lesson walks you through conducting a short interview to use as your basis for your webpage. She has you type the interview using Notepad. You also take a picture of your subject and upload it to the computer. My son chose to interview his dad about his job. I didn't require it to be very detailed since the focus of this project was not interview skills. She recommends that the student only use about five questions for the interview.
Lesson 2 – This is where she gives specific instructions on how to download CoffeeCup© Visual Site Designer. Mac users can use this software if they have Parallels Desktop installed. An introduction to some basic HTML terms is given as the student is walked step-by-step through the setup process. You are given instructions on how to insert a title for your interview and create a colored background in this step. My son chose a green
Lesson 3 – Here is where you transfer your text from Notepad to the CoffeeCup© software. Very detailed instructions are given on finding the icons, opening the programs, etc. Very user-friendly for kids. If you have a strong reader, younger kids may even be able to tackle this project. She uses some computer shortcuts that are helpful to learn as well (i.e. control-V).
Lesson 4 – At this point, you add a photo of your subject to the software. She explains how to re-size the photo to fit your page. Here is a screenshot of part of the instructions for this step. I thought this would give you an idea of what the lessons look like.
Lesson 5 – There is no lesson 5. I don't know if this is an error or what. I double checked the Table of Contents and there is a lesson 4 listed and then it skips to lesson 6.
Lesson 6 – This is where we get to the fun part. She helps you set up some safety precautions for surfing the net, then off you go to find some cool animations to use. My son chose a hopping kangaroo.
Lesson 7 – At this point, she walks you through checking your work and making sure it works in a real browser. Then you get the opportunity to add a texture to your background. A short explanation of photo licensing and attribution. I found this explanation helpful!
Lesson 8 – This is the only step that we had problems with. It seems that the trial version of CoffeeCup© has recommended a new tool to use to add sound to your webpage. We found a workaround and added a Jukebox to our page. That was the only way we could get the sound player to work on our page. We chose a bird sound. It is very pleasant. I think you could probably contact Motherboard books and receive support if you had the same problems that we did with this step. Her website states that she is happy to answer questions.
Lesson 9 – Next, we learned how to add links to our webpage.
Lesson 10 – here you are shown how post your work as your home page on your browser. The appendix gives you instructions on how to purchase a domain name and actually set it up as a working webpage if you want to go to that extent.
Here is our final product!
Computer Requirements: Software is compatible with Windows XP, Vista, and later (not Mac)
Pricing: $19.99 for the e-book download. Parents download a free trial version of CoffeeCup© software to use alongside this e-book. The free trial version is good for 30 days. Subscription to this software is $50 if you decide to continue using it.
How We Used the Product: We worked on roughly one to two lessons a week for the duration of the review. I had my ten-year old do this independently as an elective course. He only required my assistance with the sound lesson. We used a Windows operating system and did the work on a laptop with the e-book opened in a second window on the screen allowing us to follow the directions and work inside CoffeeCup© at the same time.
My Opinion of the Product: This was a fun and engaging project that required an average of 30 to 45 minutes per lesson to complete. My ten-year old found it less challenging than some computer projects we had done in the past, but he really enjoyed the creative license he was given with this project. I felt that the emphasis on safety was awesome and I loved the little tidbits of computer tips that she slipped into the lesson. This is something I will definitely try with my seven-year old this fall as an elective. All of the lessons my son was able to complete on his own, except the lesson on adding sound. It took me awhile to find a work around for this, but you could easily leave out this step if you encountered the same problems. The final product would not be altered drastically without the addition of sound.The teaching format is straightforward and guides you step-by-step leaving no guesswork. This e-book is perfect for tweens looking to learn more about basic beginning webpage design.
My Son's Opinion of the Product: Drew thought that adding the animations and sounds to his webpage were the best parts of this project. "It was fun to make my own webpage", he said.
The crew is reviewing two different products from Motherboard Books. Click to read more reviews from the Schoolhouse Review Crew.