When I first began homeschooling my own kids seven years ago, I wondered what all the fuss about teaching Latin was all about. It was one of those things that was on my list to look into, but I couldn't figure out how I was going to work it into the already long curriculum list I was building for my sons. Then I found Memoria Press. They have a complete line of Latin Materials with choices for every student from beginner to advanced. They provide so many teacher helps that even someone with no background in Latin, like myself, can easily pick up their curriculum and learn alongside their student. I was recently given a complete set of Prima Latina to review with my son Luke. He just completed first grade and had completed a beginner Latin program this school year. I had decided after one year of Latin that this was something that I wanted my boys to learn. I figured that even if they could just pick up on some Latin roots it might help them with vocabulary and foreign language later in their life. I have a part-time job as a registered nurse and as I have begun to study Latin with my boys, I see how helpful this can be in real life. I wish I had begun to study it earlier!
About the Company:
Memoria Press was started in 1994 by Cheryl Lowe as a way to promote the classical heritage of the Christian West. Emphasis is placed on the great works of Western Tradition and liberal arts. A  K-12  curriculum is currently being developed. All the materials are field tested and developed in Louisville, Kentucky at Highlands Latin School.
Memoria Press' philosophy is described by this quote from their website
Memoria Press' educational philosophy can be best described as classical Christian education. Classical Christian education is the cultivation of wisdom and virtue through meditation on the Good, the True, and the Beautiful. This is accomplished in two ways: first, through training in the liberal arts; and secondly, through a familiarity with the great books and the great thinkers of the Western tradition.
About the Product: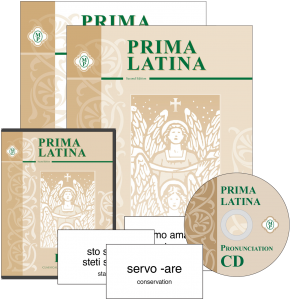 Prima Latina – for grades 2-4
Complete Set – $90.90
(all prices are current but subject to change)
The complete set includes the following:
- Student Book
- Teacher Manual
- Pronunciation CD
- Instructional DVDs
- Flashcards
Text Set – $32.95
The text set includes the following:
- Student Book
- Teacher Manual
- Pronunciation CD
You can view a sample lesson, the table of contents, and a sample of the teacher's manual on the website.
Prima Latina is a 25-lesson course that moves at an appropriate pace for young elementary students. If you cover a lesson a week, you would have plenty of time to work in review, allow for disruptions and still finish before your 36-week school year is over. The instructional DVD contains the same material as the student book narrated by the author, Leigh Lowe. She walks you through the student book step-by-step in a fun and cheerful way.There are 3 discs with over 9 hours of instruction. Hearing her give the correct pronunciation was a great help to me. You can watch a sample DVD lesson here. A practical Latin phrase is taught in each lesson. Here are some examples of the phrases from the first few weeks:
Salve! Salvete! – Hello! (singular) Hello! (plural)
Magister – male teacher  Magistra – female teacher
Surge – stand up (singular) Surgite – stand up (plural)
Vale – Goodbye (singular) Valete – Goodbye (plural)
After the practical Latin section, you move into the lesson. Things such as the alphabet, consonants, diphthongs, verbs, invisible verbs, and Latin verbs are taught in the first five lessons.
Next, you move into the vocabulary section..The student is given five vocabulary words each week. We found that this was perfect for my 7- year-old student. He was not overwhelmed and picked up on the words easily with the review we worked in using the audio CD and video lessons on DVD. Here is a picture at left of the first two weeks vocabulary words. The flashcards contain the Latin word on one side and the English translation on the other side.
One line of a Latin prayer is taught each week resulting in the memorization of one complete Latin prayer every 5 weeks. The last section of the weekly lesson is Derivatives. Mrs. Lowe helps you make the connection between the Latin vocabulary you are learning and words used in our English language.  The Exercise section follows the lesson each week and has components such as review questions, translation, speaking Latin, write and learn exercises, and fun practice.There are also review lessons and tests included every five chapters to insure mastery of the content.
How We Used the Product in Our Homeschool:
We had five weeks to work with the curriculum. We found that it was an easy transition from our previous Latin curriculum to this material. At first, I was a little worried about the difficulty level. I was afraid my math-minded 7-year- old would balk at the DVD lessons and workbook pages. I was pleasantly surprised. While I did have difficulty having him sit for the extended time period of the DVD lesson, if I allowed him to play with blocks and listen to the lesson daily for 4-5 days, I found that his retention was good. I had him listen to the exercise section a couple of times each week and I broke the exercises in the workbook into manageable portions usually having him complete them in 2-3 days each week. We listened to the CD when indicated in the book and occasionally as we were doing things in the kitchen in the evenings. The prayers are on the CD and we enjoyed the four beautiful Latin songs included at the end of the CD.
My Opinion of the Products:
I am now a fan of Leigh Lowe and Memoria Press. I felt that the instructional DVD's are a must. I learned my lesson last year. I started the year thinking I could teach Latin lessons from a book without the DVD. I found myself at a loss for how to teach the correct pronunciation. We ended up purchasing the DVD/CD's later in the year because I didn't have enough expertise in the language to be sure I was pronouncing the vocabulary correctly. I have decided that with any Latin program I use, I will always purchase the audiovisual helps, because this has been such a big help for us. Mrs. Lowe has a pleasant Kentucky accent and her helpful instruction in pronunciation has been wonderful for us. She smiles a lot and encourages participation. I also loved the included flashcards. I punched them out and placed them in a plastic bag. We review these frequently and it will help when we get to the tests included at the end of each five chapters. As a classical music student in the past, I loved the music included at the end of the pronunciation CD's. It was very relaxing and enjoyable. I found that I didn't use the teacher's manual all that much. I read over the teaching guidelines at the end of the book and I think I will use the included tests. I would have liked it more if there were some more lesson plan options given. The sample included basically just explained how to complete each lesson as is in the student book. I think it was meant as a sort of guideline for a weekly lesson. It would have been nice if there were some suggestions or charts with check boxes for breaking up the lessons into 3 or 4 days of work each week. Overall, this Latin program is excellent. I will be using the remainder of the curriculum for my 7-year-old as he enters second grade this year. If you have no Latin background and are looking for a beginning Latin program to use with your 2nd to 4th graders then I think you should look no further. Prima Latina is the curriculum for you.
My crew mates have reviewed Prima Latina as well as Geography I. Click to read more reviews from the Schoolhouse Review Crew.