Teaching handwriting to boys can be a challenge. I feel like I am always telling my boys to "write neat". I made it one of my goals to work on cursive writing with my 10-year-old this summer. He is very artistic, but that skill doesn't usually carry over into his handwriting. After I had set this goal, I was presented with the opportunity to review PreScripts Cursive Sentences and Art Lessons by Classical Conversations. I was immediately taken in by the simplicity of this program geared for ages 7-12. The ideas of not only writing neatly, but beautifully appealed to me. I also knew that it would be a good fit for us when I saw that it combined art with handwriting.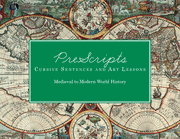 About the Product:
Available in a 145-page spiral-bound book from Classical Conversations for $12.99.
This volume is based on quotes and facts from medieval to modern world history.Using meaningful and rich historical content, in the context of a biblical worldview, the student is able to incorporate handwriting, history and art in one workbook. Sentences based on these topics are given in cursive script for the student to copy and then space is provided for the sentence to be written again. Drawing lessons are placed strategically throughout the book to give variety and substance to the student's writing. No special art supplies are needed except hard and soft lead pencils and a art gum eraser. Working with depth, point of view, shadows, light, composition and design are the art concepts covered in this volume. There are four sets of history notes with six notes in each set. There are reviews of each note included in between each set so after completing six notes, there is a review sandwiched between the next set of six notes, etc.
How we used this product in our homeschool:
I used this product with my ten-year-old son. He never complained about doing his handwriting lessons with this program. We spent one year working on cursive handwriting in the past and then we haven't consistently worked on this skill. After a few lessons, I could see a difference in his handwriting. We still need to focus on slowing down and working on the slant of the paper, but I am confident that after we complete this book, my son will have greatly improved his skill in cursive handwriting. Here is a sample of his handwriting before using the program.
Here is a sample of his work in the workbook.
Below is one of the drawing lessons. Drew was practicing using a grid to help him with the size and placement of each element in the drawing. I will have him re-draw this picture without the grid in the review section or possibly even in his sketchbook at a later date.
Our Opinion of the product:
This book is a great value at only $12.99. I loved the combination of short sentences and art lessons sprinkled throughout the book, this gave my son a positive outlook on the program. I loved the inclusion of review and I thought the art lessons were fun and engaging. I also thought that the top spiral binding of the product was perfect because it allows right or left-handed writers easy access to the margins and it causes the book to lie flush with the table. I would definitely consider purchasing this for my younger kiddos in the future. I plan to finish up the book in the fall as part of our 6th grade curriculum. I couldn't find any negative aspects of this product. We give it a thumbs up!
For more information about the other products in the PreScripts series, click to read more reviews from the Schoolhouse Review Crew.