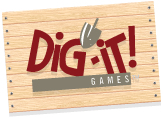 We love ancient history in our home. After spending a couple of years studying this era of history, we learned so much. When asked to be a part of this review, I knew we were in for some great learning and review.
Dig-It Games
is the subject of my product review today. This company was founded 2005 by archaeologist Suzi Wilczynski, who has over 10 years of dig experience. Ms. Wilcznski was also a former middle school teacher. Working together with Robert J. Sharer, former professor of anthropology for over 30 years, this team has created a great educational game.  Some of the goals for Dig It! games are to encourage creative thinking and cultural understanding. I received a free one-year access to the
Mayan Mysteries Online Game
for my honest opinion and review. This company has also created
Roman Town
and
Gallery Quests
.

About the Product:
Mayan Mysteries Online Game is an adventurous educational video game that helps teach kids about ancient Mayan history by visiting ancient Mayan cities, exploring ancient artifacts through archaeology, learning about the Mayan calendar, and learning some Maya math. This is geared for students in 5th through 9th grade and is compatible with Mac, PC and tablets. Your kids will learn as they play! Who wouldn't love this idea?
The story line of the game includes a mysterious looter named Ladrone and three members of team Q (an archaelogist and his niece and nephew). Team Q is given the task of finding the looter Ladrone and stopping him from stealing and destroying Ancient Mayan artifacts. You are given mapwork, multiple choice questions and clues along the way as you attempt to find out the true identity of Ladrone. As you read information in comic book format shown below, you are presented with challenges to help you solve the mystery.
Team Q travels to archaeological dig sites and learns much about the ancient Mayan civilizations and the specifics of archaeology. All of a sudden a spirit guide appears out of the pages of a book and takes the kids back in time to visit the ancient cities. Stops are made in Ceren, Copal, Caracol and Tikal. The kids find clues along the way to help them learn more about Ladrone's identity.
All throughout the game, you click on the exclamation points above the heads of people in the pictures to learn more and solve puzzles, dig up artifacts, answer questions and gain knowledge. Areas covered include reading comprehension, geography, spatial reasoning,  science and math skills You can take your own adventure by
clicking here to try the free demo
.
Pricing:
$21.99 – for single family user license – this license is good for one year from date of purchase and allows one user at a time. When one of your student finishes the game, you can start the game over with another child.
$299.00 – classroom edition for up to 30 students
How We Used this Product in Our Homeschool:
I had my ten-year-old son use this game about three times a week for summer learning. He enjoyed the game and only had trouble once with one of the puzzles, which required my assistance for a few brief minutes. The manufacturer states that there is approximately 9 hours of game time, but we completed the game in less time than this. I think it took us more like 6 hours or so.
Mom's Opinion of the product:
I spent some time playing the game myself and found that the graphics were engaging and beautiful to look at. The music repeats itself over and over and after awhile it started to get on my nerves. I looked around in the settings and found a volume button that allowed me to turn the music off. This was helpful. I found the map work and memory work challenging. My younger son wants to try the game and I think that I will go through the remainder of the game alongside him. Families may find that the age range could be lowered slightly with parental help and involvement. My 5th grader was fairly independent with the game. I thought that this game was an excellent introduction to modern archaeology. The techniques described were fascinating. The inclusion of spirit guides and descriptions of religious ceremonies may offend some, but I take the approach of exposing my son to these types of facts and then discussing with him how these differ from our beliefs. Overall, this game held our interest and we walked away learning some new things about Mayan culture and archaeology.
Drew's Opinion:
"I learned about the Mayan calendar and money system. I was intrigued to learn about the way that archaeologists learn so many things from studying and looking at artifacts. The puzzles were fun and the questions were interesting. This is a neat way to learn history! I played the game to the end and was a little disappointed when the last screen announced that this was only part one of the game. The mystery was not solved at the end. Mayan Mysteries Two is coming soon!"