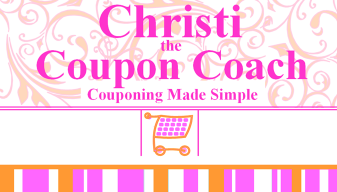 Those of you who have followed our blog from the beginning know that I love bargain shopping. I used to regularly post my deals that I scored with coupons here on the blog. As my baby daughter began to grow, I found it harder and harder to make it out to the grocery and drug stores on a regular basis armed with my coupons and organized list. Having three kids tag along while I deal shopped just seemed to take the wind out of my sails. It was overwhelming. I took an extended break from hard-core couponing and just applied some of my deal shopping principles whenever I could. When the opportunity arose for me to learn about
Christi the Coupon Coach
and her book
Couponing Made Simple
, I was hoping that it would give me the motivation and push to get back into the couponing game. I was not disappointed. I read the book from cover to cover and was impressed with the easy, simple approach that Christi describes in her book. Anyone can pick up the book and be ready to try their first coupon shopping trip in a few hours.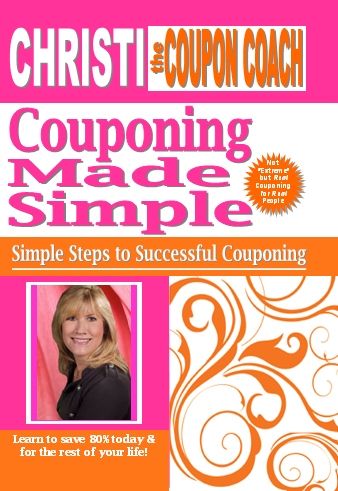 Christi Bassford is a real life homeschooling mom of 4 who has found that couponing made a difference in her finances and ministry and has decided to share her passion with others through her book Couponing Made Simple. This is great couponing information for everyone. No "extreme" principles will be found in her material. She gives you a simple straightforward process that works. Her heart is to bless others through knowledge of deal shopping and help you decrease your food bills by 60%. For the average family spending $700 on food each month, if you can whittle your bill down 60% you are looking at an annual savings of over $5000. Who would not want that kind of savings?
The book begins with success stories and introductory information that draws the reader in and makes you want to learn more. Then the mechanics of couponing are introduced.
Christi's Key Rules of Couponing

1. Buy on Sale

2. Stack Coupons with Sales
By following these rules, I was able to score some of the deals you see below while doing this review. I started out the first week using rule #1 and trying to get to the store early in the morning so I could take advantage of the marked down fresh produce and meat. These are items that I don't generally get many coupons for, although occasionally I have found and used coupons on pineapples, strawberries, bagged lettuce and onions.
Store #1 – Total out of Pocket Expense = $18.96Retail Value before Markdown = $47.03Total Savings without using any coupons = $60%By learning to spot markdown stickers and shopping early in the day, I was able to receive a 60% savings on these items. This store has great produce and meat, but their coupon policy is not the greatest. I usually shop there for store brand sales and produce and meat markdowns.
Next, I spent some time organizing my coupons, tossing expired ones out and collecting new coupons. I want to get an accordion file like Christi describes in chapter 4 but I currently own and use the following supplies and they have worked well for me. I carry both of these in the store and put the box in the top of the cart and clip my coupon "wallet" on the cart with the velcro strap. I organize clipped coupons in this box and then have them in the store to take advantage of any unadvertised sales or clearance items. It is also a handy place to store coupons that I take into the store and end up not using or a place to put coupons I collect while in the store.
Christi dedicates chapters in her book to the following topics:
Coupon Language – she explains terms such as BOGO, O.O.P., Blinkies, Peelies, etc.

Organization – she outlines a system to house, organize and use all your coupons so they don't end up taking over the house. She provides great illustrations and photos to help you visualize her system.
Step-by-Step Process – this includes obtaining coupons, finding deals and coupon matches, organizing your trip to the store, shopping, organizing upon your return home and celebrating afterwards!

Tips & Tools – she covers random items such as efficiency, weighing produce, obtaining rain checks, and Christmas shopping.

Couponing Ethics – this chapter had some great points to consider to help us remember not to take couponing too far and end up in the land of bad attitudes, deals gone bad and ruining your Christian witness over a couple of dollars. Sometimes the deal does not work out as we planned and we have to weigh our options about whether or not it is worth it to set things straight. (I have found that if it is less than a couple of dollars, I rarely go back in and have things set straight. It can take a while to explain the error and my time is usually worth more than a couple of dollars if it is going to take me 15 to 30 minutes to get my money back. When things end up that way, I just think back to what I was paying before coupons and thank the Lord that I am still paying less than I was back then).

Bonus Section – this part has some great ideas for scoring deals at yard sales and thrift stores

Beyond Couponing – here Christi shares the greatest deal ever – how to have a relationship with Jesus Christ!
My opinion of Couponing Made Simple and how I applied her method to my couponing
I really enjoyed this book and took her principles and adapted them for my stage in life. I was encouraged to hear from her that I don't have to score every deal, shop every week and clip every coupon. I clip and print coupons as I need them and usually shop once every two weeks at the grocery store. I stockpile by buying multiples when things are on sale and stack the sales with coupons when possible. There are also weeks, like during the holidays, or seasons, like when I have a small infant, etc when couponing just does not happen for me. I might take a break and shop at Aldi or Walmart and allow myself the freedom from guilt for paying a higher price. I give myself some slack and try to remember it is a marathon and I am in this for the long haul. Regular couponing saves me tons of money. When I am well-stocked,  I can take a 4- week break and cook with what I have. This has been a blessing for lean months such as January. I can save my grocery money for that month and use it for other needs. Christi's concepts were not new to me, but I picked up some great ideas and motivation to help me continue my couponing journey. I would highly recommend her book to others looking to start couponing for the first time. The book is easy to understand and gets right down to the nitty-gritty of deal shopping. You can start seeing savings immediately by using her methods and by staying balanced this is a system you can make work for you for years to come.
Here are some of the deals I scored during this review that I wanted to share with you.
Grocery store #2 – Total out-of-pocket expense = $12.59
Price before manufacture coupons, store coupons and Buy one get one free sales = $39.69
Savings of 68%
This store is Christi's store of choice unfortunately it is located about 30 miles away from me so I don't get to shop there on a regular basis. I try to shop there anytime I am travelling near enough to stop though.
Drug Store #1– Total out-of-pocket expense after sales and coupons = $9.91
Retail value before sales = $27.46
Savings of 64%
after factoring in the Up+ Rewards that I received ($5.00) to use on my next purchase
Total = $4.91 or 82% Savings!  
Grocery Store #3 – Total out-of-pocket expense = $33.47
Retail price =$92.98
Savings of 64%
This is my favorite local store and I usually shop there once every two weeks or so depending on when they have good deals or Mega sales.
If you would like to purchase your own copy of Couponing Made Simple, it is available for $18.00 in paperback and $4.99 in Kindle e-book format. Click to read more reviews of this book from the Molly Crew.