My 10-year old son has been interested in technology for the last two or three years. I remember when he was younger overhearing him make the statement that he was ready to die if the Lord should take him, but he hoped that he would live a full life and reach the age where he could get a cell phone and text someone. This was the first clue that he was interested in this field. We laughed at the time and marked it down as one of the hilarious things kids say, but it has held true as we have watched him pick up on computers and technology with minimal effort. We were excited to try out the
KidCoder Visual Basic Series
over the last several weeks.
Homeschool Programming was started by homeschooling parents with more than seventeen years of experience in the software industry. They had been approached by a homeschool teen who wanted to learn how to program computers. She called up and asked them to help her find what she needed to help her learn this art. They searched the internet for kid/teen friendly curriculum and couldn't find anything to adequately prepare her, so they created their own material.
Computer Requirements: You must download the free software Visual Studio 2010 on your own computer in order to complete this course. In order to run Visual Studio 2010 Express your computer must meet the following minimum requirements listed on their website:
A CPU of at least 1.6Ghz
At least 1024MB of RAM
A display monitor with 1024 x 768 or higher resolution
A graphics card supporting DirectX-10 or later
A 5400+ RPM hard drive with 3GB or more free space
A DVD-ROM Drive

Supported Operating Systems:

Windows XP + SP3 or above (except Starter Edition)
Windows Vista + SP2 or above (except Starter Edition)
Windows 7 (all versions)
Windows 8 (except RT)
About the Program:
We received a download of the revised 2013 student book and had access to the videos online for this review. If you choose to purchase the materials for your homeschool you will receive a physical student book and can purchase the optional video instructions. We really enjoyed the videos and watched them first followed by reading the student text. We felt they offered lots of reinforcement of the material in the student text. We spent the majority of the review period working with the first semester materials KidCoder: Windows Programming. This can be purchased separately for $85 (course book and video) or $70 (course only) Semester two continues building your computer programming knowledge by introducing game programming. The price for this materials is the same as semester one materials. You can also purchase semester one and two materials together as a bundle called the KidCoder: Visual Basic Year Pack (this is what we received) for $145 (course and videos) or $120 (course only). You can see sample course pages here. This course is geared for grades 6-12, but kids as young as 4th grade may be able to handle the material with parental help.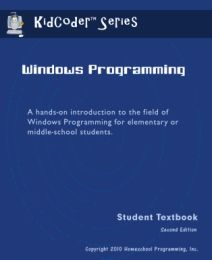 This first semester course is made up of 14 chapters. Each chapter is broken down into 3-5 lessons. If you cover a chapter a week this program will take you roughly half a school year to complete. At the end of each week's lessons there is a chapter review and a "Your Turn" assignment for the student to complete. There is a complete solution manual available in case you get hung up entering code incorrectly. There is also support available on the
Homeschool Programming
website. Parents with no technology experience should not be afraid of this program. Everything is self-explanatory and my son never once came to me for help during this course. Here are some of the topics we enjoyed covering in this course.
An introduction to computer hardware and software. The videos for this portion were particularly interesting including visually appealing pictures and graphics. We learned all about the history of hardware and software and how the first computers were used. The progression of technology was explained in an engaging and interesting way. We were also introduced to some of the different computer languages used in programming today.

Using and installing the Visual Basic 2010 Express development environment. I installed this for my son and it was a rather painless process. The step-by-step instructions with screen shots made it a breeze to install. The first project involved working with forms and adding text in Visual Basic. Here is the finished project.
As we moved on we created a program with a button on the form. The projects became progressively more difficult, but the lessons were broken down into manageable chunks that were short and to the point, maintaining momentum and holding your interest. The lessons never seemed tedious even though the content could be deemed as such.

We learned some guidelines to help us avoid common coding mistakes.

We worked with two different data types: integer and fractional ( great math terminology practice)

We learned about Basic flow control

We learned about asking for, receiving and validating user imput.
Here is a screen shot of our most recent project:
We have a lot more to cover and we are looking forward to working with numbers and strings, using the debugger, learning about loops and functions, and creating arrays and structures. At the end we will put it all together to create a simple graphic program that functions as a simple animated game.
We are looking forward to working on the second semester materials this fall. The KidCoder: Game Programming materials will have us
Reviewing what we have learned previously

Learning Game Design

Practicing Drawing on Screen

Working with Graphics and User Input in Visual Basic

Working with images and Animation to create our own video game

and much more……..
 Our Opinion of the Product and How We Used it in Our Homeschool:
Drew and I worked together on the first couple of lessons and when it became apparent that he could do the work on his own, I let my 5th grader work alone. He was very interested in the videos and we learned a lot from the introductory materials. He found the instructions easy to follow and thought that Visual Basic was an easy transition from Small Basic that he had worked with previously. He loved completing the projects and it says a lot about the program for a kid not to complain when asked to work on the material over the summer. As a parent, I liked having the solution manual included in the event that something went wrong during the lessons. I didn't have to use it, but I may need to refer to it before we finish the course. I feel that giving my son some basic programming knowledge can help him in this technically driven society we live in and I hope that by having this positive experience, he will be open to learning more about programming in the future. I would highly recommend this easy to use introduction to computer programming for the tech-loving kid in your family. Who knows – it might spark an interest that will lead to a life-long passion for technology or open doors to a career in programming in the future. If you would like to read more review about products offered by
Homeschool Programming
, click on the graphic below.