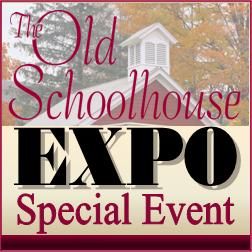 Have you ever wanted to be encouraged on your homeschool journey but lacked the funds, time or resources to attend a homeschool conference? The Old Schoolhouse Magazine has done it again by providing homeschooing families with an alternative to traditional homeschool conferences. The upcoming Schoolhouse Expo, scheduled for Aug 19, 2013 to Aug 23, 2013 will air live each day from 12:30 PM – 8:00 PM EDT. Simply log in each day and listen from the comfort of your home. With a ticket purchase you will also have access to each session via download so you can listen again or catch the sessions you miss. They will be there for you to listen to over and over again. Imagine 30 big name speakers, coming into your home via your computer and you don't even have to put on makeup or do your hair.

Speakers such as Terri Johnson, Tyler Hogan, Davis Carmen, Marie Rippel, Todd Wilson and many more. I can't wait to get a cup of hot chocolate, prop up my feet and listen to some of my favorite homeschool speakers. I am especially excited to hear Dean Butler speak this year. He played "Manley" in the Little House on the Prairie series I watched on TV as a little girl. Join me as we prepare ourselves for this important journey.
Tickets are $24.
Space is limited.
 I am so excited to be able to giveaway one free ticket to one of my readers. Simply enter the rafflecopter below. All entries will be verified. Winner subject to terms and conditions listed in rafflecopter. U.S Residents only.
*I was given a free ticket to attend the Expo in exchange for writing this post announcing the event. I was offered the opportunity to host this giveaway. All opinions in this post are my own.