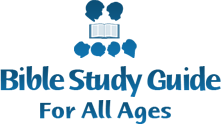 My husband and I have looked at many Bible study curricula over the last several years. We have tried something different every year and have really not been very impressed with most of what we have tried. We have found that the materials are usually very watered down, too cutesy, or too deep for young children.  We had even tossed around the idea of developing our own curriculum. When I began researching this curricula, I knew that we had hit on something that just might be a good fit for our family.  We were sent the Beginner Student Pages, Beginner Time Line, Children's Songs CD Set, Advanced Student Pages, and the Bible Book Summary Cards from Bible Study Guide For All Ages in exchange for our honest opinion of the product. All opinions expressed are my own. These materials are good for church, school or home use and are appropriate for Sunday schools, Bible classes, homeschools, Christian schools, or family devotions. The Guides are meant to take all ages through the Bible covering some Old Testament and some New Testament each year for a period of four years.
About the Company:
Bible Study Guide For All Ages was begun in the late 1970's when Mary Baker, a mother of four, was unable to find a suitable curriculum to help teach her Bible class and her children about the Bible. She wanted something to help them learn and understand the Word. She began studying hard and created her own Bible Study Guide. Over the years, the curriculum has been expanded by her son, daughter and daughter-in-law to help in reach more age ranges, but it still remains true to the original Bible Study Guide. You can read their statement of faith here.
About the Products:
Beginner Student Pages-$5.95 – (ages 3 to Kindergarten) We were sent the first set of pages which include twenty-six lessons. The entire four years of material includes 416 lessons and each individual set includes approximately 26 lessons for $5.95 each. If you cover 104 lessons a year, you will spend about $23.80 a year on student pages and will exhaust the curriculum in 4 years.
The beginner level student pages include a Learn the Basics section, which directs you to the appropriate Beginner Time Line card to learn or review. A Sing and Remember section, where you are given a list of tasks, such as say the books of the Bible from Matthew through John, or Sing "Twelve Sons of Jacob". This section also has review questions from previous lessons. The Get Active section takes you a little deeper into the lessons behind the Bible story and helps kids see how they can apply these lessons to real-life scenarios. One example given is of a boy who loses a foot race to his friend and the friend turns to him and says, " You are slower than a turtle!" The students are then asked what they would do in that situation. Would they act mean in response? Then they tie this scenario back into the story of Joseph and how he ran from evil. When you turn the student page over, you see a Bible story illustrated in comic-book style. The references are given and the story is paraphrased with different activities for the kids to complete in each comic frame. One example from the Joseph and Potiphar story is to "color the one who lied" and with orange, color the one who wanted do what was right.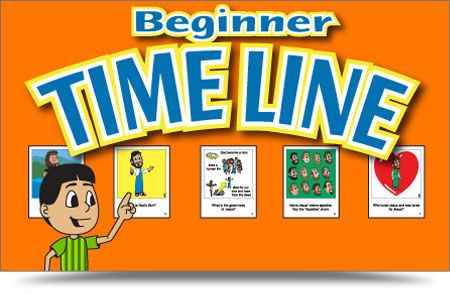 Beginner Time Line – $24.95 (ages 3 to Kindergarten) includes 34 full-color 8.5″x 11″ cardstock pictures with one Bible related question on each card. Here are some examples below.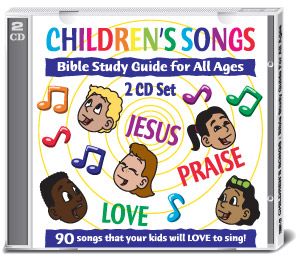 Children's Songs CD Set $19.95 (ages 3 yrs to 5th grade) This 2 CD set of 90 a capella songs uses familiar tunes to help you drill your kids on important Bible lists and facts. It aids retention and helps kids remember what they are learning. There are also old Sunday School classics such as "Deep and Wide" and "Father Abraham". You can see a complete listing of song titles here.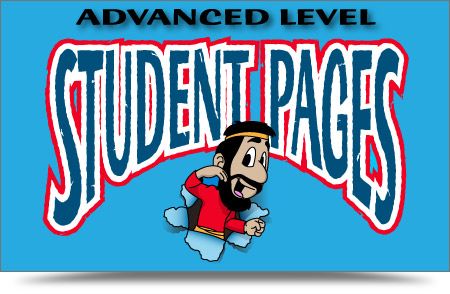 Advanced Student Pages – $5.95 (Grades 5th & 6th). These pages are organized in sets of 26 like the Beginner Student pages. They are comprised of a total of 416 lessons as well. They cover the exact same Bible story as the Beginner pages only at a more in-depth level. The sections in each lesson include, Remember It? which aids in review of previous lessons. This section has you interact with the text in some way such as underlining, circling, or matching the correct answers. The Memory Workout explains which Bible Book Summary Card you should be studying and gives songs to sing from the Children's Bible Songs CD. There are also review questions in this section. The Map section has an unlabeled or partially labeled map to fill in. This aids in geography and helps the kids see where the story is taking place. The Apply It! section helps the kids think deeply about the story and dictate what God is showing them through this story. Get Active involves a written or physical activity to perform that reinforces the story. The back page has the Bible story, again using comic-book style illustrations. There are more in-depth activities such fill in the blank, Answering how and why questions, underlining and circling answers in the text, etc.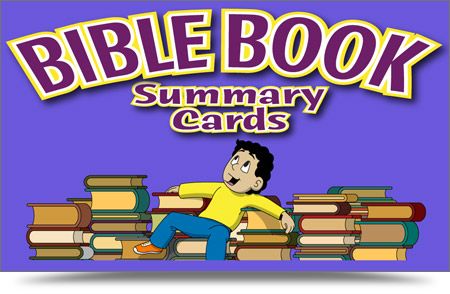 Bible Book Summary Cards $24.95 (grades 1st-5th) This set comes in either 66 full-color 8.5 x 11″ cards or 66 black and white 11×14″ color your own cards. These are a wonderful resource for children and adults as well. Each card has at least one picture on the front representing the themes of the book of the Bible being depicted. On the back of the card, there are explanations of the pictures including questions you can ask the students for review.


How We Used these in Our Homeschool:
I was thrilled to be able to use this curriculum with my brood of kids ages 10, 7 and 3. I grouped my youngest two and used the Beginner Student Pages and Bible Timeline Cards with them while using the Advanced Student Pages and Bible Book Summary Cards with my 10 year old. We covered about three lessons a week and used the Children's Bible Songs CD with all the kids. We would start out by listening to the songs we were working on and asking the review questions from both sets of pages. The little ones would color their picture from the front of the page while I was reading the Bible story from my Bible. As a reinforcement, I would read the paraphrased story to the younger two and direct them in completing their activities while my eldest sat at the table and worked on his activities independently. This really worked well for us. My oldest was able to go at his own pace and my middle child helped instruct the 3-year old. I loved being able to read the main Bible story to everyone altogether. The Timeline and Bible Book Summary Cards I had laminated for longevity. We drilled these daily.
My Opinion of the Products:
I have fallen in love with this easy-to-use curriculum. There is almost no preparation needed. The lessons are in-depth, but still heavy in life application. The illustrations are engaging and memorable. My kids never complained about completing their pages. The songs are a little cheesy and I would have enjoyed some background music rather than all a capella, but I know that we will continue to use these as musical study aids have really worked for my kids in the past. I also liked being able to introduce my kids to some of the Sunday school songs of my childhood. The Timeline and Bible Book summary cards were very creatively designed and even my 3-year-old was able to memorize six timeline cards over the course of the review. I was amazed to hear her spout off the answers to my Bible questions. We didn't particularly love the 11×14″ size of the student pages and the fact that they are not bound, but made like a tablet that you can tear off. I assume that these were intended to be used initially with a Sunday School class where each lesson would be torn off, completed and sent home with the child each week. For homeschool use, I found the pages to be difficult to store and was at a loss as to what to do with them once completed. They wouldn't fit into a binder or any other organization system I have for other homeschool materials and I REALLY hated to throw them away after the kids spent time working on the activities. Despite these criticisms, I was able to overlook all of that because the material really taught my kids in a way that drew them in and had them coming back for more. As a Christian homeschooler, teaching my kids the tenets of my faith is one of the cornerstones of my curriculum. To have found a way to do that together and stimulate each of my kids to want to learn more at there level was a terrific blessing. We will be purchasing the remaining lessons for future use. If you would like to see sample lessons click here for the Advanced Student Pages and here for the Beginner Student Pages. All prices listed in this review are current at the time of this review, but are subject to change. If you would like to read more reviews including others about the primary and intermediate student pages, click the graphic below.