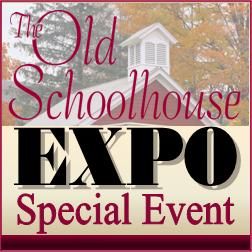 I love homeschool conferences. The excitement, the encouragement and the fellowship are a huge blessing to me and help me on my journey of homeschooling. I have enjoyed online conferences in the past and this year's Schoolhouse Expo is no exception! I am getting excited about the great lineup of speakers. Here is a list of some of the speakers I hope to listen to at this year's online conference:
There are so many great speakers that I can't list them all. Check out the speaker schedule if you want to see the entire list. Remember if you purchase a ticket that you can listen at your convenience at a later date. A link will be sent to you so you can listen online anytime after the convention is over. Here are the details:
TOS Schoolhouse Expo
AUGUST 19-23, 2013
1:00PM-8:00PM (EASTERN) /
10:00AM-5:00PM (PACIFIC)
Ticket Price $24
Hurry, space is limited!
I am giving away one free ticket to the Expo. Don't forget to check out the giveaway here! It ends tomorrow.
* I was given a free ticket to the expo in exchange for writing this promotional post.*