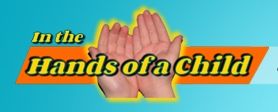 After spending some time with grandparents this summer at the beach, my boys were very interested in marine mammals. I was offered the opportunity to review the Dolphins, Porpoises & Whales project pack from In the Hands of a Child shortly after they returned home. We were excited to learn about these awesome creatures, some of which they had recently been able to observe in the wild.
 About the Company:
In the Hands of a Child started in 2002 as two homeschool moms came together to help fill a need in their homeschool. They were having difficulty finding the graphics and things they needed to put lapbooks together for their kids. They met online and talked back and forth about their common love of lapbooks and before too much time had passed, a business was born. They were the first company to sell ready-to-use lapbook kits. They added another partner in 2005 and now they are nationally recognized as a leader in the lapbooking industry. They offer a product line of over 450 lapbooks and notebook project packs with new products being introduced all the time.
About the Product:
Dolphins, Porpoises & Whales project pack (K-4th grade)
Regular Price: $12.00
Special Price: $5.00
(all prices are valid at the time of this review but are subject to change)
Copyright of this material allows you to print copies from the PDF for each member of your family, for up to 10 students in a homeschool co-op or a single classroom in a traditional school setting.
In this seven day study, you will learn all about the big three marine mammals: Dolphins, Porpoises and Whales. This study covers such topics as classification, diet, anatomy, echolocation, habitat, conservation, predators, and differences between species.There is a free sample download available if you want to look before you buy.
The pack includes everything you need to do a great unit study except for common office supply items that you probably have lying around your house such as scissors, colored paper, office file folders, brads and glue.
This 89-page PDFdownload includes:
explanations of lapbooks and project packs
lapbook assembly instructions
table of contents
7-day planning guide
related reading and related lapbook lists
project/activity instructions
12-page research guide
57 pages of printable black and white lapbooks that you simply print, cut out, fold and fill in. The project pack version of the lapbook is unique in that the answers to the questions in the mini-books are provided. If you choose to use this, there is no writing involved for your kiddos. My boys loved this aspect!
How we used this product in our homeschool:
At the start of our school year, our science curricula had not arrived, so we chose to begin our science studies using this project pack. We worked on it for two weeks, dividing the seven days of work over the course of that time span. We completed approximately three activities/mini-books each day. It was as simple as me reading the assigned reading from the research guide, printing off the PDF activity pages on colored or white copy paper and cutting and pasting the activities together. Here is a sample of one of the activities before we cut it out.
You cut out the tab booklet on the left of the page and choose the solid lined answers to place inside the book or the dot-to-dot answers that your child can trace before gluing into the booklet.
Here are some pictures of my boys, ages 7 and 10,  working on the activities:
Here are some photos of our finished product. We made a lapbook using two file folders, cutting up one folder and taping it to the first folder as a fold out extension from the top and bottom of the folder. It turned out well. You could also glue the booklets to pieces of cardstock and hole punch the sides and place in a binder.
My opinion of this product:
We love  In the Hands of a Child! This is our second lapbook we have done in the last couple of months. You can read about the other lapbook we did here. This project pack was especially fun because it didn't require the boys to do a lot of writing. They don't mind the cutting and pasting, but I usually get some flack when I ask them to write their answers in the mini-books. They don't like writing in small spaces and usually don't like their handwriting. This format was perfect for that problem. They simple cut out the typed answers and pasted them in the book. Now we have a legible, neat lapbook that we can use again and again as a review of marine mammals. The research guide was interesting and to the point. The lessons were short and the activities creative. We would definitely do one of these project packs again. The boys enjoyed putting everything together and were very proud of the finished product.