Do you intentionally take the time to teach your kids rules to help them cross the street  safely? I had found myself just teaching my older boys off the cuff as we were out walking or biking, but when I was given the opportunity to review, Look Left, Look Right, Look Left Again by Ginger Pate, I was reminded that intentional teaching about safety is important too. As I sat down to teach our preschooler road safety rules, while reading this book, I pulled the older kids aside for a refresher course.

The owners of Greene Bark Press are committed to providing imaginative books that stimulate learning and growth in young readers. They have a wide array of learning products including books, puzzles, games and toys. Greene Bark Press is a family owned company started in 1991, with a goal of encouraging reading and learning in children of all ages.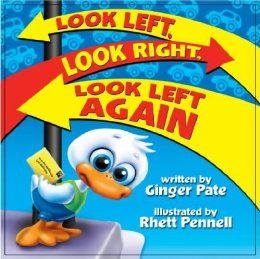 In the book, Look Left, Look Right, Look Left Again, published by Greene Bark Press, kids go on an adventure with Wally Waddlewater as he learns the rules of crossing the street. He has written a card for his grandma and he wants to go to town to mail his letter. His mother teaches him a little chant, to help him remember to look both ways and they practice in several different situations until Mama Waddlewater is sure that Wally is ready to cross the street on his own. After many times of practice, Wally asks Mama if he can cross by himself to visit Grandma. You will have to get the book yourself to see what happens next…….
We loved the brilliantly colored illustrations, the cute animals and the catchy rhyme included to help us remember the crossing rules. This well-constructed board book is 26 pages long and is geared for ages 3 to 8. Look Left, Look Right, Look Left Again is available for $8.50 (prices are correct at the time of this review, but are subject to change). We read this book multiple times. Each time I read the book, I would stop and ask my 3-year old to tell me what we should do when we cross the street. Then we took to the streets in our neighborhood to practice our newly acquired knowledge.
First, we stood at the side of the road and practiced our rhyme,
LOOK LEFT
LOOK RIGHT
LOOK LEFT AGAIN
Then we continued our walk through the neighborhood and we talked about street signs and what they mean. We even had the cat following us on our walk. LOL!
If you are looking for a fun, educational read, we recommend this book. My three-year old especially liked the pink clothing on the duck! I thought that this was a great, fun way to teach important safety rules. We were even inspired to learn more about the other rules of the road. Next week I am planning a preschool unit using this book and some other road safety resources to continue this theme of road safety. Check back next week to read all about it. If you would like to hear what other moms are saying about this cute little book, click the link below.