I have always been fascinated by personality types. I have taken several personality tests over the years and when the opportunity arose for me to assist my son in taking his own personality test, I was interested to see the results. I was provided a Children's Profile from PeopleKeys for this purpose.
About the Company:
PeopleKeys has over 25 years experience studying human behavior, personal student preferences and strengths. They serve parents and teachers alike and have a broad range of products including:
The Personality Style Workbook
The Perceptual Learning Style workbook
The Values Style Workbook
The Career Choice Workbook
Online courses in Behavioral Analysis
and many more……….
About the Product: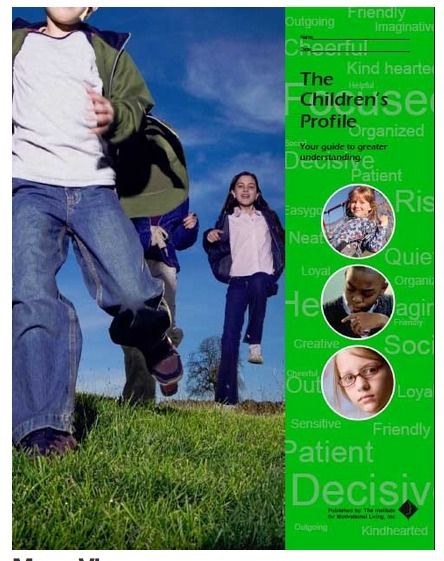 The Children's Profile I received was a softcover 25-page booklet geared for children ages 9-13. It is intended to be given to a child by an adult working side-by-side. It can be navigated in about 10 minutes or so and is available from PeopleKeys for $15.00. (prices are accurate at the time of this post, but are subject to change)
The Children's Profile was written using the DISC Personality as its base theory. DISC theory uses the following personality types as its basis:
-D- Determined
-I- Influencing
-S- Steadfast
-C- Conscientious
After answering a series of questions you score yourself and then you place the scores on a chart and form a graph. From this result you are able to determine your personality type as either one or a combination of the above types listed. The booklet goes on to explain each of the four personality types in detail and shows the teacher/parent and student things that bother and motivate each personality type. Qualities of each personality type are listed and tips are given to help the student grow personally and in their interactions with others. For the parent/teacher there is a page for each personality type devoted to giving you phrases to use to encourage your child along with specific suggestions for interacting with each type in light of your own personality type (D, I, S or C). The last two pages of the booklet contain a chart to help the student develop an action plan for getting along better with others.
How We Used this Product in Our Homeschool:
After receiving the booklet in mail, I sat down and in about 10 minutes or less I was able to get the gist of the product. I took the test myself first, so I would be familiar with the product and then I sat down with my son to conduct his personality test. He waffled over a couple of the answers but overall, I felt that his answers were fairly true to his personality. The results were a little surprising to me, because he and I are very similar in personality, or so I thought. I ended up testing as a IS (Influencing and Steadfast) and he tested as a solid C (Conscientious). Some of the qualities such as organized, neat and quiet are not always exemplified by my son, but I definitely see him as conscientious as a student. He works hard, applies himself and is sensitive, careful, accurate and loves to do things right. I think that this also transitions into his spiritual life as well. He was awarded the Model Clubber award this year in our AWANA program for his conscientious work and good behavior. This little test provided us some great food for thought and provoked some great conversations on how we interact with others in spite of our personality "quirks". We spent a short time working on the action plan and set some short-term goals for our interactions such as my son committing to work on not talking back to his teacher(me) and showing respect and appreciation more often.
Our Opinion of the Product:
We enjoyed seeing how we fit into the spectrum of the general population and the differences and similarities in our personality types. We thought it was helpful information that we can use in our personal interactions in our homeschool family. We are together nearly 24/7 so suggestions for improving family relations and interactions are helpful. As a parent/teacher, I felt the suggestions for adults were helpful and I thought that having my son make an action plan was a great exercise as well. We will probably have Dad and our nearly 8-year-old score themselves in the future as well. It was painless for my son and he did not complain during the process. When asked what he thought of the product, he was a little ambivalent, but that is not unusual for an 11-year old. He stated that he thought the test was interesting. Overall, I think this is a useful tool for a teachers and students and may be very useful to add to your homeschooling "tool belt". At such a great price, this is affordable for most families.