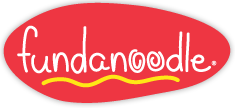 Fundanoodle is a company committed to providing quality school readiness materials for kids. The products are perfect for parents, teachers and kids as they work together to build an educational foundation. They aim to make learning educational and fun and their products provide some of the following skills listed on the Fundanoodle website:
Helping fine and gross motor coordination
Enhancing eye-hand coordination
Encouraging touch and visual exploration
Promoting problem-solving, discovery, and self-esteem
I was sent three different preschool books for review purposes. Orange (Age 3+/Preschool): I Can Cut,  I Can Do Math Level 1 and Max & Alphie's Adventure Level 1.

Max & Alphie's Adventure Level 1 is available for $5.99 and is geared for 3-year olds and up (Preschool). This sturdy book introduces characters Max and Alphie who take your child on a learning adventure. The characters are found on many of the pages. Children are taught to color inside the lines of simple pictures, connect dots, find and count hidden items, and complete simple mazes. A motivational sticker is provided at the back of the book for each page completed.
My Opinion of this product: I used this book with Lydia, my 3-year-old daughter and she LOVED the book. She begged to work with "Max and Alphie" each day. These books were perfect for her as she sits nearby her brothers while they do their schoolwork. She now has her own stash of workbooks that can be completed in about 5-10 minutes. The binding of the book is strong and we loved the spiral binding at the top that allows the book to lie flat and doesn't encumber the left to right motion of handwriting.
Lydia loves being rewarded with a sticker at the end of each page. One plus was that the stickers were of excellent quality and she had no trouble removing them from the sheet herself.  It is always a disappointment when stickers are hard for little ones to remove or they tear easily. There is a black and white circle with an image of the sticker located at the bottom of each page. The corresponding sticker is located at the back of the workbook.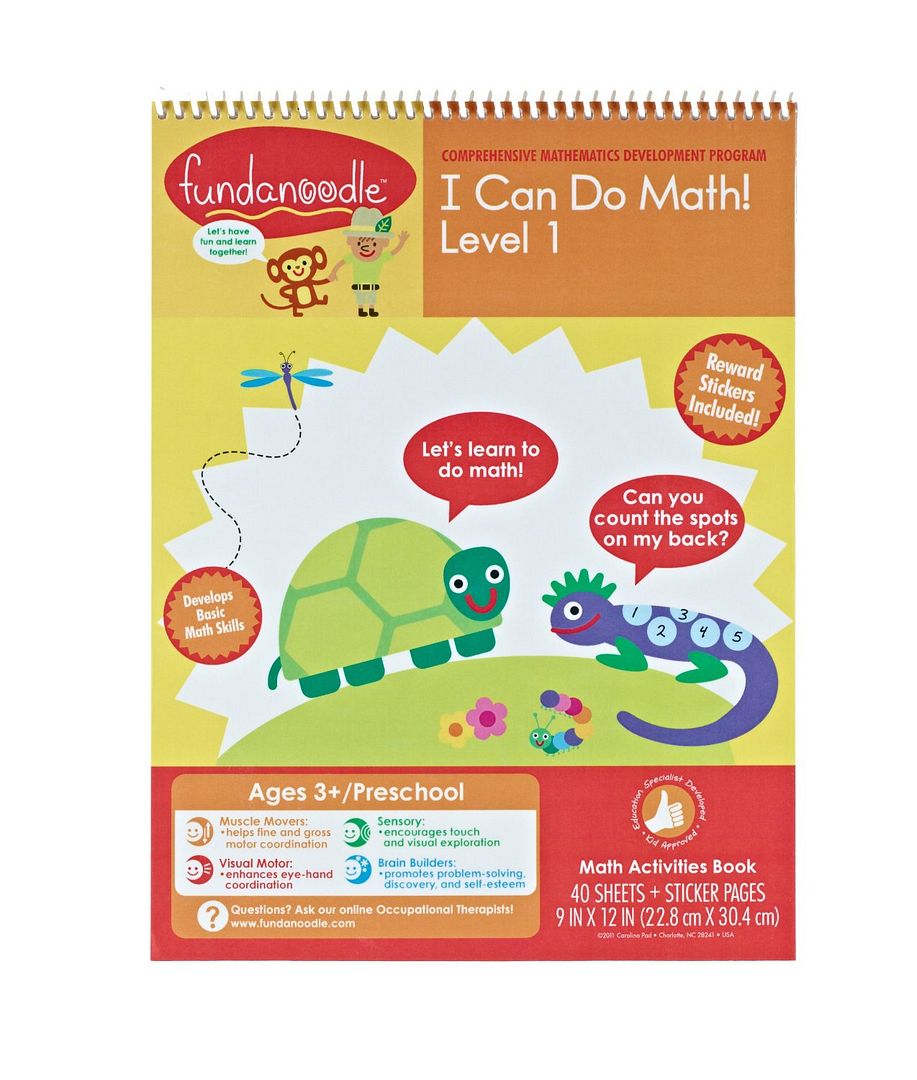 I Can Do Math Level 1 is available for $5.99 and is intended for ages 3+.  This simple sturdy workbook with a cardstock front cover and cardboard backcover will delight your toddler. Alphie and Max are back for some math fun. Some of the math skills includes are counting to 10, number words, hidden pictures, matching, learning shapes, visual discrimination, and completing dot-to-dots.
My Opinion of the Product: This was another winner for our family. Lydia enjoyed completing her math pages each day and insisted on her brother "helping her". He read her the directions and made sure she was doing her work correctly. The reward sticker system continues in this book and I felt that the workbook pages were a great math readiness tool. Some of the skills such as recognizing shapes were a review for Lydia, but counting numbers in a set and drawing a line to match the set with the corresponding number was a new skill she acquired while working through this book. She had so much fun that many times she asked to do more pages than were assigned.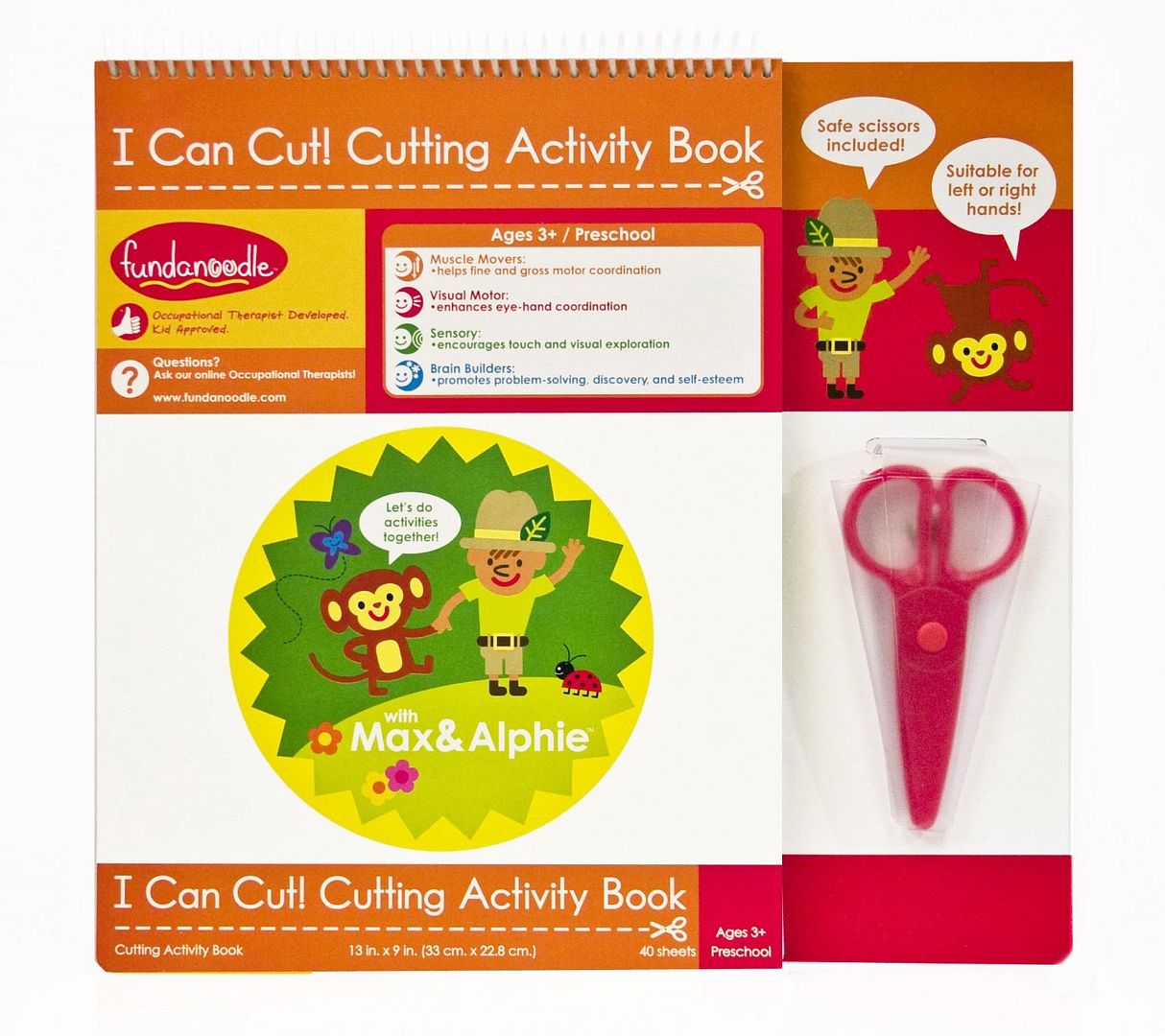 I Can Cut is available for $7.99 and is for ages 3 and up.  It is well-constructed like the other books and comes with a pair of safety scissors attached to the book in a little plastic sleeve. The back of the front cover offers an introduction to Max and Alphie and explains that this book was developed by occupational therapists. The first page gives tips on cutting practice with kids. The following pages give all sorts of ways to practice cutting. Dotted lines going across, down, diagonally, etc.
 My Opinion of the Product: This book was my daughter's least favorite of the three. She has small hands and had difficulty opening and closing the scissors. I had to insist that she do this book because she is required to do cutting in most of her other subjects and at some of her homeschool co-op classes. This is a work in progress for us and I loved the ideas used in the book to make cutting more fun. Cutting Alphie's hair, helping the frog jump high by cutting on the jump lines, cutting the kite strings, etc. Here is a sample from the book.
The teaching tips were very helpful and I will always remember now to remind Lydia to keep her thumb in the air after reading through some of the tips.
We will continue to use all three of these books and we may even purchase some more of them in the future. I was very impressed with the quality and the content. If you are looking for some great workbooks to help your preschooler with kindergarten readiness, I highly recommend these books as a great place to start.
Check out  Fundanoodle on Facebook or head on over to their blog to read more and get great teacher ideas and articles. If you would like to read more Fundanoodle Reviews for various products, click on the link below.