We have been studying American History using real books in our homeschool for the past year and are currently in our second year of American history studies. I was thrilled when the opportunity to review YWAM Publishing's book,  George Washington: True Patriot by Janet and Geoff Benge came along. We were sent a PDF version of the book that I was easily able to transfer to my Kindle Fire. We were also sent the George Washington: Unit Study Curriculum Guide as a download to accompany the book. We were excited about reading this book. We had a positive experience in the past reading some of the books from the Christian Heroes: Then and Now series. You can find a list of these books here. I anticipated a quality product and I was not disappointed.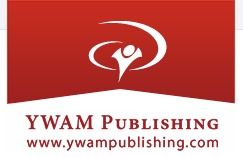 YWAM Publishing started by publishing gospel tracts in 1972 for the Munich Olympic games. The company moved to Seattle in 1987 and now publish over 150 titles of their own as well as distribute over 2,000 books, CD's, and DVD's from other sources.A portion of every dollar that you spend at YWAM goes to helping families in need around the world. Their books have a focus on evangelism, prayer, discipleship and more. YWAM Publishing is a division of the famed, Youth With A Mission ministries.
George Washingtorn: True Patriot is a 224- page book available in paperpack,  Kindle, or Nook format for$6.99. There is also an audiobook version available as a 5-CD set for$16.49. 
This thorough biography told through the eyes of a narrator, begins the tale of George Washington's life in his boyhood. You are drawn right into his early life as you watch the young George grapple with life issues such as fear, death, loyalty, and respect for authority. The story goes on to tell about his first career as a surveyor and how he was ushered into his military and political careers. We met Martha Washington and her children along the way and the story gives many facts of the French and Indian War and the American Revolution of which I was unaware. We saw the patriotic heart, the compassionate leader and the humanity of George Washington through this story.
My Opinion of this Book and How We Used it In Our Homeschool: We used this book as a review of some of our American History studies. I read the book aloud to my two boys ages 11 and 7.5. They especially liked the stories of George as a boy and the stories of the Revolutionary War. It was an excellent way to introduce a real-life hero of the past to my boys and review the Revolutionary War at the same time. My youngest son has had a fascination with wanting to visit Mt. Vernon and we are planning a trip there in May, so this was a great way to whet his appetite for future learning. It also inspired us to look through my husband's library and check out some other historical resources he had on Mt. Vernon. I felt the biography was very detailed and engaging. There is much potential for learning within the pages. It would be an excellent text to use as the basis of a unit study on George Washington or as an accompaniment to a study on the Revolutionary War.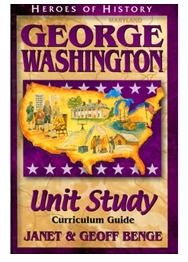 George Washington: Unit Study Curriculum Guide was created as a companion to the George Washington novel. It is available for $7.49 as a 64-page paperback. This volume is jam-packed with loads of great ideas to enrich your history studies. From creating a mini-museum in your home to comprehension questions for each chapter, you will be sure to find something within its pages to help you broaden your knowledge of George Washington and early American history. The suggestions can be used in classrooms or homeschools, and in small groups or large groups. They are appropriate for all different learning styles and can be adapted for a variety of grade levels. Here are some of the sections included in this guide:
Key Quotes – these famous quotations could be used as a memory exercise, for copywork, or to display on your board during your study.
Display Corner – this section gives great ideas to create a collection of historical items for display during your study. Suggested items are things like coin, maps, pictures, flags, etc.
Chapter Questions – there are four different types of questions given for each chapter: vocabulary questions, factual questions, comprehension questions and open-ended questions.
Student Explorations such as crafts, essay suggestions, creative writing assignments and audio/visual project ideas.
Community links – This section gave ideas for field trips and inviting knowledgeable visitors into the classroom.
Social Studies – This chapter included five different categories: places, geographical characteristics, timeline activities, terms or vocabulary to learn, and conceptual questions.
Related Themes to Explore (this is self-explanatory)
Culminating Event – This is detailed section giving ideas to end your study with a bang. Having a tea party, displaying your collections, having oral presentations, etc.
The Appendix gives lots of other books and web links that could be helpful for your study.
My Opinion of this Book and How We Used it In Our Homeschool: We used the chapter questions after our read aloud time. I was surprised at how using different types of questions helped broaden the answers that the children gave. I have one very verbal son and one more reticent responder. By directing my questions to the less verbal child first, I was able to get much more cooperation from him in this exercise than usual. We enjoyed discussing what we read. I also had the boys do some mapping activities using the printable maps from the book and fill out a fact sheet provided in the guide. We had been working on memorizing states and their location on the map so this was also a great review.  I plan to have my eleven-year-old write a short essay using some of the suggestions in the book and we are planning to transfer some of the timeline ideas onto our current timeline book that we have been keeping. Here are some photos of their work.
I think this companion book would be a great place to start when planning a unit on the American Revolution highlighting George Washington. There were many ideas that I gleaned that I will also use in other historical studies. I especially liked some of the ideas given to help you prepare, plan and process historical field trips. We had the opportunity to check out a local presidential site when reading this book and it helped broaden our knowledge of presidential figures. We spent the day at the Little White House in Warm Springs, GA where president Theodore Roosevelt had a home. Here are a couple of photos we took on this trip.
If you are looking for some factual, great historical reads, check out this series. You will be helping a great cause and I promise that you will learn something in the process. The books are a bargain and a great library item for your homeschool shelf. Some of my crewmates wrote reviews on these products and a couple more from YWAM Publishing.