IXL.com recently provided us with a one-year subscription to their Online Math Membership (Pre-K to 12) and Online Language Arts Membership (2nd – 4th) for review purposes through the Schoolhouse Review Crew. I chose to use the Math program with my preschool daughter and the Language Arts program with my 2nd grade son. My daughter is not using an official preschool math program so I thought that this would be fun for her and my son could use some grammar practice.
About IXL:
Part of the motto of the company is providing learning that sticks and providing practice that feels like play. The program is like having a tutor in your home. I will talk about the math program first. The Online Math Membership (Pre-K to 12) was used by my preschooler. She was delighted with the program. She especially liked the virtual rewards for completing topics and mastering content. This mom liked the emailed weekly reports that allowed me to view the time spent by each child on the material, the content covered, and the progress each child was making. I could also log in as the parent and gain access to pie charts, graphs with information on program usage, trouble spots, performance, progress and state standards. Here is an example of some of the preschool math material offered.
I had my preschooler log in daily and work on various math concepts. She liked that she could pick her own icon and we LOVED that they had a red-headed girl who resembled Lydia! She usually had either myself or a brother next to her because we used our laptop and she has not mastered clicking and dragging on the laptop yet. (I need to get a mouse to help her in this area). You could also remedy this problem by using the free iPad app that is now available with a subscription. Here is a sample problem:
You can click on the green speaker icon in the upper right corner of the screen and have the problem read aloud to the student. This was helpful when Lydia was attempting to work alone or when brother was tired of reading problems to her. The answer is simply typed into the box and you are either rewarded with big green check and a positive statement such as, "Well Done!" or "Sorry, incorrect, the correct answer is _____." For wrong answers and explanation is provided and the solution is shown. You then mark "got it" after reading the information and then you are moved on to the next problem. I let Lydia chose the topic that she wanted to work on and just had her move through the index of topics over the course of the 5 weeks.
She worked about 10 minutes or so a day with this program and was able to reach approximately 90% proficiency with the material in the 5 weeks we worked with the program. Here is the certificate that was emailed to me just this week.
I think this program is a great addition to a standard math program if you are looking for something different and engaging. It provides extra practice for kids in many areas of math and could even help you identify areas where your child is struggling and may need more work. The older grades are more in-depth and would require more of a time commitment to complete each section. For our preschooler, we found that this helped us identify some new areas to introduce and practice since we are not using a formal math program yet. I think that most preschoolers would move through the program quickly if using it daily.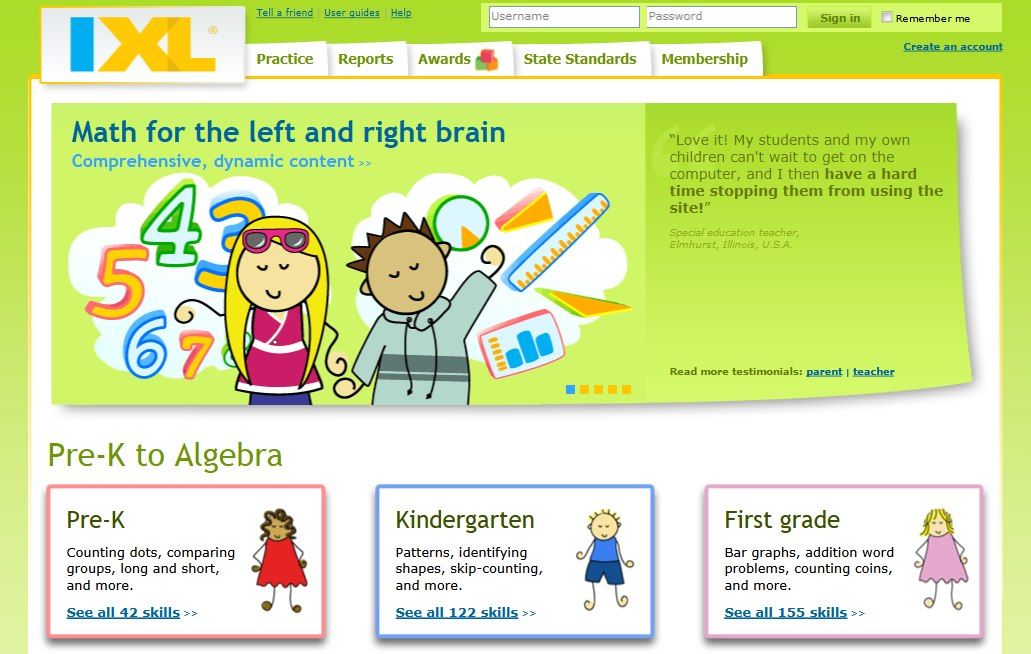 Pricing:
Online Math Membership (Pre-K to 12) $9.95 per month for one subject/one child (separate pricing for multiple children )or $15.95 per month for one child/both subjects annual subscriptions are available for $79 one child one subject and $139 one child both subjects
Online Language Arts Membership (2nd – 4th) –same as above. Prices are current at the time of this post but are subject to change.
My second-grade son used the Online Language Arts Membership. He is gifted more in the math department so we like to add in creative solutions for his weaker area, language arts. He has really soared in reading this year so we are shifting our focus to grammar and writing now. I was hopeful that this program would provide some review and introduce some new concepts and skills to Luke. Here is a partial list of some of the skills provided in the program for second grade language arts.
Luke did not make it as far as his sister in the program due to the time constraints of the review. We worked through nine different skills during the course of the review. He was able to work independently through most of the sections I assigned. In the beginning, I chose some topics that he was familiar with to gradually ease him into the program. Next, I encouraged him to challenge himself with unfamiliar topics.

The example problem above shows you how the program is laid out. The student is given a question or problem with a fill in the blank option or in some cases an option to highlight the answer. There is no option for the question to be read to the student. Tallies are kept on the right hand side of the page with problems attempted, time elapsed and the students SmartScore. When a problem is answered correctly a check mark and a positive statement such as, "Good Job!" is shown. For incorrect answers, you are given a screen such as the one below.
I loved the thorough explanation with a little teaching/review section thrown into the middle. The child is able to learn from their mistake, not receive negative feedback. We felt like this was a great addition to our language arts program and this provided some extra help that our son needed. We will continue using this program and I think it might help also be good for him to use over our holiday break. He liked working toward medals nd watching his score increase. He was a little disappointed that there were no virtual prizes like his sister received in math. I think this would be something that would add to the program in the future. We give this program a thumbs up!
If you would like to see what other folks think of the math and language arts programs click on the graphic below.