We are so excited to share with you our review of the recently released creation-based science curriculum, Exploring Creation with Chemistry and Physics published by Apologia Educational Ministries.  Having covered some of the other titles in the Exploring Creation series in the past, we were delighted with this opportunity. We were provided with the hardcover, color-illustrated 280-page textbook, Exploring Creation with Chemistry and Physics($39.00), the softcover, spiral-bound Exploring Creation with Chemistry and Physics Notebooking Journal ($24.00) and the softcover, spiral-bound Exploring Creation with Chemistry and Physics Junior Notebooking Journal ($24.00). 
During the summer, upon hearing about the upcoming release of this textbook, our local homeschool co-op agreed to use this curriculum for the fall. We decided to work on a chapter every two weeks and then meet for an hour-long class and do experiments and chapter material review together as a group. My 11-year old son (6th grade) and my 8 year old son (2nd) grade have been participating in this opportunity, while reading the text and working in the journals at home.
About the Company:
Apologia Educational Ministries is a well-respected company in the homeschooling community. They offer quality science curriculum for K-12th grade, worldview curriculum and online classes. They also provide annual homeschool mom's retreats and sell practical and inspirational homeschool titles to help families grow children that will be able to make a defense for the Christian faith using reason. I have written about my experience attending the Real Refreshment Retreat in Atlanta in 2013 here. I highly recommend it if you have a chance to attend. There will be two retreats next year, one in Atlanta in February and one in Baltimore in March.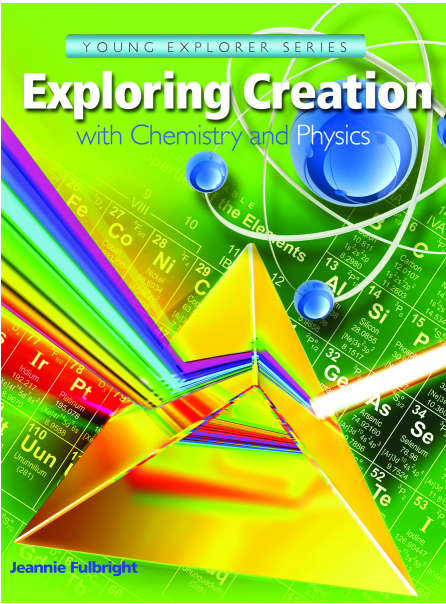 Exploring Creation with Chemistry and Physics was created to be used with kids in K5 to 6th grade. My boys and I were thrilled with the glossy full-color photographs and the easy to read font. The beginning of the book includes an introduction section that explains how to use the book, including thoughts on incorporating narration, notebooking activities, conducting experiments and doing projects and using the course website. There is a brief step-by-step guide to help you get started. Each chapter is broken down into short sections with bold blue headings. I loved this aspect of the text because it enabled you to break the chapters down into manageable chunks to fit your own school schedule. Since we covered a chapter over two weeks, we took plenty of time to cover each section, allowing time for questions and experiments. The experiments are found in blue rectangles spread throughout the book under the title, "Try This!"
At the end of each chapter there is a section entitled, " Final Matters", where the chapter is wrapped up, and a "What Do You Remember" section that I used to help my kids make sure that they caught on to the most important points of the chapter. There were open-ended questions and fill-in-the blank questions. This tool also helped me see areas where we might need to review. There are also suggested notebooking activities and either projects or experiments at the end of each chapter. At the very end of the book, there is a supply list broken down by chapter, an answer key for the "What Do You Remember Section", a photo and illustration credit list and a topical index.
Both of my boys LOVED doing the experiments. My oldest son would even read ahead and gather all the supplies we needed to conduct the experiments before we sat down to read our textbook pages for the day. I was thrilled with their excitement for this topic. We found that most of the items needed to conduct the experiments, we had lying around the house. For some of the harder to find or more expensive items, we pitched in our pennies together and shared the expense with our co-op friends and did those experiments together as a group. For example, one experiment suggested looking at salt under a microscope. Three of the moms in our group had microscopes so they brought them and all of our kids were able to do this experiment, whether or not they owned a microscope.
Here are some photos and videos of some of our favorite experiments so far.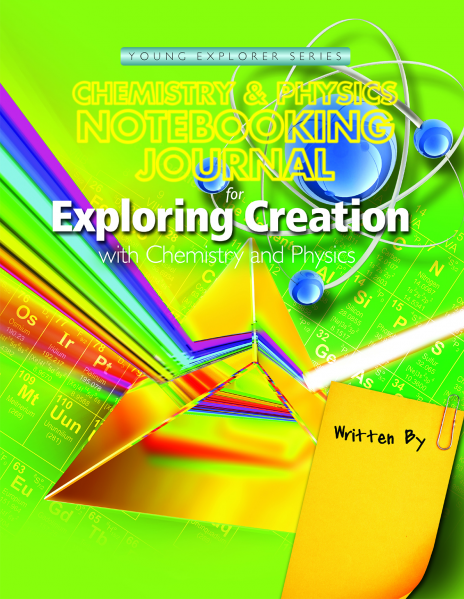 Exploring Creation with Chemistry and Physics Notebooking Journal
This companion product is a great accompaniment to an already great textbook. This journal is recommended for upper elementary aged kids who can take notes independently and have no difficulty with handwriting. You can download a table of contents and sample pages from the journal here. We used this journal with our 6th grader. He is not a fan of craft projects and I was worried that he would balk at working in this journal. I found that the activities were varied enough that he was able to trudge through the more "crafty" activities. He loves to draw and there was even a page in the journal where he could draw his own comic strip. He enjoyed that! We enjoyed activities such as crossword puzzles, copywork in print and cursive,  making flap books, writing in fascinating facts that we had learned and so much more. There is a "Test it Out" section for each lesson that gives extra experiments to try and booklists for complimentary titles to encourage further exploration. There is a "What Do You Remember?" section that matches that of the one in the book with space for you to write in your answers. I had my 6th grader complete this section as a sort of pre-test at the end of the chapter. I was able to find a Facebook group that is frequented by the author Jeannie Fulbright where mom's share pictures, stories, questions and tests that they have made (in the file section). I used these tests for my eldest to help determine his grasp of the material.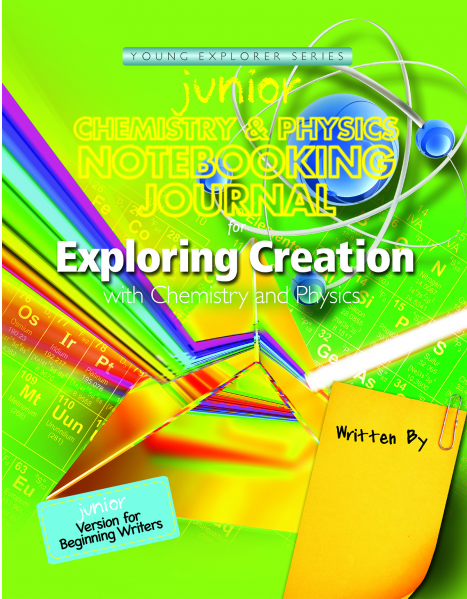 The Exploring Creation with Chemistry and Physics Junior Notebooking Journal is geared to the younger elementary set or those with newly-developed handwriting skills. The inclusion of coloring sheets and larger handwriting lines make it more approachable for younger children. The mini-books and copywork are included along with the "Test it Out" section. The "What Do You Remember?" section is not included. We found that our 2nd grader really enjoyed the coloring sheets and the mini-books but was not ready for the extra writing that the fascinating facts pages required. We chose to modify the journals for our needs and I had my son narrate some of the facts to me. I asked him some of the questions aloud and we discussed the concepts orally rather than doing all that writing. For the mini-books, some of the questions required more vocabulary than he was comfortable spelling, so I allowed him to copy his older brother's work into the mini-book. My thoughts were that if he was copying and reading the information, that was sufficient review for him and would help him retain some of the information.You can download a table of contents and sample pages from the journal here.
Our Opinion of the Products:
We give this science curriculum a thumbs up. Since I moved from trying to teach a different science curriculum to each grade level to this multi-level approach, I have been a much happier mama. Combining science, history and Bible have helped me have more freedom in my schedule and have taught the children to work together. I love how the additions of the journals help me adapt the curriculum to different levels effectively. I simply require more vocabulary and memorization of facts from my eldest and assign him pages from his journal. I use some of the extra material such as tests found on the facebook group to help my eldest prepare for more rigorous science next year including science tests. For the younger son, I work more on narration of the material and discussion, followed by assigments from the journal. Everyone participates in reading together from the text and doing the experiments. My boys look forward to science and we will continue using this curriculum until the end of the year. I heard some negative feedback from a mom in our local homeschool group recently that was complaining about how hard the material is. She felt that kids shouldn't have to deal with such difficult material at such a young age. My thoughts in addressing this concern is that I am not looking for mastery of this material for my kids at this age. We are just exploring the laws of science and learning about nature together. As the kids enter high school, I feel that having addressed some of these topics in elementary school will help better prepare them for high school level work. There is plenty of time in their future for memorizing theories and being tested and grading. Right now we are just trying to instill a love of learning and science exploration. I am looking forward to many more years of using Apologia Science materials. If you would like to see what other homeschool moms think of this curriculum, click on the graphic below.