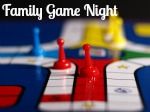 We have been enjoying some quiet evenings lately due to no sporting events and sickness (ugh!). This has provided some great opportunities to play some games together as a family. I had a goal last year to try to have a game night and a movie night once a month with our family. We did this consistently for a while, but I found if I didn't put it on the calendar, we didn't work it in. This year, I am planning to add it to the calendar at the beginning of each month and shoot for a little more consistency. We love playing games and we got a new game for my son's birthday called, "The Settlers of Catan " by MayFair Games.
I loved this game because it is a game of strategy and the game is a little different each time you play. Even my 8-year-old was able to understand it. It is geared for ages 10 and above and the basic idea of the game is to build roads, cities and settlements by collecting natural resources along the way. As you collect the resources, you are able to cash them in for roads, cities and settlements. You can also purchase game cards with your resources that add "spice" to the game. With the addition of each house and settlement, you earn points and the first person to 10 points is the winner. The center of the game board has removable hexagons that allow you to manipulate the board and change-up the game each time you play. There are extension packs available for the game that allow you to completely change the game. There are also other extensions that allow the game to be played by 5-6 players rather than the limit of 4 with the basic game.  If you like Risk or Monopoly, you will probably like this great family game. I am not an affiliate for this game, I just thought that I would share with you some of the fun things we have discovered lately. I intend to link up a family game night idea once a month this year and link up over at A Class of One. Check out some of the other great game ideas.
Do you have a favorite game for family game night?