Piano music has been a big part of my life since I was six years old and I enjoyed early music lessons. I hope to pass that love for music on to my kids and so far all of my kids have participated in some form of beginning piano lessons. As a home educator and former piano teacher, I am always looking for quality music education materials for my kids. When I recently got the opportunity to try The KinderBach Online Piano Lesson Membership with Teacher Corner geared for ages 3-7 from KinderBach,  I was excited. The older boys have been taking piano lessons at home and Lydia, my three-year old (turns four in March) has been sitting beside them while they practice. She loves singing and has shown an interest in playing herself. I used this product with Lydia and she has been delighted.
  About the Product
The KinderBach Online Piano Lesson Membership with Teacher Corner is regularly priced at $130 but available for an introductory price of $95.88 a year (This comes to only $7.99 month). This entitles you to one year's access to
all 6 levels of web video music lessons viewable on computer, iPad, Android Tablet, Kindle Fire or Nook (over 240 sessions)
downloadable PDF activity pages
downloadable story books, coloring pages and songbooks
Audio MP3's of the music
all resources in the Teacher's Corner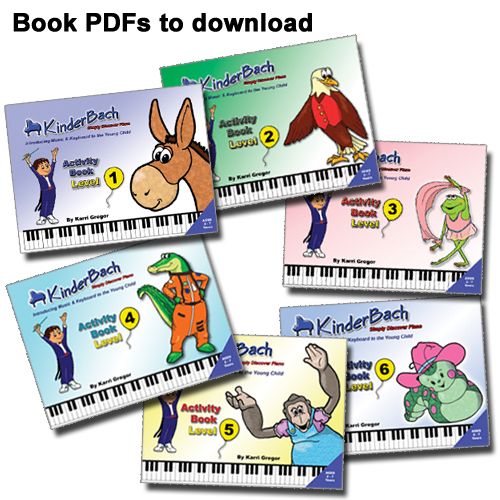 The program covers six main components of music:
 Listening skills – learning to determine the difference between high and low, loud and soft, etc
Reading music – the letter names of the notes are introduced with corresponding characters, elements of the grand staff are taught, and note patterns are demonstrated
Rhythm – counting beat bugs, using rhythm instruments and the introduction of time signatures
Hand positioning on the keyboard including learning the difference between the left and right hands. Fine motor skills are gained as this skill is developed.
Singing – loads of fun songs with catchy tunes are taught.
Composition – beginning skills in creating your own music are introduced.
There are other products available such as DVD's, printed songbooks, etc that can be purchased separately.
Things you need to make KinderBach work for you:
A computer or tablet with reliable internet connection and the ability to stream video
A piano or piano keyboard
simple crafts supplies such as glue sticks, crayons, cardstock and scissors
simple rhythm instruments such as wooden sticks, triangles or pots and utensils
A printer to print workbooks/songbook pages
Web Lessons
The web lessons are meant to be used at your own pace and include four sessions per week. We found that they are short enough that we usually go back and watch the previous day's session as a review in addition to the current day's lesson. It is very easy to navigate through the lessons. We used our laptop on the table near our piano for most of the lessons. You simply log in and click on the week you are currently working on.
The lesson screen pops up and you can expand the video window to full-screen for better viewing. The worksheets that you need (PDF activity pages, songs, games) for each lesson are accessible by clicking on the printer icon below the screen. This allows you to be able to print as you go if you would like. You could also print the entire packet of PDF pages upfront. The green arrows on the sides allow you to move forward or backward in the sessions.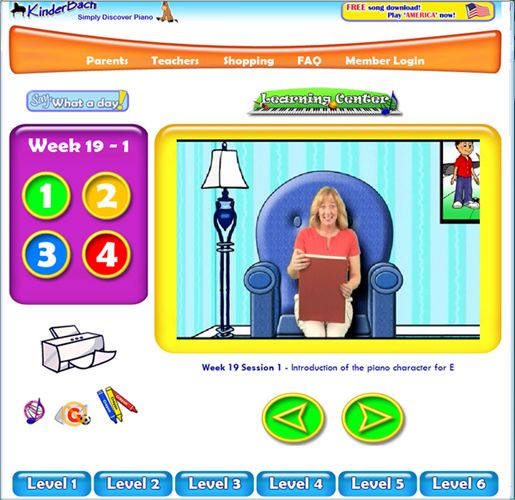 Teacher's Corner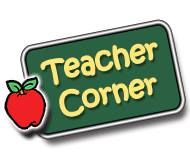 The Teacher's Corner provides much to explore. I have just barely scratched the surface. I went through the teacher's aids and printed out many of the posters on cardstock and laminated anything that I felt that we would use repeatedly. I loved the finger number game and felt like this was a great way to learn this important concept in a hands-on way. We enjoyed the puzzles and posters too. I think the inclusion of printable certificates was a plus. I thought that I would take advantage of the MP3 downloads, but I ended up not using this during the period of the review. I think I will attempt to use them in the future. I thought that it might be fun to have them on my iPhone for her to listen to on the go.
Our Experience
I used KinderBach back in the early days of the company with my oldest son who is now 11 years old. There have been levels added and the videos have been improved since the time when were subscribers several years ago.  I also noted that the amount of teacher helps and resources has increased on the website.
I find Karri Gregor's approach to teaching ingenious and engaging. I love how she uses animated characters to introduce the kids to important musical concepts. One example of her ingenuity is calling the two black keys on the piano a house for Dodi the Donkey. This character lives in between the two black keys and his name begins with the letter "D" which corresponds to the name of the note on the keyboard. At first the student is taught to identify the black keys and remember that it is the place where Dodi lives.  Next, the program introduces the three black keys as train stations where Dodi and Frisco visit. As the program progresses, characters are introduced to the story line and associated with important musical concepts. This helps the student cement the knowledge and retain it for long-term recollection.
As we have explored the program with Lydia, we have found that it meets all our requirements for preschool materials. It is colorful, engaging and fun. The lessons are short and are perfect for short attention spans. Here is a short video clip of one of her recent lessons. Her eight-year old brother was interested enough to sit in on the lesson too.
We used KinderBach four to five days a week. I included it as part of our preschool time. I sat with my daughter during the lessons and guided her through the sessions. We found it incredibly easy to use and it did not take a huge time commitment, which was nice. She loved the coloring sheets and was very interested in the songs and stories. She asked to do her lessons on a daily basis and I was so glad that I had rediscovered this gem. I feel that this is a great option for musical and non-musical parents to introduce their children to early music lessons. You learn alongside your child and need not feel intimidated with these resources at your side. I hope you will check out this resource. I am looking forward to using this with Lydia for the next year. If you would like to see how others used this program and more opinions on this product, click on the graphic below.