We have had a big science focus this year in our homeschool. We are studying science together with our local homeschool co-op and when we found the Amazing Science DVD, Volume 1 for Grades 1-3, I knew that it would be the perfect complement to our curriculum. We received a copy for review from ScienceandMath.com.  
About the Author
Jason Gibson has been creating science and math videos since 2004 and his mission is as follows
to kindle your love of science, math and the world around you!
He loves taking everyday household items and demonstrating science through his videos. As a former NASA employee with degrees in Physics and Electrical Engineering, he is highly qualified to share with you his love of these subjects.

About the Product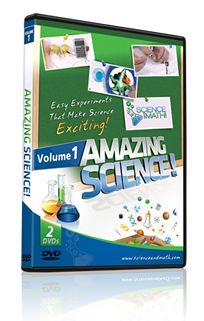 Amazing Science DVD, Volume 1 consists of two DVD's in a hard plastic case with 23 experiments for your viewing pleasure. It is available for $17.95 in DVD format and $14.99 as a digital download (all prices are subject to change)
Mr. Gibson demonstrates each experiment clearly and explains all the items you will need to conduct each experiment at the beginning of each segment. The DVD is easy to navigate as each experiment is clearly listed in the menu and you can choose from the menu and go directly to the experiment you would like to watch. Here are a few of the titles we enjoyed the most
Matchstick Speedboat
Dry Ice Bubbles
Cloud in A Bottle
Build a Motor with Lights
and many more…….
The experiments cover many disciplines of science including chemistry, physics, electricity, magnetism, surface tension and more. Mr. Gibson's teaching style is engaging and contagious and you won't be able to simply sit and watch. We were running back and forth gathering supplies for even the experiments I had assigned the kids to simply watch. When someone else is having so much fun with science, you just have to join in the fun. For more details about the experiments found on this DVD and to watch a sample video make sure and visit ScienceandMath.com.

How We Used this DVD in our Homeschool
My intention was to use this as a supplement to our science curriculum with my boys ages 11 and 8. The target age is listed as 1st to 3rd grade, but we found that it appealed to our whole family. Our three-year old enjoyed watching some portions and this homeschool mama found it very cool as well. I assigned experiments several days a week for the boys to watch and I printed out a printable supply list my friend Kathy over at Kathy's Cluttered Mind created to go with the DVD. This made it very easy to have all the needed items to conduct the experiments.
After letting the kids watch the experiments, we repeated many of the experiments ourselves. We found a couple of the experiments we had done in the past with other curricula, but most of the content was made up of experiments we had never seen before. Here are some pictures of the dry ice bubbles experiment that we watched. The boys are begging me to get some dry ice soon so we can try this one.

The experiments we conducted ourselves were done multiple times and often had an encore performance for dad after work. The following experiment was called "floating eggs". We took these household supplies:
salt
2 raw eggs
2 glasses of water
and a spoon
We placed one egg in the first glass of water and watched the egg sink. Next we added salt to the second glass of water and stirred until the mixture was completely dissolved. We placed the second egg in the water and here are our results:
Another of our favorite experiments was making a cloud in a bottle. This was easy to do and only required a bicycle pump, an empty 2-liter bottle, duct tape and rubbing alcohol. You can see our "cloud" below
Mr. Gibson goes on to explain all the science behind the experiment and so many of our "why" questions were answered. These videos are a great jumping off place for deeper exploration and scientific learning!
My boys especially liked creating videos of themselves conducting the experiments. I have shared two of them with you below.
Our Opinion of this Product
My boys thought these experiments were loads of fun. I heard the words, "awesome" and "cool" during some of the experiments and if I missed a few minutes they were sure to call me in for an instant replay. I think this product is a keeper and I can't wait to share this DVD with some of my friends in our science co-op. I think it would make an excellent addition to any homeschooler's library and I think it will remain on our shelf for years to come.
Connect with this company on Facebook: