I was recently provided with a copy of the DVD Captivated, Finding Freedom in a Media Captive Culture produced by Media Talk 101 for review. After reading the synopsis of the documentary and watching the trailer, I felt that this video may speak to a need in our home. I grew up in a Christian home where we removed the television from our home for a season. I fondly remember evenings playing games indoors, tossing around a baseball or playing tag in the yard, and times reading God's Word on the front porch. We made a choice not to let media and entertainment take center stage in our life. It was not easy and it only lasted for a season, but nonetheless, I look back on it as beneficial. Fast forward thirty years, and the advances in technology are astounding. We are bombarded on every side by computers, smartphones, gaming devices, social media, the ability to record our favorite shows and fast forward the commercials, and the list goes on. How do we as Christians use discernment when making media choices for our families? How does media use affect us on a daily basis?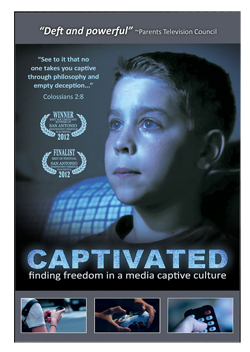 The award-winning Captivated DVD is available for $16.95 with free shipping at the time of this review. The running time is 107 minutes and there is over two hours of bonus features on the DVD. The DVD is intended for adults but is approved for all audiences. You will find interviews from well-known media experts and Christian leaders such as Ray Comfort, Dr. Jeff Myers, Dr. Ted Baehr, Kevin Swanson, KP Yohannan and more. There are testimonies from individuals representing every facet of media from a Nascar fan to a woman addicted to Farmville. As they share their stories, you begin to see a pattern. As media usage increases, freedom to enjoy the outdoors, time with family and God decreases. We only have so much time in a day and one of the messages of this DVD is to use the time we have on this earth wisely. Parents will be encouraged to lead by example in encouraging our kids to make wise choices regarding media usage. The DVD is broken down into five sections labeled:

Consumption – discusses the facts of media consumption in our society
Content – explores the effect media content has on our lives over time and how it can erode our moral fabric
Captivity – this section reveals the enamoring factor of media and how it can easily take us captive
Battleground – we learn about the battleground of the mind and how we can choose the diet that we meditate on and feed our souls
and the Freedom that can be found in allowing Christ to direct our media choices and the blessings that others have found from taking media breaks
After watching the Captivated DVD from Media Talk 101 with my husband I was challenged by the interviews and interesting researched facts about media. This documentary reminded me that media has a great potential for negatively affecting our families when given a wrongful place in our lives. Producer and co-director Phillip Telfer with the help of award winning director Colin Gunn seeks to challenge believers and the church to take a look at the influence media has in our lives and begin to make wise choices regarding our media habits. I was moved to tears at the end of the video as I reflected on how much time is wasted on media in our home. I think about the work that needs to be accomplished for Christ's kingdom and I think of all the Christians, including my family, sitting on their sofas night after night wasting precious time watching TV, playing video games and reading statuses on Facebook. Is this a sin? I don't believe media and entertainment are sins in and of themselves, but can we find ourselves captivated by other masters than the Lord Jesus Christ? My answer is absolutely yes and the world makes it so easy to be drawn in little by little.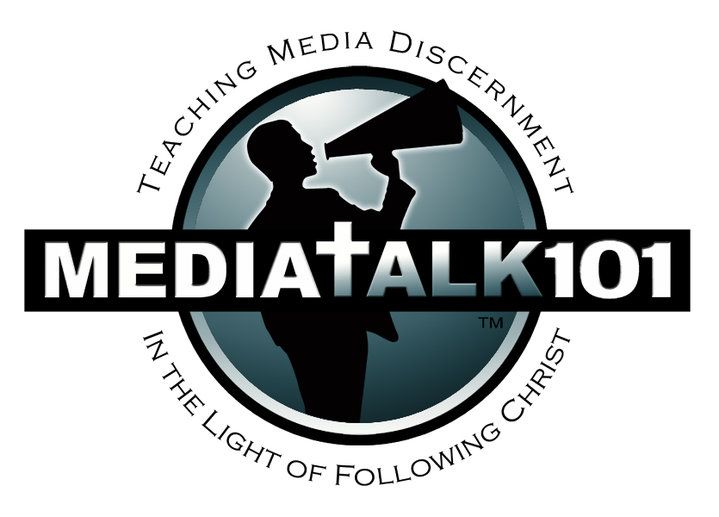 So what will I do with this information? How will it affect me? After considering the content of the documentary, I was challenged to evaluate my personal use of media. Will the moments of the remaining years of my life be spent wisely, or will I waste precious time on media. I took a hard look at my own consumption of media and realized that I need to take media breaks occasionally. I need to take time to unplug and enjoy quiet time with my family that is uninterrupted by the noise and addiction of media. Although I love technology and it is a big part of my life as a blogger, I need to learn to say no and unplug more often. I am challenging myself to set aside Sundays to turn off my cell phone and stay off the laptop to give myself time with my loved ones, time with God and time to read and play the piano. I have talked with my husband about trying a one to two week TV turnoff and computer fast over the summer as well. This documentary may not speak the same message to you, but I promise that you will learn some interesting facts about the effects of media on our society by watching this film. I found it very educational and inspiring.
You can connect with Media Talk on Facebook and Twitter and if you would like to read other crewmates opinion of the DVD, click the graphic below.