Building study skills is a much neglected subject in the homeschooling community. As a second-generation homeschooler, I remember being in college and having to learn to take notes from lectures, make notecards, etc. When I was a student, there were not many homeschool products available to teach this invaluable skill. As a homeschooler, we aren't always prepared for these types of situations with the relaxed setting of one-on-one tutoring that most students receive. When I received the opportunity to review the Victus Study Skills System, I knew that this was going to be a great help for my middle school student. I received the Teacher Edition and the Student Workbook for my honest review.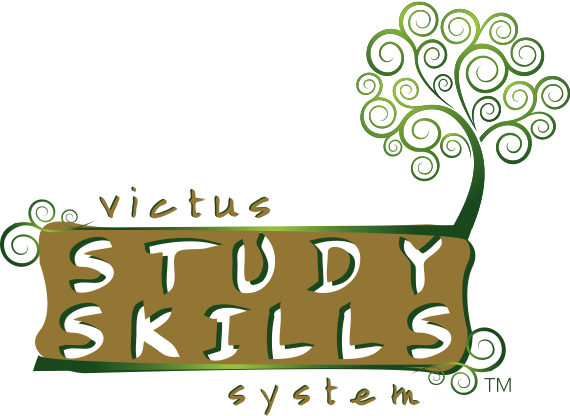 About the Product
The Victus Study Skills System is a ten-lesson course for students in grades 5th-12th, but may be applicable for younger grades with more teacher involvement. The course is designed to be used over the course of a week in one hour sessions covering two lessons a day. Middle schoolers may find a pace of one-half hour or one lesson a day over two weeks more manageable. 
The Latin word victus means a way of life. It is the aim of the Victus Study Skills System to equip the student for success in academics and in life.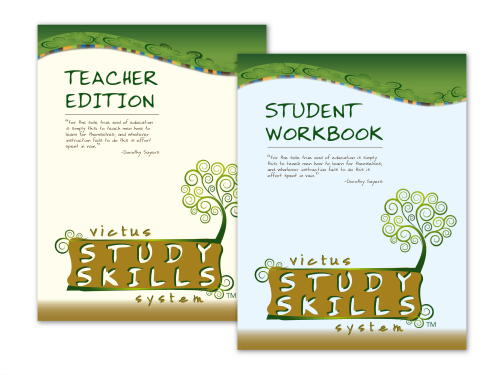 There are three foundational cornerstones that the program is built on:
Where am I now?
Where do I want to be?
How do I get there?
As you progress through the material, you are taken through the process of  setting personal objectives, reviewing your current study habits, looking at the types of learning styles and determining your strengths, creating a personal mission statement, looking at your priorities and setting measurable goals. Time management is discussed along with selecting appropriate learning environments. Organizational tips and scheduling suggestions are given. A specific method of study is taught using the acronym PQRST.
P – preview
Q-question
R-read
S-state
T-test
Tips for developing skills in active listening and note taking hints are given with engaging activities suggested throughout. There is a special section on test taking strategies and preparation. The materials end with a short thirteen question review test of the materials.The appendix has several helpful items such as:
a set of flashcards reviewing the PQRST method
a goal setting worksheet
organizational tips
a time-management exercise
and more………
How We Used These Products in Our Homeschool
Shortly after receiving the Teacher Edition and the Student Workbook, I skimmed the material and mapped out a plan. I decided that we would cover the material over two weeks since my son is only eleven. We planned to do a lesson a day over ten days. We worked through the lessons one at a time in a quiet place one-on-one. I read the notes in the teacher's edition and had him follow along as I lectured. He filled in the blanks in the student workbook and we had some great discussions along the way. The material was helpful and interesting and there was no complaints from my son as we worked though the program. We practiced some of the methods in our reading of our science textbook. I had Drew use the PQRST method when reading assignments. He liked this method and we are going to try to make this a habit. We also plan to organize our binders using color coding for the fall. I think having things color-coded and keeping items in reach will help him become more successful during study time.
 Our Opinion of This Program
My son stated after completing the program that he liked the materials and feels that it will improve his study habits, organization and test taking in the future. As a mom and teacher, I found some of the material to be things I had already learned over the years, but there were some great tips to be had in the pages of the workbooks. We especially enjoyed working through the learning strength sections and the test taking chapter. We will be taking standardized achievement tests in a few weeks and this information was great to teach my son in preparation for this event. One of the tips was to use a PDCA model. Plan, Do, Check/Act. This model carries over into many areas of life as we learn to set goals and accomplish tasks. Another great tip was to guess the answer before reading the choices in a multiple choice test. We are planning to use the appendix as continued review and implement more of the ideas into our homeschool this fall as our curricula increases in difficulty. You will simply have to get your own copy and check out all the great tips and exercises in this book. We loved it and I am planning to use it again as my son enters high school in a couple of years. I will teach excerpts of some of the test taking tips with my younger son before standardized testing. Currently we only take math tests, spelling tests and vocabulary quizzes in our homeschool for the elementary level, but as we begin to have more exams in the middle and high school grades, this information will be invaluable. I believe that by incorporating some of these study habits such as the PQRST method and organizing materials we will begin building a great foundation for study skills that will serve us well in our homeschool for many years to come.
If you would like to see what others are saying about the Victus Study Skills System, click on the graphic below.
To stay updated and find out more information on these products you can connect with Victus on Facebook or follow them on Twitter @VictusStudy