We received a set of thirteen 8.5″x 5.5″ Parenting Cards from We Choose Virtues for review purposes. I am always looking for ways to teach my children valuable lessons on character development and looked forward to trying out this product. They also generously provided us with four downloadable products the Teacher's Handbook, Butterfly Awards, Kids of VirtueVille Coloring Pages and The Family Character Assessment.
About the Company
We Choose Virtues  Heather McMillan preschool teacher and children's pastor with over twenty years of service to her name. After observing the debilitating lack of character in many children that she came in contact with, she developed this program to fill a real need she assessed. Her goal was lasting change in character. She used them on her own four children and in her preschool classroom.
About the Products
Parenting Cards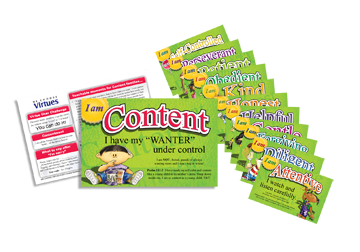 -$38.49 (prices subject to change)
The set of thirteen glossy card stock cards are the perfect size to place on the refrigerator or white board for easy viewing.
Intended for ages 3-11. The set includes a free download of the Family Character Assessment. The cards are also available in Spanish. The first card in the set is an introduction on how to inspire your children to look for virtue and grow in virtue. There are teaching tips and examples of ideas to use in your home or classroom. The remaining 12 cards cover the following virtues:
Perseverance, Kindness, Contentment, Forgiveness, Attentiveness, Helpfulness, Diligence, Honesty, Gentleness, Patience, Obedience, and Self-Control.
Each card has a "Virtue Catchphrase" on the front such as I am self-controlled. I make myself do the right thing. I am obedient. Ok, whatever you say, I will obey, right away. These are easy for kids to learn and have great little cartoon illustrations next to them.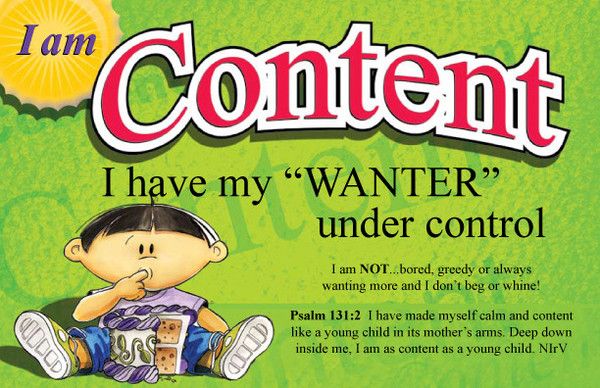 The front of the card also has a Bible verse in the NIrV version, that you can memorize to help you understand the need for developing this virtue as described in God's Word.
The cute characters are the Kids of Virtueville. Their names are described on the back of the card. The one at right is "Cake Jake". There is a little story telling how much Jake loves cake and he has access to 20 different flavors at his parent's bakery. He gets tired of the choices and sometimes wants more. His mother wants him to learn contentment.
These little stories help the kids identify the meaning of the virtue and give them an association with the quality that facilitates better memory of the virtue.
Included on the back are challenges to try as a family, what to do if you are in violation of the virtue and how to ask for forgiveness, the Kid of Virtueville story, and teaching ideas.
Family Character Assessment – included as a free download with the parenting cards
The Family Character Assessment download (shown in part) below is a one page printout included free with your purchase of the parenting cards. This is a great tool to use at the beginning of your training to see what areas need improvement. You simple rate yourself on a scale of 1-10 for each virtue. It helped us choose which virtues to begin with at the beginning of the review. It would also be a nice tool to use to evaluate learning or character improvement over the course of the school year.
We also received some downloadable products that are included in the Homeschool Kit:
 Kids of VirtueVille Coloring Pages – This 16-page PDF download has all the VirtueVille characters to color and a few activity pages at the end for your kids to enjoy.
Butterfly Awards – These are great to use as rewards when you see a child exhibiting virtues. They can be used to encourage character growth.
Teacher's Handbook – This is  52-page handbook to help homeschool parents and teachers learn how to more effectively use the We Choose Virtues in their home or school. It is broken down into two sections.
Section One includes four easy steps to help you teach virtues and covers expecting excellence, explaining with enthusiasm, emphasizing everyday, and examining everything. Section Two explains how to use all 9 tools for teaching that are included in the homeschool kit.
Our Opinion of the Products and How We Used Them in Our Homeschool
We loved the adorable, fun illustrations on the cards. The kids identified with the characters and loved that they had a name and a story to go along with each card. We focused on one virtue a week and read the card during mealtime. We also completed some of the activities suggested on the cards. We memorized the catch phrases on each card and we had lots of discussions about the virtues and how we need to grow in this area. We thought they were a good jumping off point for more discussion. Below is a photo of one of our activities during kindness week. We wrote the catch phrase on our whiteboard in the entryway and then listed each family member by name with things that they wanted family members to do for them and things they didn't want others to do for them. We made a joke of it a couple of times changing each person's list to humorous things. We also completed the Family Character assessment and found that it was sometimes difficult to face your character flaws head-on. We noticed that where one of us is weak, there was usually someone else in the family that was strong in that area and we discussed how we can learn from each other.
The few cons of this program that I noted were:
I felt it was really geared a little more for the younger end of the age range. I think you would get the most benefit from this program by using it from the start of homeschooling so that the kids hear it daily as part of the homeschool routine. I felt that my four-year old and my eight-year old responded the best to the material. The coloring sheets and such were a little too juvenile for my eleven-year old.
If I was purchasing the product myself, I would consider the product slightly overpriced for thirteen cardstock cards and a character assessment download. For classroom use in schools,  this seems a reasonable price, but for homeschool use, I thought that the price was a little steep. Perhaps the cards could be made into a downloadable product in the future, as a lower, more reasonable cost option for homeschoolers. For most families, the Homeschool Kit may be a more economical option as it includes more items that could be used to complement family time or used as part of a Bible lesson.
We Choose Virtues is offering some monthly specials that you can take advantage of at this time.
 MAY-JUNE: *Promo Code BIG50 for 50% off the amazing set of twelve 11×17 Kids of VirtueVille Posters! They are great for school classrooms, Kids Church, or your homeschool room. Kids love them for their bedrooms, bathrooms and kids' hallways.
JUNE-AUGUST: *Promo Code BTS20 for 20% off anything in our WCV Store. This includes any kit. Start school with Virtues this year!
If you would like to read what other homeschooling families had to say about this program, click the graphic below.