One of the hardest things moms face is burnout. When we add up all the responsibilities of home management and organization plus throw in working at home and homeschooling, we have a recipe for disaster if we are not careful to learn principles of organization, time management and goal setting. In her new book entitled, Flourish: Balance for Homeschool Moms, published by Apologia Educational Ministries, Mary Jo Tate shares her stories and equips homeschool moms with the tools they need for long-term success in life and business.

About the Publisher
Apologia Educational Ministries has been serving the homeschooling community for many years and is a trustworthy name in science curricula for homeschools. However, their ministry goes far beyond Christian science materials. They also offer materials for history, biblical worldview, language arts and a whole host of books to help equip and encourage homeschool moms. They sponsor a yearly homeschool moms retreat called,  Real Refreshment.
 About the Book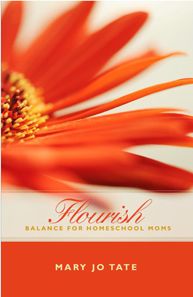 Flourish: Balance for Homeschool Moms is available from Apologia Educational Ministries for $15.00. This book was written with homeschooling moms in mind, but would be easily adaptable for moms in all walks of life. There is literally something in the book for almost all women. The sixteen chapters in this 288-page paperback cover topics such as:
Finding Balance and Flourishing
Using a FREEDOM toolbox (Focus, Reflect, Educate, Eliminate, Discipline, Organize, and Multitask)
Time Management
Goal-setting and creating a Big Dream
Using planning tools such as yearly goals, a monthly calendar, a daily task list ,and a running to-do list
Dealing with interruptions and distractions
Adjusting our attitudes
Nourishing yourself personally
Child training
Managing the home
Single parent homeschooling
Managing and growing a home business
and more……..
Appendix A is a recommended resource list broken down by topic. Some examples of the topics are homemaking, life management and education. Appendix B contains a list of planning and self-evaluation forms for you to use as you navigate the book. They are also provided as a downloadable link with the purchase of the book.
About the Author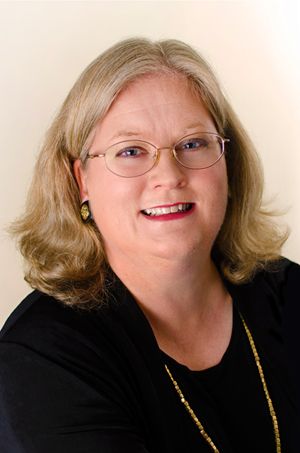 Mary Jo Tate is a single, home educating mom of four boys. She runs a successful freelance editing and book coaching business and is the author of Critical Companion to F. Scott Fitzgerald and several business courses. She hosts the "Flourish at Home" radio show for the Ultimate Homeschool Radio Network. She is also a convention speaker. She enjoys sharing her love of reading and writing with others and feels impassioned to encourage, inspire and equip homeschooling mothers.
My Thoughts and Opinions of Flourish
I was excited about reading this book from the beginning, but I have to admit, I have read MANY books for homeschool moms. I have read volumes on organization and home management and I was wondering what I might learn from this book that I didn't already know. My problem has always been implementation. I am a great planner, but the follow-through is the hard part for me. When I started the first chapter, I was engaged with the material. I identified with the author and saw some of the ways that this book might be able to help me. I was first struck by this quote from page 19
My ideal never seems to be my reality. I have this skewed mental picture that if I just get up earlier, get more organized, or set loftier goals I will reach my ideals. I took a good hard look at my ideals and found out they didn't mesh with my reality. I had to come to peace with that. In reading this book, this was one of the greatest revelations for me. I started following some of the steps in her "Taking Action" section at the end of each chapter.
This book made me take a serious look at my life and what I want it to look like in 5 years, 10 years and so on. I realized that it is ok to dream big. If I never try to reach for my dreams, I definitely won't realize any of them. I had several deep discussions with my spouse about our hopes and dreams and we decided on a few action steps we needed to take to make them a reality. There is so much inspiration in these pages. I loved the quotes scattered throughout the book in the sidebars. Here is an example of one that spoke to me.
I will be reading this book again and probably highlighting and marking up the pages. I was surprised at how much I gleaned and I am sure that any mother will find some inspiration, help or encouragement in these pages. This book will be on my top ten list of recommended titles for homeschooling moms. Although some of the chapters didn't directly relate to me,  (I don't have a home business and I am not a single mother) I took away knowledge from these chapters to share with others and store up in case I ever find myself in need of this advice. If you are looking for a thoughtful, inspiring and encouraging read, and are ready to find meaning, purpose and balance in you life as a homeschool mom, make sure and pick up a copy of Flourish: Balance for Homeschool Moms today.