Today I am sharing a roundup of some of the things I am using in my homeschool planning this year. I thought that I would also share some of the things that have worked for me in the past. I am even going to share some cool things I have found on Pinterest or other blogs that I have yet to try. I LOVE me some office supplies and planners, so hang on to your hat as I try to inspire you to get in preparation mode for the upcoming school year.

Homeschool Planners
Photo credit: Sara Grajeda via Flickr
Past
I have used the Well Planned Day planners in the past and found them to be a great paper planner for homeschooling. I loved the inclusion of tear out report cards in the back and the visually appealing graphics. There is room to plan for up to four children, with lots of extras like budgeting pages and Bible reading plans.This year's version is available for $26.95
The Schoolhouse Planner, downloadable version is something I have used in the past because I have free access to it as a result of my affiliation with the TOS Review Crew. I have found some really awesome planning forms and tools within its pages. It really has everything you could ever imagine in its pages and you can customize many of the PDF pages. This digital version sells for $39.00
Present
This year, I was sent the Hey Mama Schoolhouse Planner for only the cost of shipping. I have started to use it and will update you as I get deeper in my planning on my opinion of this new product. So far, I think I am going to really like it. It is on sale right now for $16. I like the simplicity of the layout. I am trying out a new planning method this year of putting everything on paper as a pacing guide so I know where I stand to finish on schedule. I will use the monthly calendar pages at the beginning of this planner for this purpose. Then the two-page spreads will contain what is actually done by the children each week. I found this planning method at Only Passionate Curiosity. She even has a free downloadable planning pack.
Future
If you are the creative type, this is a very cute way to make your own customized planner on the cheap using a composition notebook.
Here is another one that requires more steps to put together, but it looks very customizable.
I also found this free printable planner on Pinterest. I like the look of the graphics and the simplicity of the record keeping,
 Personal Planners
I used to always have my handy-dandy Dayspring pocket calendar in my purse for reference and to keep track of my work schedule, church events, etc. I have not had one of these for several years and was delighted to see the new and improved version that is now available for $7.99.
The Cozi calendar app was something I really enjoyed using before getting a smart phone. I loved that I could use it from the laptop, but found keeping an online calendar that I could not access when out and about was difficult to maintain. I was using a pocket calendar when out, a wall calendar for the family and the digital calendar on the laptop so I could keep the family journal there. This worked for a while, but soon became tedious.
Photo credit: Sarah Reid via Flickr
Present
When I got an iPhone about a year ago, I had just begun using Google Calendar and decided to merge everything to this platform so I could access it from my phone and the laptop. I love the ease of use and the fact that I can send reminders to my phone for events and my husband can view the calendar from his computer at work. I have yet to get anyone in the family to use Google calendar with me so I am planning to keep my wall calendar and go back to a small paper planner that I can take with me on the go. I feel like I still need the visual of a larger layout and the ability to see ahead the events that are upcoming rather than a little dot on my phone calendar.
Future
I recently won a blog giveaway for a Classic Life Planner from Erin Condren.com, I watched You Tube videos of the planner in action and I can't wait for my new customized planner to arrive. I will definitely let you know what I think of this as I see how it works for me.
Homeschool Reference and Encouragement Books
Past
What Your Kindergartener Needs to Know by E.D. Hirsch, Jr. – There is an entire line of books for K5-5th grade. A great reference to help you aim for the important things to cover in each grade
The Ultimate Guide to Homeschooling by Debra Bell – My all-time favorite homeschool reference book. It literally covers everything you could ever need to know about homeschooling.
Present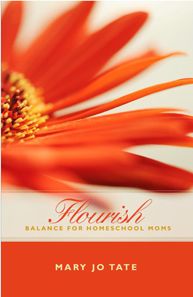 Growing Up Duggar by Jill, Jinger, Jessa and Jana Duggar – This book is full of some great tips for child training, relationships and the many things that happen in family life. I have been inspired with some great ideas from this book.
Flourish by Mary Jo Tate – This is my latest favorite book that has helped me really envision more for my life, homeschool and blog.
401 Ways to Get Your Kids to Work at Home by Bonnie Runyan McCullough and Susan Walker Monson – this has been an excellent resource in helping me make a plan to teach my kids all the skills they need to know about home and property management before they leave home.
Paperless Home Organization by Mystie Winkler – great ideas for simplifying your record keeping and managing email.
Future
These are books on my homeschool/mothering reading list
Life Skills for Kids by Christine M. Field
7 Tools for Cultivating Your Child's Potential by Zan Tyler
Quiet Times in Loud Households by Kimberly Eddy
Help for the Harried Homeschooler by Christine M. Field
Created for Work by Bob Schultz
Making Brothers and Sisters Best Friends by Sarah, Stephen and Grace Mally
The Ultimate Guide to Homeschooling Teens by Debra Bell
I hope some of these resources spawn your creativity and help you plan the best homeschool year ever! Blessings on your homeschool!
~Jenni~