As I prepare my son for the start of 7th grade in a few weeks, I set some educational goals for the upcoming school year. One of my goals was to focus on grammar mastery. I have been on a quest to find a grammar curriculum that would not consume large amounts of our time. My oldest son is an avid reader and has a very good grasp of vocabulary and the English language. My question was, how do I keep all the important grammar rules fresh in his mind for testing purposes without bogging down in loads of busy work? Enter the Analytical Grammar company. We were recently sent one copy of Analytical Grammar, which retails for $94.95 (This includes one teacher book and one student book) for review purposes. This course is intended for 6th grade and up.

About the Company
Analytical Grammar is run by a mother daughter team. Mom Robin Finley is a retired teacher who developed this program in her classroom after being told by her department chairs that they would not purchase extra curriculum for her 5 language arts classes. She could not transport her one set of grammar texts to multiple classrooms, so she took initiative and developed her own curricula! She has a heart to help students and believes that if grammar is taught logically and sequentially, there is not a need for "daily" grammar work throughout the years. She used her curriculum over 12 years as she tweaked it and made it what it is today. After using it in her own public school classroom, she was approached by a local private school asking her if her materials were for sale. That was the start of Analytical Grammar. As her daughter Erin Finley Karl came through her mother's classroom, she was educated using the Analytical Grammar materials and then went on to teach middle school using her mother's materials for a few years. Now you can find Mrs.Karl helping her mom run their company and working part-time as a public affairs officer for her local military base. She is also a Major in the Air Force Reserves. If you would like to connect with the authors on social media you can find them on Facebook and Twitter at the addresses below.
Facebook – http://www.facebook.com/analyticalgrammar
Twitter – http://twitter.com/AnalyticalGram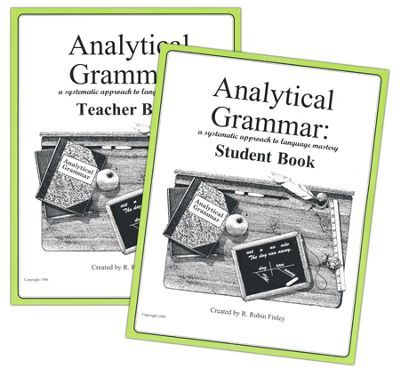 About the Course
Season One – The Analytical Grammar course is intended as a three-year course teaching grammar mastery and language mechanics. The first year or "season" as the book describes it, contains ten weeks of intensive grammar instruction covering 10 units of the curriculum at a pacing schedule of one unit a week. After this, no new grammar is taught for the remainder of the year. It is recommended that every two weeks, you spend one day completing a review exercise from the Reinforcement and Review book (not included). The student conducts these review exercises independently and can grade the exercises on his own, correcting his mistakes. Our focus for this review was on the first season.
Season Two – This year is begun with one week of review from the Reinforcement and Review book (sold separately) and then you teach units 11-17 at a pacing of one unit a week. Afterwards one day a month is set aside for review. This completes your study of grammar.
Season Three – The last season is focused on usage and punctuation as you teach the remaining units 18-34.
There is an alternate schedule included on the website if you would like to complete the course more quickly.
The Books
The Teacher Book –
The paperback teacher book is 392 pages of teacher notes and student book answers. It begins by explaining the program and giving pacing suggestions. Then there are notes on grading the exercises and tests. I found reading this beginning material very important for implementing the course in our homeschool. The next section gives teacher's notes for each unit in season one with suggestions for possible shortcuts to use if needed. Next you find answer keys for the student pages with occasional teacher's notes sprinkled in. Season Two and Three continue in the same manner.
The Student Book –
This 396 page paperback text contains everything you need for three years of grammar studies with the exception of the Reinforcement and Review book should you choose to use it. The units are broken down into a notes section that introduces each unit, followed by three exercises, a skill support assignment and a test. The exercises reinforce the topic discussed in the unit and have the student actively marking and diagramming sentences. The skill support exercises are intended to teach paraphrasing paragraphs, for the purpose of helping the students with essay tests, book reports and other writing skills needed in the upper grades.The exercises and tests can be removed from the book easily by tearing on the perforated lines. Leaving the notes sections in the bound book provides a great easy reference manual that the student may use in the future for writing projects in other subjects.You could also choose to remove the notes section and place in a binder with page protectors.I thought this was a very handy idea.
Here are the topics covered in Season One
Nouns, articles and adjectives
Pronouns
Prepositional Phrases
Subjects and Verbs
Adverbs
Patterns
Helping Verbs
Conjunctions
Season Two and Three cover these topics and more
Participle Phrases
Gerund Phrases
Adjective Clauses
Comma Rules
Punctuating Quotations
Semicolons and Colons
and more……..
If you are interested in seeing more of the materials, you can view some sample pages on the website.
Our Opinion of the Materials
My son commented that he enjoyed the fact that Analytical Grammar had taught him to identify how words are used in a sentence. He benefited greatly from the section on prepositional phrases. After having spent the last two years in an intensive writing class in our local co-op, he has had lots of practice with adjectives and adverbs, but he had forgotten the details of identifying some of the parts of speech. I loved the idea of teaching grammar mastery for 10 weeks then using the rest of the year for review. I think this is exactly what I was looking for in a grammar curriculum for my son. I found the teacher book extremely helpful when grading exercises with my son. We were able to quickly identify any errors in the text and correct them as we went. When grading tests, I benefited from the points value given for each sentence. We used the first 5 units over the summer and plan to continue through unit 10 for the first 5-6 weeks of our official school year. I plan to purchase the Reinforcement and Review book to use the rest of the year completing one exercise every couple of weeks. When we come across grammatical concepts in other subjects, we will pull out the books and review as needed. We will do Season One for 7th grade, then continue next year with Season Two. If you would like to hear what other families had to say about Analytical Grammar and some of the other products they offer, check out some of my crewmates reviews by clicking on the graphic below.