Are you looking for an entertaining audio drama that will help you teach children's Bible stories? We recently received Audio Drama One: Who Created Everything? available from Wizzy Gizmo. This adaptation of Genesis chapter 1 is part of the Old Testament Bible Series created to help parents practice the commandment in Deuteronomy 6:5-6 to teach the Scriptures to our children. 24/7.
About the Company
Wizzy Gizmo was created by Chris Del Aguila, a father of 3, minister of music, musician, author and sound engineer. He works with Justin Cummins, a father of 5, church planter, pastor, teacher, author and illustrator to create Bible teaching tools for kids. They have a passion to equip families to teach their children the Word of God. Rich theological truths are woven into Biblical and wholesome resources that the whole family can enjoy.
About the Product
Audio Drama One: Who Created Everything?
$14.99
Geared for Ages 4-12
An adaptation of Genesis chapter 1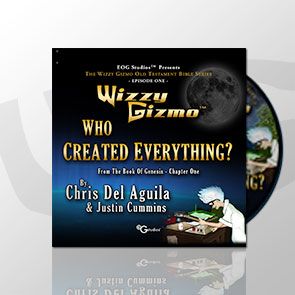 This one hour audio drama on CD has 22 tracks. Tract one is the theme song which can be listened to at the Wizzy Gizmo site. Tracts 15 has a Giz Quiz for you to test your knowledge after the drama. The remaining seven tracts contain bonus music soundtracks.
.The character Wizzy Gizmo is a mad scientist kind of fellow described as having blue hair, big glasses and knobby knees. The drama takes you away in your imagination on a journey with this scientist as he places the Bible in his Gizmovision machine and you are transported into the first chapter of Genesis at the beginning of creation. There are four kids, a robotic duck and a pup named Pepe who come along for the journey. You will watch as light is created, the earth fills with plants and animals and God creates man. The musical score is filled with catchy tunes and you will find yourself singing along with nonsense songs like Mango, Oh how I love you! and Strawberry Fields. The timeless truths of God's Word are presented in a memorable way ensuring that your child will catch some important truths of Scripture while enjoying an exciting adventure. You will learn scientific facts such as the difference between plants (seed-bearing vs. fruit bearing), the purpose of the sun, moon and stars and more. Vocabulary words are explained throughout the drama and you will learn the definitions of such words as auspicious and firmament. Who could ask more from this excellent Bible teaching tool.
My Opinions of the Audio Drama
This drama has been one our favorite review items of the season! We listened to the CD while doing chores, running errands around town in the car and on a family road trip. My kids have played it over and over and we can all sing the Mango song in our sleep. The catchy tunes and dramatic background music help to remind the kids of the wonderful way in which God created our world. We loved the talking Spanish pup, Pepe, and his hilarious accent. I was very pleased with the scriptural accuracy and the quality of the recording. Even the difficult concept of the Trinity was explained in a way that children can begin to understand this foundational truth.The characters were memorable and Genesis chapter 1 has never been presented in a more clever, creative way. This CD will be played over and over in our home in the next several months and we will look forward to purchasing Episode 2 when it is released.
Connect with Wizzy Gizmo on social media at the following links:
Facebook: https://www.facebook.com/wizzygizmo
Twitter: https://twitter.com/wizzygizmo
Pinterest: http://www.pinterest.com/wizzygizmo/
Google+: http://www.plus.google.com/+wizzygizmo
Vimeo: http://vimeo.com/wizzygizmo
If you are ready to purchase your own copy for your next road trip, to play at bedtime, or to use during Bible time in your homeschool, make sure you take advantage of the up to 10% discount just by sharing about Wizzy Gizmo on social media. If you would like to explore all that the Wizzy Gizmo product line has to offer, click on the graphic below to see what some of my crewmates thought about their other offerings.