With three kids ranging in age from 4-12 in our home, we have been listening to kid's songs for what seems like forever. When we got the opportunity to review three downloadable albums intended to help teach character and social and emotion growth, Friends & Sharing (Vol. 1), Manners & Character (Vol. 6) and Happiness & Attitude (Vol. 7), from Happy Kids Songs we were glad to change up the music! We found the varied styles of music and the positive character messages in the songs refreshing. We also received the Happy Kids Songs Workbook: Hands-on Activities to Build Character, Social & Emotional Skills to use in our homeschool. 
About the Founder of Happy Kids Songs
Dr. Mac is a child psychologist, song-writer and writer and director of music for the popular PBS hit, Jay Jay the Jet Plane. He has over a hundred songs published to his credit. He has co-authored a book and is Clinical Director of the Family Therapy Institute of Santa Barbara. He has a team of adult and child singers who formed the chorus on his albums.
About the Products
Happy Kids Songs features eight award-winning albums with five songs each. You can download them by the album for $4.95 each or you can download the single songs for $0.99. The songs can be downloaded to your computer and then transferred to an MP3 player or you can burn them to a CD. We chose to play our downloads straight from our computer during chore time and during some downtime during our school day. We completed some of the activities and worksheets as part of music time in our homeschool.
These albums are geared for ages 3-8, but children ages 0-9 are likely to enjoy them.
Friends & Sharing (Vol.1) have the following songs on the album:
Sailing on the Seven Cs
This song shares seven Ingredients of friendship –  caring, consideration, commitment, communication, concern, curiosity, and cooperation.
Everybody Wants to Find a Friend
This song reminds kids that everyone wants a friend and we need to put ourselves out there and just say "hello"
Sharing Friends
This song breaches the common subject of feeling left out in play and how to share your friends and negotiate including others so everyone can play together.
Happy as Happy Can Be
Discovering the joy of friendship
Together
Spending time together and saying goodbye
Manners & Character (Vol. 6)
H-o-n-e-s-t-y
Making the world a better place by practicing honesty
The Magic Word
Please, Can I and May I
Quirks
Appreciating differences in those around us.
The Golden Rule
Doing for others what you would like them to do for you
Six Little Kids
Valuing others perspectives
Happiness & Attitude (Vol. 7)
Shake It Out and Dance
Teaching Kids to try and encouraging them to turn "I can't" to "I can"
Who Knows What's a Kudo?
Definition of Kudo and explanations of giving compliments
I Don't Understand
Deals with the questions of children
Be Good to Yourself
Doing your best, positive self-talk
Better Together
Handling aloneness and enjoying togetherness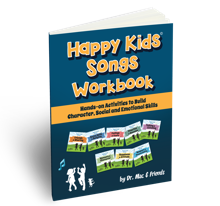 Happy Kids Songs Workbook: Hands-on Activities to Build Character, Social & Emotional Skills is 122-page paperback workbook currently available for $12.56. The activities and worksheets in the book are available for download on the Happy Kids Songs website for free, but the benefit of the workbook is having all the lyrics and worksheets in order and in one place. The copyright allows homeschool teachers and classroom teachers permission to print copies for their own family or classroom. The activities are geared for ages 3-8 but the activities we worked with are varied. Some are as simple as matching items that go together.
Here is a sample of one page my 4-year-old enjoyed. It went with the song, Happy as Happy Can Be.
.
The directions were to match the things that go together.Other activities in the book are more complex.
This particular page below went along with the song, Quirks and was a bit frustrating for my eight year old. The idea was that no two things are just alike. I can't imagine a three-year old being able to have the coordination to complete this page. There are also several pages that ask you to finish the sentence such as I feel mad when…., one thing that makes me happy is….. I can see these activities completed orally with the suggested age range, but I don't think kids in the 3-8 range would be comfortable doing this independently.
I felt the age range for the workbook should be adjusted or the activities could be ordered by age appropriateness to help the teacher chose well. The first half of the book includes the coloring and activity pages while starting on page 86, the suggested activities begin. There are things like painting friendship cards for sick friends and making friend puppets out of craft sticks to use in role-playing friendship scenarios. These suggestions go with the songs, Sailing on the Seven Seas and Everybody Wants a Friend. Some of the activities are only appropriate in group settings and would be better used in a co-op or classroom setting. An example of this type of group activity in the book is a cooperative learning activity where the entire group of students are asked to get in groups of 3-5 and explore the topic of friendship and create a report on the topic of friendship to present before the entire group.
 My Opinion of the Products
I liked the varying rhythms, tempos and musical styles of the music. It was more adult-friendly than some children's music we have listened to in the past. The kids found themselves singing along as they listened. The positive messages in the song were thought-provoking and generated some good discussions between me and the kids. I think they would make great teaching tools when covering unit studies on topics such as manners, social skills,and responsibility, I can also see classroom teachers appreciating these because of the neutral nature of the content. There is no religious bias inserted into the songs. Personally, I prefer a Christian basis to our music, but we appreciate most styles of music and these songs will have a place in our school day in the future. There are some issues such as honesty that are approached in a purely psychological approach in the music. I would probably insert my religious take on these issues when using the materials to teach those issues. Honesty is encouraged in the lyrics because,
"you can get more freedom and you can get respect, and a little more trust, is just what you'd expect, with a little bit of ….h-o-n-e-s-t-y….You best believe it.
I would insert the fact that honesty is also blessed by God and we strive to become honest in obedience to the commands of God in His Word. I felt these things could easily be adapted by teachers in a Christian school or Christian homeschool setting. Overall, we felt these were quality recordings and could be useful for some families. I don't think I would purchase the rest of the albums, but we have used and enjoyed the three volumes we received. I also liked the resources in the workbook and will pull from them from time to time when character and social issues come up in my parenting.
If you would like to hear what other bloggers had to say about these products click on the graphic below.

Connect with Happy Kids Songs on social media!