I remember the days of being a homeschooled student where the only aids we had to learn math facts were math flashcards. Learning math facts included days of sitting on the front porch swing having someone practice flashcards with me. Flashcards have come a long way since then. Enter UberSmart Math Facts ($24.95 for a family license with free upgrades and support) from UberSmart Software. 
With a 100% satisfaction guarantee for up to one year from the date of purchase you have nothing to lose when trying this product. There is even a 30-day free trial available along with some free printable math fact worksheets on the website!
About The Programmer
David Kocur, computer programmer, homeschool dad, and creator of UberSmart Math Facts wrote the program after his wife asked him to write something to help his kids learn their math facts. After scouring the internet and finding nothing to his liking, he wrote his own program. After seeing such positive results with his own kids, he decided to market his product to help others.
About the Software
UberSmart Math Facts is based on the concepts of flashcards and timed tests, but with many customizable options. This is geared for grades K-6, but any age that needs math facts reinforcement can utilize this program. This is for Windows 7, 8, XP and Vista only. The program is downloaded directly to your PC and can be registered for up to 8 students with a family license. The clean, streamlined interface is not busy or confusing. There are simple tabs across the top that you click on to enter that learning mode.
The Learn Tab  – Under this tab, you can choose dot cards for math beginners (example shown above) These domino-like cards can be shown with numbers written on the card or just dots. You begin with 0's and progress sequentially all the way to 9's. You can choose the intermediate level from this tab and you get more options, including addition and subtraction up to the 9's and multiplication and division up to the 12's. In this mode, a flashcard appears that has a vertical equation without the answer. Click on the show tab and the answer appears.
The Practice Tab – Under this tab, you find options to practice beginner dot cards, keyboard entry and intermediate flashcards. The keyboard entry feature is cool as that is a skill that is assumed in most math programs, but necessary for beginners as it affects their speed and accuracy. Here is an example of the keyboard entry screen. A number is shown and you find it on the keyboard and type it in as quickly as you can. If you are practicing using the intermediate flashcards, an equation is shown and you enter the answer. You are immediately told whether your answer was correct or incorrect and if you do not answer quickly enough, the answer is shown and you are moved to the next card (I believe the timed feature can be turned off).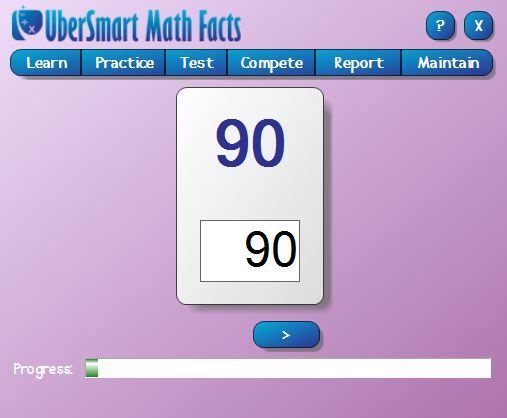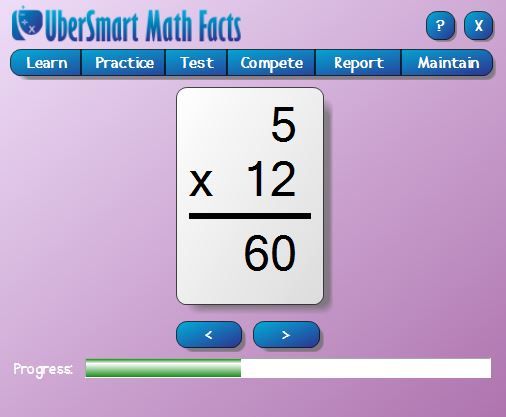 The Test Tab – This is where you should begin if you are new to this program. I didn't understand all the ins and outs of this program at the beginning and so we explored this tab later in the process.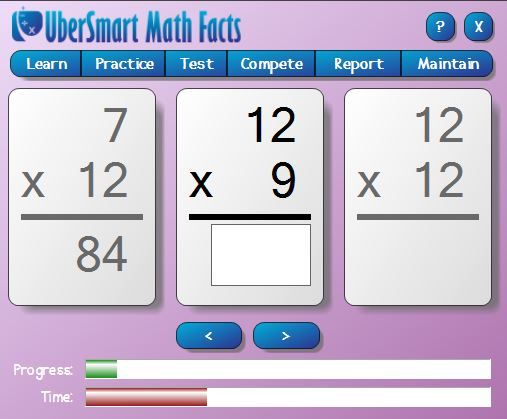 The Assessment test was very helpful in giving me feedback on the areas that my students needed work. You are given feedback on each operation with a summary of what your student is proficient in and where he needs more work.
The mastery tests are to be used when you feel that the student is doing well enough on each table to move to the next number.After mastering all math facts you can print a certificate of excellence for the student.Dot Cards (like adding domino faces)
The Compete Tab – I worked very little with this tab. I registered myself as a user and attempted to do the competition, but didn't score high enough to compare with others. LOL! Maybe I need some practice myself.
The Report Tab – Here you can find all sorts of useful information on the progress your student is making.
 My Opinion of the Software and How We Used It In Our Homeschool
Things I liked -My rising 3rd grader is still working on mastering his math facts. We are really working hard to gain mastery of the addition and subtraction facts before we introduce multiplication in the upcoming months. We were excited to try this program out. I LOVE that this program is not based online, but rather downloaded so you have access for life. This will come in handy for my seventh grader when he needs a brush up now and then. My 4-year old is also starting to begin math this fall as part of her preschool program so she worked with the dot cards for a short time. She was only able to go to the three tables before it became a little frustrating for her. I am planning to just continue using it 2-3 times a week with her, but only using the 0-3 dot cards.
My third grader started out jumping right in and just working from the beginning of the practice and learn tabs. He started with addition at the 0 tables and worked his way to mastery all the way to the three tables. We are still working to move past that level. We will continue to assign this as part of our curriculum this fall for 4 days a week approximately 10 minutes a day. He was able to go through a practice level in five minutes or less. The timed feature of the program is helpful to make sure that your kids are mastering the facts and not just eventually figuring it out. I loved the reports where I could see the progress that he has made over the last several weeks using the program. We took the assessment in the program during the review and I loved the personalized report that it gave me so as a teacher, I could choose the most helpful way to approach the skills my son lacked. This would be an excellent place to start with your student. We also found the progress bar across the bottom of the screen to be helpful to let us know how much we had left before reaching the end of the current session.
Things that could use improvement - The kids would have liked a few game-like features in the program, but I have friends who would purchase this program over others out there because it is NOT like a video game, so depending on your kids, this may be the perfect program for your family since it is more like standard flashcards than a game. I think it would have been helpful if there was a tutorial at the beginning or a You Tube video to help you get started. I dislike reading PDF manuals for instructions.
My son does not particularly like doing any type of math facts review, so his opinion was rather neutral on this product. He did not ask to do them, but if I assigned the program giving him a timer and telling him he needed to work for 10 minutes per session, I didn't get many complaints. He seems to do better when he realizes that there is an end to the drilling.
If you would like to hear what others think of this program, you can read some other Crew members reviews by clicking on the graphic below.