The 7 Minute Life is a company committed to helping you learn time management skills while boosting your productivity and organizing your life. Time management strategist Allyson Lewis has created an excellent time management tool called The 7 Minute Life™ Daily Planner to help you prioritize and organize your life. I received this product free of charge for my honest review. If you are anything like me, you are juggling many balls on this path we call life. I call myself a wife, mother, teacher, blogger, registered nurse, homemaker, student of the Bible, cook, soccer mom, board member and more. Those descriptions don't include my hobbies and other bucket list items that I try to squeeze in on occasion. I have found as my kids get older and busier, the way I have always done things such as organizing and goal setting is not working anymore. I have been looking for new ways to improve my productivity and simplify my life. I have been inspired in the past to set goals, but found that I always wrote them in notebooks or on notepads and then put them aside, never keeping them in front of me. Out of sight, out of mind.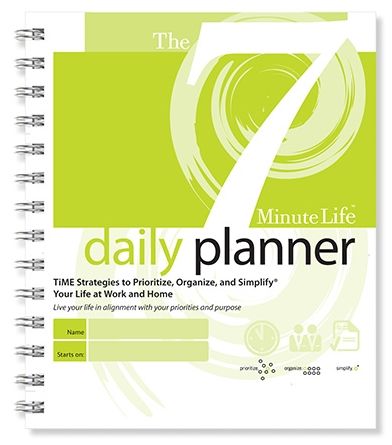 When I received this 270-page wire-bound paperback book, I looked through the volume and noticed the thick frosted cover. It was curling from the summer heat but I quickly fixed that problem by attaching an extra-large rubber band that I found at a local office supply store around the book. The introduction explains the philosophy of the 7 Minute Life. The emphasis is on prioritizing, organizing and simplifying your life at work and at home. For homeschool moms, this could help you run your homeschool, a family business and your personal life. The planner is meant to assist you with identifying your high priorities, set goals, list unfinished tasks and build the relationships of your choosing. Time passes so quickly and this system is designed to help you make the most of your time so that you can make a difference in your world. The idea of the 7 Minute Life comes from research that Allyson has read that states that an average adult has an attention span of 7 minutes. She created the exercises in the front matter to be able to be completed in 7 minutes and says that by giving 7 minutes to having a written plan for the day, you can greatly boost your productivity. By using the THINK-WRITE-DO philosophy explained in the book you simply take stock of your priorities and goals using the process and worksheets outlined in the front matter of the planner. This section took me a while to complete. I had to take time to process and really dig deep to get these ideas on paper. The first three assignments were "Life Ideas" that included determining your top 10 values, Discovering your life purpose, and establishing 90 day goals. You continue from here to complete 10 "7 Minute Micro-Actions" These worksheets included listing unfinished tasks, brain dumping on the mental clutter worksheet, listing all the home repair items that need to be attended to and more. t was rather freeing to get some of those things off my mind and on to paper. I liked knowing that all that information was in one safe place and I could review them daily as I sat down to use the planner. After the thinking exercises, there are some undated calendar pages. A year at a glance page, and several 90-Day Calendar Worksheets. They are not formatted like your standard planners. Next, I simply committed to write down five high priority tasks to complete by eleven o'clock each day. This is called the 5 before 11 principle. Since I am a homeschool mom and have many interruptions to my day, I usually turned that commitment into five things to do before I go to bed. This principle is recorded on a Daily Progress Report. The remainder of the planner is filled with enough pages for 90 days of Daily Progress reports for you to use in planning and executing your goals. Take a look at the sample below.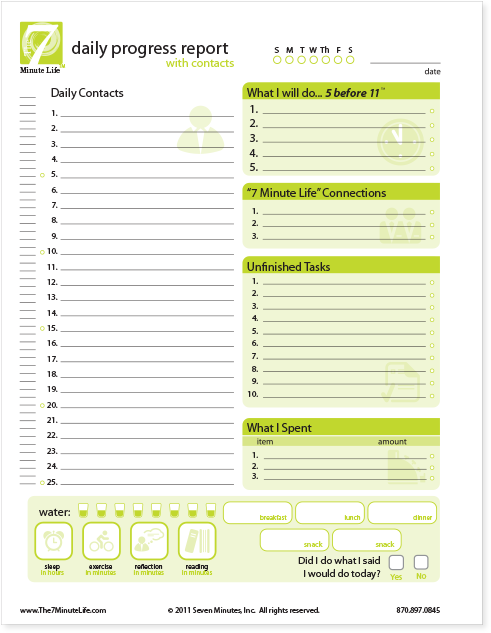 The Daily Contacts section is intended for businessmen and women to list the contacts that they make each day, I tweaked this column to apply to my role as a homeschool teacher and blogger and used it as a daily brain dump area or extra to-do list. The 5 before 11 section was the most impactful daily activity for me. It was like making a contract with myself to follow-through on the tasks. There is a check box at the very bottom that states, "Did I do what I said I would do today?" It was very gratifying to be able to check that box at the end of the day. The Life Connections section is where I documented those that I came in contact with that day whether in person or by phone or email. The Unfinished Task list is where I transferred some of the items I wanted to attend to from my master Unfinished Task List. I did not use the What I Spent column. I liked the water glasses and food journal areas for you to keep track of your health. There are boxes for amount of time spent sleeping, exercising, reflecting and reading. I used this planner each morning after my devotional time before the kids get up to map out my day and set my goals. I found it very useful to take these 7 minutes each morning to plan.
The Daily Progress Report is a two-page spread. The opposite page (not shown) is a typical calendar style column with times for you to list appointments. There is another column for voice mail. I did not use the voice mail column as intended. I tweaked it and wrote notes of things that came up, emails that I needed to attend to and various other things. I am still tweaking the columns intended or business. The thank you note section I used as intended on days where there was correspondence that I needed to attend to, on other days, I used it to list my prayer requests for the day or week. It is easy to rename or repurpose the columns to fit your needs. I tried to use washi tape to cover the column titles that I repurposed but found that using white out or simply striking out the title was much faster. After writing my 5 before 11 each morning, I simply had to execute and follow through on my plan. I found it empowering to accomplish my list each day. I felt and acted more productive. I even added things to the unfinished tasks list each day when I had a few spare minutes to work on a micro action.
I really like the concepts behind this program and think it would be extremely useful for most moms. I like that it is undated and you can use this at any time of the year, however I think I would like to see a version that had all twelve months rather than just a 90-Day setup. This would be more conducive to homeschool moms. I greatly benefited from evaluating my priorities and listing out my goals. You can get your copy for $24.95 with a 100% money-back guarantee. Ten percent of the proceeds of the purchase go to helping provide food, water and education to the needy. This product is intended for adults, but teens ages 14+ may be able to use this system successfully.You can learn more about the concepts of the 7 Minute Life by watching the video below.
There are some great free time strategy tools available at the website as well as a getting started page.
Connect with The 7 Minute Life via Facebook, Twitter, Pinterest, Google+ and You Tube 
Read what other moms thought of this product by clicking on the graphic below.