Are you looking for a visually appealing book with stunning graphics that is informative and interesting and also teaches your kids about the Christian worldview? Look no further than the iWitness books from Apologia Educational Ministries. We received iWitness Biblical Archaeology, New Testament iWitness and Old Testament iWitness for review recently and I was very impressed. Christian worldview study has been a topic of interest to my husband and I for several years and my twelve-year old son has just reached the age where he likes to engage in conversations with us about deep topics like Christian apologetics and religion. These three titles kept all three of us engaged and interested from cover to cover and at only $14.00 each with a reading level geared for ages 11 and up, they will be on our Christmas list for some of our extended family members!
You can stay in touch with Apologia through the following social networks:
Facebook – https://www.facebook.com/apologiaworld
Twitter – https://twitter.com/apologiaworld
Google+ – https://plus.google.com/105053356034237782125/posts
Pinterest – http://www.pinterest.com/apologia/
About the Author and the Series
Doug Powell is a best-selling author, apologist, speaker, graphic designer and musician. He holds a Master of Arts in Christian Apologetics from Biola University. He has written two iWitness books Resurrection iWitness and Jesus iWitness under another publisher and has authored three in this series through Apologia. Two more titles are due to release in 2015, iWitness World Religions and iWitness Heresies & Cults.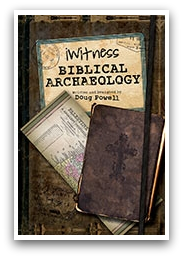 iWitness Biblical Archaeology is a softcover 62-page 6″x 9″ book. The layout is simply stunning. As a lover of all things scrapbooking, I loved the vintage scrapbook feel of the layouts. This title was my favorite of the three because I have always been interested in archaeology. I enjoyed the journey through each page as I learned about discoveries small and great in the world of Biblical archaeology. This book covers topics such as the Flood, looking for Noah's Ark, the Exodus, the discovery of the Dead Sea Scrolls, the burial shroud of Jesus and much more.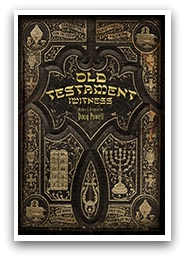 Old Testament iWitness is a 60-page softcover text that is 6″x 9″. It has the same beautiful layouts delicately crafted with colorful ancient art and religious symbols scattered throughout the pages. Pictures of original scrolls of scripture are in the background. Sections include information on who wrote the books of the Old Testament, where they came from and how they were collected and placed together. Differences between the Protestant Bible, the Hebrew Bible and the Roman Catholic Bible are explained. Terminology such as Torah, Tanakh, Apocrypha and Septuagint are explained. The estimated time periods for each book of the Old Testament are listed and the authors, when known. A short discussion of important archaeological finds that concern the Old Testament are also included. The book ends with a timeline of Old Testament History.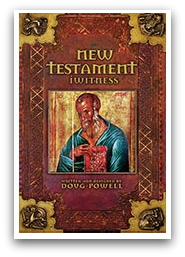 New Testament iWitness is a 60-page 6″x 9″ softcover book explores many of the questions Christians have about the New Testament. Things like canon criteria, the authority of church fathers, books that were rejected or termed spurious, differences in copies of the Scriptures and how they were copied. You will learn about the apostles and the apostolic age and expand your knowledge of the ancient texts.
Our Opinions of the Books
My husband commented that "they are very thorough and interesting." My son stated, "I enjoyed learning about the archaeological finds that support the Bible and learning more about the history behind the Bible." We felt like these books really feed the curious mind and stoked an interest in us to learn more about our Scriptures and Biblical history. I felt that these would be great gifts for pastors and Sunday school teachers. I think that I will include these as required texts for my children as part of our Bible curriculum before they graduate. They are concise and engaging, but not so long that you get bored with the content. I think these would be a great asset to any homeschooler's bookshelf and I know that we will be pulling these off the shelf time and again in the future to help us learn more about our spiritual heritage and history.
If you would like to read what other Crew members thought about these books. Click on the graphic below.