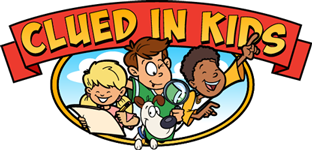 Who doesn't love treasure hunts? When I was presented with the opportunity to review the Homework Reward Treasure Hunt and the Playdate Treasure Hunt  Clue Book from Clued in Kids, I knew my kids were in for a treat. I have special memories from childhood of my dad writing clues in the form of poetry for myself and my siblings every Christmas. We would receive the first clue and off we would go in search of our series of clues leading to our "big" Christmas gift. It was so memorable, yet it took a lot of time for my dad to put together. With Clued In Kids products, the preparation time is on average 10 minutes. This no-hassle approach to setup makes parents more apt to set up treasure hunts on a regular basis.
About the Company
The Clued In Kids company was launched by Helen Bertelli in November 2013 and was born out of her trek through family hardships. She and her daughter contracted autoimmune diseases and now that they are on the road to healing, she has realized the importance of chasing her dreams and living each day to the fullest.
About the Products
We were sent two different products for review. The first product was the Homework Reward Treasure Hunt. It is a part of the PDF Printable hunts offered by Clued in Kids  and sells for $5.99. It takes 8 minutes or less to set up, works for groups of 1-10 kids and is intended for ages 5 and up (although my 4 year old participated.) The full-color 8-page PDF can be printed and used multiple times. We printed in black and white to save ink and the clues still came out nicely. I loved the idea behind rewarding kids for completing homework at the end of the day. As a homeschooler, we don't regularly  assign homework to our kids, but we were able to tweak this product and use it as a reward for a great day of diligence in our homeschool. I told the kids several times throughout the day that if they finished school in a timely manner, they would received a special reward at the end of the day. The kids were guessing all day, but they never guessed that I had set up a treasure hunt. I simply downloaded the PDF product to my computer and then printed off the clues. Two clues were included on each page of the download. I cut the clues in half and then hid them in the places described. The clues had the hiding places printed in small font on the bottom for easy hiding and there was a master list at the end of the file that told me where each clue should be hidden. All but one clue was hidden inside making this a great rainy day activity or even something to break up a long, cold winter day.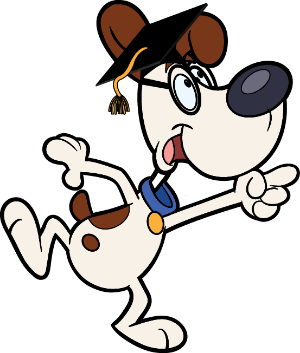 I also loved some of the educational components to the hunt.The clues required some critical thinking and math skills to be used by the kids to reveal the location of the next clue. Decoding messages, reading phrases backwards, and finding a hidden item in a picture were some of the ways used to solve a clue.The clue shown below required the kids to write a time on a clock to determine which location to search next. (The next clue was in the sock drawer.)
Here is a picture of the kids just after I told them about the treasure hunt.
I handed them their first clue and they were off! Here is a video clip showing you how excited they were as they progressed from clue to clue.
My favorite clue from this hunt was the one that we folded into a paper airplane. They kids loved flying it around the house.
The treasure was found by using teamwork. The kids had lots of laughs and it generated a lot of excitement. They were thrilled with their reward. Here is what I included in the treasure basket.
certificate for an outing with mom or dad
an apple
candy corn
If you would like to get your own free copy of this treasure hunt, you can sign up for their newsletter here.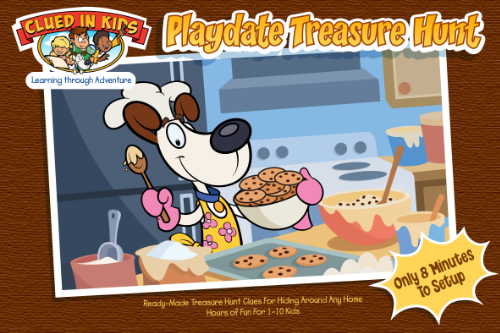 The second product we received was the Playdate Treasure Hunt Clue Book which is available for $8.99. You can entertain and delight from 1-10 kids with this product and it is intended for ages 4 and up. The intent of this product is to use it for a playdate gathering. What a cool playdate idea! This is a pre-printed tear off pad that is mailed to you upon purchase. We received the product in excellent condition in the mail and I scheduled a playdate with my children's cousins for this hunt. We turned it into a fall-themed party and all the kids from ages 3-12 had a blast. We started the party with homemade mini pizzas and apples. After the meal, the kids gathered together and I gave them the first clue.
Each clue has a name line where you can assign which kid is to solve that clue. I assigned the backwards clue to my youngest nephew. The older kids lifted him up in front of the bathroom mirror holding the clue so they could read the clue. He thought he was big stuff to have his own clue to solve.
There were squeals of delight, laughter and a good dose of healthy competition involved in this supercharged playdate. The kids enjoyed searching around the house for the clues and it was cute watching them complete the group assignments for clues. One clue involved singing the ABC's while pretending to use a hula hoop. Here is what I captured on film for this clue.
The treasure was finally found and the kids enjoyed little party goodies such as whistles and candy.
Overall, we had a very positive experience with these products. I loved the ease of the clue pad in physical form because I literally just tore the clue from the pad and hid it around the house. I think that the clue pad products would make great gifts for Christmas. I was thinking you could give the Playdate Treasure Hunt Clue Book with a certificate stating you would host a treasure hunt and provide the prizes. Most any child would love to receive an experience and I think parents would appreciate a non-toy gift. The PDF Printable hunts only take a few minutes more and would allow you to use the hunt again with another group of kids. You could also tweak it and use it again for your own kids. I think my AWANA preschool class would enjoy the hunt and I could see using these at family reunions, birthday parties, Sunday school gatherings or home school co-ops. Anywhere you have a group of children gathered and need to keep them entertained would be a great place to try Clued in Kids products. Our family gives them a big thumbs up!
You can connect with Clued In Kids at the following social media channels:
If you would like to read more about the other types of treasure hunts available through Clued in Kids, check out the reviews of my crewmates by clicking on the graphic below.