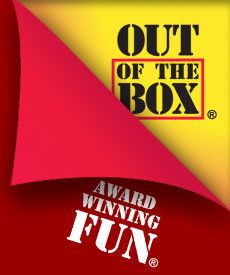 About the Game
We love playing games and we try to set aside several nights a month to play games together. We recently had the opportunity to try out Snake Oil from Out of the Box Games.  This game was a crash course on good communication skills. In just about five minutes, you can teach nearly anyone how to play Snake Oil. Unlike many family games, Snake Oil is easy to set up, can be played in under 20 minutes and will entertain and educate the entire family. It can be played by 3-10 players or in tournament style for up to 24 players.
Snake Oil retails for $19.99 and is for ages 10 and up. The box has two types of cards in a plastic tray. There are 28 customer cards that are double-sided, providing a total of 56 customer choices. These cards sit in a vertical slot in the tray. These customer cards list occupations such as a nurse, teacher, caveman, etc.
Basic Game Play
One player chooses to start as the customer and draws a customer card. He selects a choice from either side of the card and then adapts the persona of that customer for the duration of his turn. The second set of cards are the word cards, of which there are 336. These cards are divided among the 4 horizontal slots in the tray. The other players each draw six cards for their hand and choose two-word cards to "create" a product to pitch to the customer. After each player has a turn to pitch his product, the customer choose  his favorite and gives them his customer card.  All players the restock their hand so they maintain a set of six cards. Play continues until each player has a turn to be the customer. The person with the most customer cards at the end of the round is the winner. As you can see, the rules are quite simple.
Variations
There are several variations of the game in the instructions. You can increase the number of word cards per person for more choices, or you can play the Snake Oil Live version where you have a game host that moderates and three players act as contestants. The rest of the players are the audience. The contestants each draw six cards and create a product. They stand up in front of the audience and pitch their product. After all three contestants have a turn to pitch, the host has the audience cheer or make a show of hands to choose the best pitch. This round is repeated with new contestants and the winners of each round try to beat each other out in the last round.
The tournament version is similar to the original, you just set up several games simultaneously by dividing up the cards between the groups and the winner of each game plays each other in a tournament round. Snake oil is also a great tool for the classroom teacher. When teaching about the old west you could insert a game of Snake Oil after sharing some facts about real life snake oil salesmen. If you are wanting to encourage public speaking and problem solving, try using Snake Oil. If you want to introduce the ideas of marketing, this game could be a very useful and creative teaching tool. Here is a free resource with ideas on how you can use this game with grades 5 and up in the classroom. Here is a short video with a brief description of standard game play.
Our Opinion of this Game
We tried this game with our family of five. My husband and I played with our boys ages 12 and 9. The youngest is 4 and she enjoyed playing with the plastic box insert and the discarded word cards since she was too young for purposeful play of the game. She sorted them in the four boxes and made up her own game as we played alongside her in our living room. 
Our middle son was frustrated at the beginning, because he had never been asked to play a game that required him to use so many communication skills before. He ended up quitting the first round, but after watching us have so much fun, he quickly rejoined the game and became interested and engaged the rest of the game. We found ourselves laughing hysterically at some of the descriptions of make-believe products that we created in our minds.
My son chose the "Santa' card for his first round. He decided to fully embrace the persona of Santa complete with the large belly as shown below.
The other players looked at their word cards and here are the products we came up with: giggle dirt, a pillow tent and a shadow shovel. We each pitched our products and we had a blast trying to convince "Santa" to choose our product. My husband made the comment that one of the standout features of this game was the fact that it can be short or long depending on how much time you have. One round was completed in about ten minutes for our family of 4 players. We have found that sometimes we don't want to have a game night because of time restrictions, but with this game, we can still play a full game in a short amount of time. 
We also took the game to my brother's house and played a game with eight people. It turned out very well and my brother who really despises most games, loved Snake Oil!
Overall we really enjoyed the game and felt that even kids a little younger than ten ( in our case as young as  seven) were able to enjoy the game. We will be playing this in the days to come and it just might show up at some future family gatherings!
If you would like to read what other folks thought about Snake Oil or another edition Snake Oil – Party Potion from Out of the Box Games click on the graphic below.

You can connect with Out of the Box Games on the following social media sites: